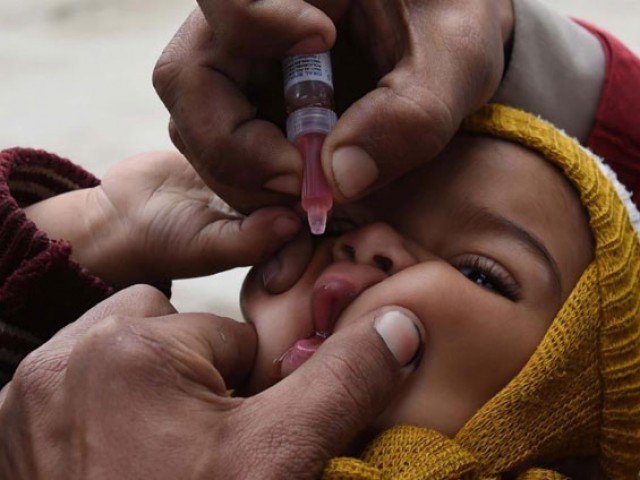 ---
KARACHI:
Sindh Health Minister Dr Azra Pechuho inaugurated a province-wide polio vaccination campaign at the Emergency Operation Centre (EOC) for Polio in Sindh on Monday.
The EOC began the drive of Monday in tandem with the National Immunisation Days. The province-wide campaign aims to administer polio drops to around nine million children under five years of age till April 4. According to a statement issued here, the drive will be launched in all 30 districts of the province. Around two million of the children to be vaccinated reside in Karachi.
Stringent Covid-prevention protocols, as recommended by the World Health Organisation (WHO), are to be followed during the campaign. The measures include the use of face masks by the polio immunisation workers, whose temperatures would be checked before they are sent to inoculate children and they would not directly handle the children. They are to knock on doors using pens, rulers or their elbows, not hands, and spend minimum possible time with families and not enter houses.
Polio vaccination drives and routine immunisation came to a halt in Sindh last year from March to July, following the Covid-19 outbreak. "This created an immunity gap among children and we have been addressing it through back-to-back campaigns since August," said the EOC Sindh spokesperson.
According to the spokesperson, Sindh has not reported a single polio case since July 2020. A number of environment samples are showing negative, he said. "If we continue [vaccination drives] at the same momentum, we will soon see significant results."
Read more: WHO urges journalists to play role in polio eradication
He also stressed the need for immunising children against other diseases to which they are prone. "The benefits of vaccination are clear as frequent campaigns have significantly reduced the burden of polio across the country."
Pakistan is one of the two polio-endemic countries in the world besides Afghanistan. The country has reported one polio case thus far in 2021.
The oral polio vaccine has been endorsed by the Pakistan Pediatric Association, the Pakistan Islamic Medical Association and medical experts around the world as the most effective measure to prevent polio and eradicate it.
Sindh health parliamentary secretary Qasim Siraj Soomro and Sindh health secretary Dr Kazim Jatoi were also present at the inauguration.
Meanwhile, Sindh government spokesperson Murtaza Wahab urged media persons at a hospital in Delhi Colony to raise awareness about polio campaigns so as to facilitate the Sindh government in convincing parents to get their children immunised.
"This way, children will be protected against the poliovirus for life," he said.
Wahab said he hoped that polio was eradicated from the country.
WITH ADDITIONAL INPUT FROM PPI
Published in The Express Tribune, March 30th, 2021.