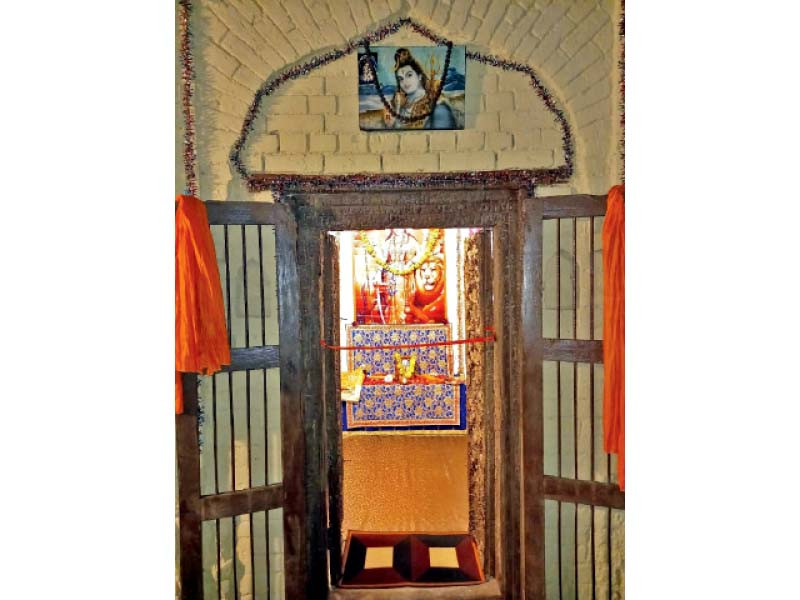 ---
RAWALPINDI:
The Bani Gala Police Station has registered a case against unidentified people for ransacking a 74-year-old Hindu temple situated in the Purana Qila (old fort), Rawalpindi, in the wee hours of Sunday, as renovation and construction work continued for its restoration.
According to details, the construction and repair work of the temple continued for the past one month. Some encroachments in front of the temple had been removed a few days ago. However, the worship, religious rites, and rituals had not started in the temple nor were any idol or anything for worship kept in the temple.
It was reported that 10 to 12 people came and ransacked the doors and stairs of the temple on its outer side, which affected the construction work of the place of worship.
Syed Raza Abbas, Assistant Security Officer, Evacuee Trust Property, Northern Zone, Rawalpindi, registered a case for the occurrence at Bani Police Station.
The application asked the authorities to take legal action against the unidentified people and sought security for the temple.
Also read: Govt plans to restore seven temples in Pindi
Upon receiving information, Rawalpindi CPO Ahsan Younis reached the site of the incident with a heavy contingent of police and inspected the scene to collect evidence.
The police spokesman said the temple was being renovated and that no religious activities had started there. He said a case had been registered and investigation opened.
Meanwhile, the administrator of the temple, Om Prakash, confirmed that 10 and 12 people had ransacked the temple on the night between Saturday and Sunday. He said as soon as the information was received, Rawalpindi police personnel reached the spot and brought the situation under control.
Prakash said that police had been deployed at his house as well as at the temple for security. He, however, said that Holi celebrations will not be held at the temple.
A senior officer of the Evacuee Trust Property Board Rawalpindi refused to express his point of view on the happening and maintained that the Punjab additional secretary shrine, who is based in Lahore, could give his opinion on the matter.
When contacted, Rawalpindi Deputy Commissioner Capt (retd) Anwarul Haq said that after removing the encroachments, the temple had been handed over to the Evacuee Trust Property Board, which was then renovating the worship place.
He said the assistant commissioner of the city will review the situation on Monday (today) and ensure that no such incident takes place in future.