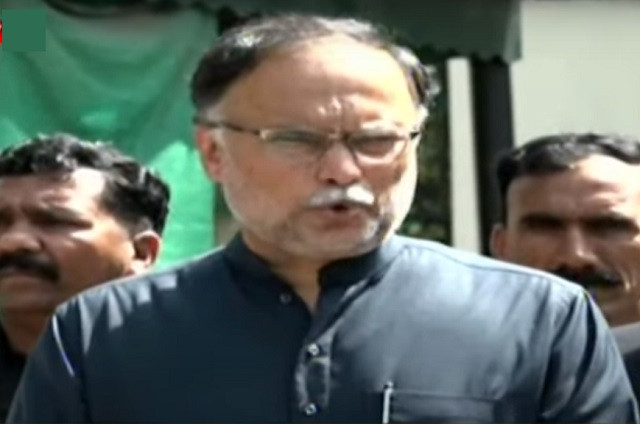 ---
LAHORE:
Pakistan Muslim League-Nawaz (PML-N) leader Ahsan Iqbal said on Friday that the Pakistan People's Party's (PPP) move to apply for the Senate opposition leader has dented the opposition parties' alliance.
Iqbal's remarks came during a presser in Lahore following PPP's Yousuf Raza Gilani's confirmation as the Senate opposition leader. PML-N leader Rana Sanullah was also present on the occasion.
The PPP had 21 seats in the upper house and was assured of support by the Awami National Party (ANP), Balochistan National Party-Mengal (BNP-M) as well as Jamaat-e-Islami (JI).
The PML-N, on the other hand, had 18 seats and Jamiat Ulema-e-Islam five.
Read Gilani officially appointed Senate opposition leader
"It was against the objectives of the Pakistan Democratic Movement (PDM)," Iqbal said in reference to the PPP's move.
"If the post [of Senate opposition leader] was so important for the PPP, they could have asked us, and we would have given it to them," he added.
The PML-N leader maintained that smaller parties fully supported Azam Nazir Tarar as per the decision of the alliance. "27 senators had expressed confidence in Tarar," Iqbal stated.
Lamenting that the ANP also supported Gilani, Iqbal announced to take up the matter with the PDM leadership. "The ANP took a unanimous decision [against the aspirations of the alliance]," the PML-N leader observed.
"The PDM is not [a] homeopathic [alliance], but is very lethal," he said as he warned that those backtracking from the alliance's objectives will remain in loss.
Read more Fazl asks PPP, PML-N to calm down
Iqbal added that the leaders of the alliance will continue to play its role in the Senate and the National Assembly.
He said that, "Everyone knows who asked the senators for support [to vote for Yousuf Raza Gilani]."
Speaking on the occasion, Rana Sanullah said, "It's a political retaliation; the alleged videos of NAB chairman are with Shehzad Akbar."
The 10-party opposition alliance has been battling differences after the PPP disagreed on making en masse resignations from assemblies conditional to the long march.
COMMENTS
Comments are moderated and generally will be posted if they are on-topic and not abusive.
For more information, please see our Comments FAQ