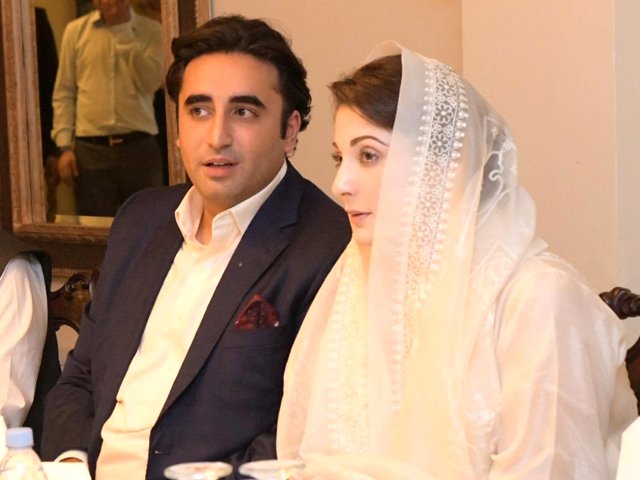 ---
LAHORE:
The Pakistan Peoples Party seemed to have set aside its difference with the Pakistan Muslim League-Nawaz (PML-N) for now, as it announced on Wednesday it would take part in the Pakistan Democratic Movement's (PSM) power show in Lahore on Friday (tomorrow).
The opposition alliance has said that it workers and supporters would accompany PML-N Vice President Maryam Nawaz, when she would appear before the National Accountability Bureau (NAB) in Lahore on March 26 (tomorrow).
PPP leader Qamar Zaman Kaira confirmed to The Express Tribune that the party worker will also accompany Maryam to the NAB office. However, he made it clear that it would only be a token participation to show solidarity with Maryam Nawaz.
Since they were not going there to fight with the authorities so a large number was not required, Kaira said, adding that it would be a peaceful event. Another senior PPP leader Chaudary Manzoor, said that with PPP taking part, one should be sure that it would be a peaceful event.
The gesture of solidarity from the PPP comes just a day after it accused PML-N of striking a deal with the establishment, citing examples of the former premier Nawaz Sharif, who was allowed to travel abroad by the court despite his conviction and of other reliefs granted to Sharif family by courts.
Earlier, PPP Chairman Bilawal accused the Sharif family of being "selected" in the past. According to reports, Bilawal was in way responding to Maryam Nawaz's tweet in which she, without naming the PPP, blamed his party for striking a deal with the establishment to replace the PTI government.
According to a PML-N leader, all this blame game has been brought to a halt by PDM President Maulana Fazlur Rehman, who had called PML-N Quaid Nawaz Sharif and PPP Co-Chairman Asif Ali Zardari, asking them to refrain from attacking each other.
Meanwhile, the Punjab government has declared the NAB office in Lahore as 'Red Zone' for March 26. It has been announced that only Maryam Nawaz's vehicle will be allowed to enter the perimeters declared as the Red Zone.
COMMENTS
Comments are moderated and generally will be posted if they are on-topic and not abusive.
For more information, please see our Comments FAQ