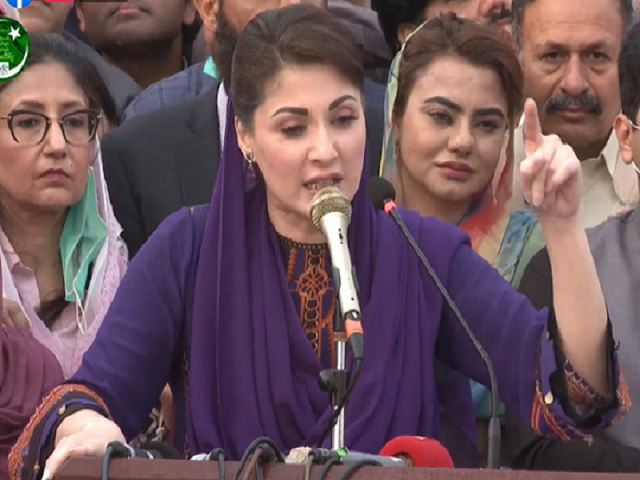 ---
LAHORE:
The Punjab government declared on Tuesday premises of National Accountability Bureau (NAB)'s Lahore office as 'Red Zone' for March 26, the day Pakistan Muslim League-Nawaz (PML-N) Vice President Maryam Nawaz is scheduled to appear for a hearing.
Maryam, the daughter of former prime minister and PML-N supremo Nawaz Sharif, is to appear before the authority in the Chaudhry Sugar Mills and Raiwind land transfer cases.
Giving the bureau's request a nod, the federal interior ministry approved the deployment of Rangers and police at the office's premises for the day.
Read NAB to heighten security on Maryam's hearing
As per reports, contrary to speculations rife in the provincial capital, the authorities may not arrest the PML-N leader on the occasion. Instead, Maryam will only be presented with a questionnaire pertaining to the Chaudhry Sugar Mills case.
Afterwards, she will be questioned regarding the family's property in the Raiwind land transfer case.
NAB's officials will then produce the record of the investigation before the Lahore High Court (LHC), where a hearing is due on April 7. Both NAB and the accused are to submit their responses in the court on the said date.
Read more Opposition resorting to attacks instead of answering the law: says Shibli
Earlier, on Monday, the NAB had asked the authorities for declaring the area as 'Red Zone' and deploying law enforcement in light of 'threats of attack' during the hearing.
Reacting to the written request on Twitter, Maryam had said that the authority was afraid of her in spite of detaining and mistreating her in the past.
On Sunday, following a huddle of the opposition alliance's, the Pakistan Democratic Movement (PDM), the alliance's head Maulana Fazl-ur-Rehman had announced that millions will accompany Maryam to the NAB office at the day of the hearing.
COMMENTS
Comments are moderated and generally will be posted if they are on-topic and not abusive.
For more information, please see our Comments FAQ