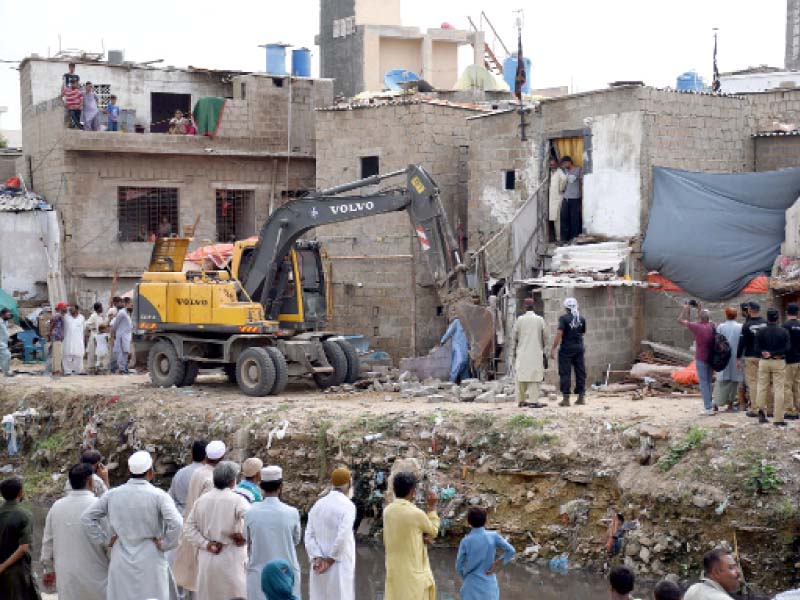 ---
KARACHI:
Residents affected by demolition drives along Gujjar and Orangi nullahs and activists gathered outside the Karachi Press Club on Sunday, to raise voice against "forcible evictions by state authorities" on account of removing encroachments.
During the demonstration, Abid Asghar, who was leading the persons affected by the demolition operation along Gujjar nullah, decried, "We have spent our childhood and youth in these houses. For you, [these structures are] stone and plaster, for us, they are life. Our elders spent their lives endeavouring to build them and it is impossible for people from our socioeconomic class to build a house in this city ever again."
He said the affected persons' only demand was halting the operation until they were provided alternative accommodation in the district of their residence, in line with the Supreme Court's order.
Read: Sindh govt to register affected persons for resettlement
In an order issued in January 2019, a two-member bench of the apex court, comprising Justice Gulzar Ahmad and Justice Sajjad Ali Shah, had directed the relevant authorities to clear state land in Karachi of encroachments and provide alternative housing to persons displaced by the action.
The order stated that the Sindh Advocate General (AG) had told the court that he was going to consult all relevant authorities to bring Karachi its glory which will suit its residents.
"Likewise in this regard he stated that consultation shall also be made with all top city planners as to how existing buildings …. will be removed [and] the people who are dislocated and displaced by such plans are rehabilitated," it read.
According to Karachi Bachao Tehreek [Save Karachi Movement] leader and legal adviser Abira Ashfaq, a "deliberate misinterpretation of the Supreme Court order" has led to leased housing being categorised as encroachments.
Addressing the protest, she maintained, "This was done with the aim to hand over a vast area of land in Karachi to construction companies and the World Bank."
Karachi Bachao Tehreek convener and Awami Workers Party general secretary Khurram Ali said, "The current situation in Central district and Orangi Town mirrors that of Kashmir and Palestine."
"Those raising questions are being harassed and arrested, while the builder mafia - the actual illegal occupiers [of land] - are being given state protection," said Ali, who was reportedly detained for 10 hours on Saturday by the police in connection with the resistance to anti-encroachment drives.
Moreover, Karachi Bachao Tehreek leader and research adviser Fizza Qureshi pointed out the incomplete and inconsistent survey conducted in the build up to the governments' actions, which overlooked many houses.
She maintained that urban floods during the monsoon season last year were not caused by encroachments along Gujjar nullah, "but gated communities and large plazas that had been constructed on river deltas and catered exclusively to the elite."
Qamar Abbas of the Mazdoor Kisan Party termed the "forced evictions a form of class-based exploitation, where the working class is being evicted from homes to make space for capitalist opportunities."
'For the sake of drains'
Authorities, on the other hand, maintain that demolition drives along drains are aimed at maintaining nullah's width.
In the recent past, the Provincial Coordination and Implementation Committee had announced to remove and relocate human settlements and commercial units illegally established along Karachi's nullahs in order to maintain the drains' width in line with the city's master plan.
The decision was made in a committee meeting chaired by Sindh Chief Minister Syed Murad Ali Shah on in October 2020.
In the meeting, the participants were informed that there were 13,441 houses and 2,948 commercial structures built on four nullahs and a river in the metropolis.
These structures reportedly included 5,916 houses and 2,412 commercial units on Gujjar Nullah, 4,480 houses and 380 commercial units on Orangi Nullah, 1,049 houses and 156 commercial units on Mehmoodabad Nullah and 1,996 houses on the Malir River.
Call for resettlement
To this end, Awami National Party (ANP) leader Shahi Syed has pointed out that extending the roads and nullahs in the city was needed, but leaving displaced persons under the open sky is an "inhumane action."
In a statement issued on Sunday, the ANP leader called for ensuring that all persons displaced from the surroundings of Gujjar and Orangi nullahs were resettled.
Also read: Activists raise alarm over rise in bonded labour in Sindh
He added that the Sindh government was responsible for making sure that all affected persons were provided alternative accommodation.
Syed went on to say that "The Sindh government itself had leased out the land to affected persons in the surroundings of the nullah s and now depriving them of shelter was unfair."
He called for an investigation to identify institutions and officials involved in "looting poor citizens in the name of lease."
"We oppose all kinds of illegal occupation and encroachments, but they cannot be established without the government's support," he said.