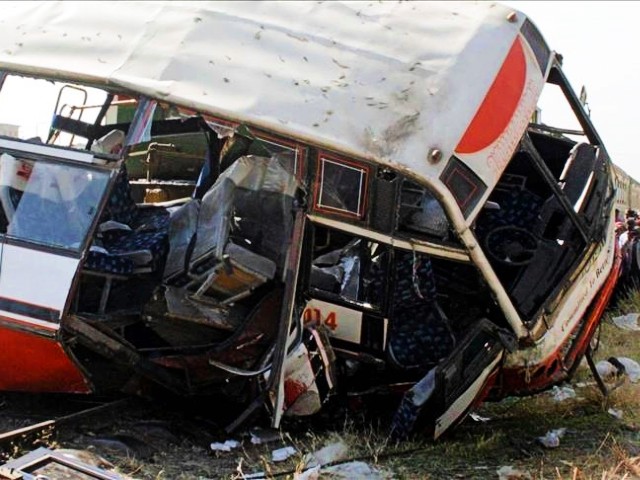 ---
LAHORE:
Road traffic crashes (RTCs) are on an all-time rise across the province, especially in metropolitan cities. The large number of the victims of these road tragedies, which often involving multiples deaths, is the youth due to their violation of traffic rules and a lack of road sense while navigating through busy roads.
These accidents claim innocent lives on main roads, chowks and highways. There is also the added trouble of negligence by the authorities concerned, who often blame victims under the garb of reckless driving, all the while ignoring the poor conditions of certain roads where accident rates are higher.
According to recent reports, the RTCs are leading cause of deaths in the country. These road crashes claimed more lives than incidents terrorism, street crimes or any other single factor.
Unfortunately, these accidents were increasing with each passing day. A few years ago, the average road traffic crashes were reported to be 700 accidents per day across Punjab. However, in less than four years, the daily average of RTCs exceeded 900 crashes, with the past two weeks witnessing over 1,000 such road tragedies.
On March 20, at least seven persons were killed and 1,100 others injured in 1,058 road accidents in Punjab, according to a Rescue 1122 report.
As many as 654 victims were seriously injured and shifted to different hospitals while 439 victims with minor injuries were treated at the incident site by Rescue 1122 Medical Teams.
Furthermore, the analysis showed that 444 drivers, 24 underage drivers, 175 pedestrians, and 481 passengers were among the victims of these road traffic crashes.
The statistics showed that 255 accidents were reported in Lahore which affected 241 victims, placing the provincial capital at top of the list, followed by 85 RTCs in Faisalabad with 89 victims and Multan, at third, with 67 accidents and 68 victims.
According to the data, 863 motorcycles, 141 auto rickshaws, 115 motorcars, 46 vans, 13 passenger buses, 33 trucks and 111 other types of auto vehicles and slow-moving carts were involved in these road traffic accidents.
On March 13, as many as 1,123 RTCs killed 12 people whereas 1,201 were injured across Punjab.
On March 1, at least 1,007 RTCs claimed the lives of 13 people whereas 1,076 victims sustained injuries.
Similarly on February 26, at least 1,001 Road Traffic Crashes (RTCs) in all 36 districts of Punjab led to the deaths of 14 people died whereas 1,088 persons were injured.
The accidents across Punjab were witnessing a spike with each passing day.
An analysis of Rescue 1122 data by The Express Tribune, of the first 70 days of 2020 and 2021, revealed that at least nine people lost lives in 897 accidents on average every day in Punjab in 2020. The figure jumped to 12 deaths and 920 accidents daily in 70 days of the ongoing year.
The analysis of data compiled by the emergency service showed that at least 614 people died and 69,077 were injured in 62,851 crashes from January 1 till March 11 last year.
In the ongoing year, these numbers grew drastically as 818 people lost their lives while 69,076 were left injured in 62,851 RTCs from January 1 till March 11 of the current year.
There have been many days during the current year when the figure crossed even 920 daily accidents and exceeded 1,000 RTCs daily.
This spike had been recurrent in the month of February and March.
The authorities concerned, in a bid to cover up the intensity of the traffic situation, often come up with very vague explanations such as reckless driving, placing the onus of road safety on the victims alone.
*With additional input from APP
Published in The Express Tribune, March 21st, 2021.
COMMENTS
Comments are moderated and generally will be posted if they are on-topic and not abusive.
For more information, please see our Comments FAQ