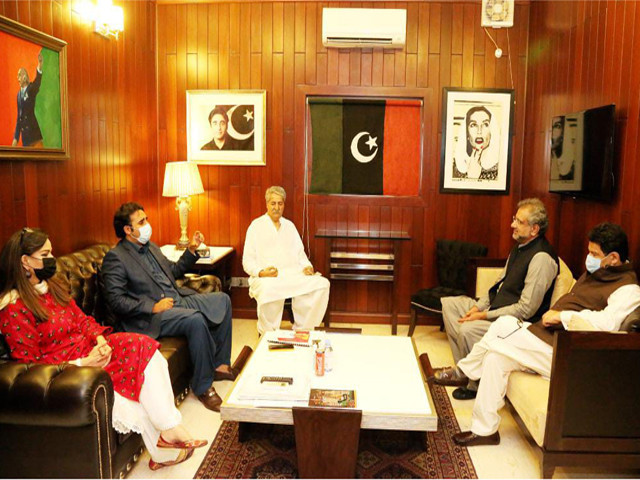 ---
KARACHI:
The Pakistan Muslim League-Nawaz has approached the Pakistan Peoples Party seeking its support in the NA-249 by-poll scheduled for April 29.
The National Assembly seat had fallen vacant after the Pakistan Tehreek-e-Insaf's Faisal Vawda was elected a senator.
Former prime minister and PML-N Vice President Shahid Khaqan Abbasi, accompanied by PML-N leader Miftah Ismail, the candidate for NA-249, on Saturday called on PPP Chairman Bilawal Bhutto Zardari at Bilawal House. PPP's Sherry Rehman and Naveed Qamar were also present.
According to sources, the leaders discussed the political situation in the country and the NA-249 by-election.
Also read: The shared history of NA-249 and Imran Khan
They said that Abbasi sought the support of the PPP for the PML-N candidate in NA-249. However, the PPP chairman replied that he would inform the former premier after consulting the party leadership.
The Election Commission of Pakistan asked the candidates to submit their nomination papers between March 13 and 17 while those who want to withdraw from the by-poll could to do so by April 7. The scrutiny process would start from March 25.
Vawda resigned after casting his vote in the Senate elections held on March 3.
In the 2018 general election, Vawda had defeated PML-N President Shehbaz Sharif by a close margin of 718 votes to secure the NA-249 seat. Vawda bagged 35,344 votes against Shehbaz's 34,626.
The ruling PTI and opposition parties are also getting ready for the re-polling in Daska's NA-75 scheduled for April 10.
Also read: Race for NA-249 seat begins
Earlier, the by-poll in Daska was marred by chaos as two people were killed during a clash between the PTI and the PML-N workers. However, after the disappearance of 20 presiding officers of the constituency, the ECP declared the election invalid.
Separately, talking to the media, Abbasi defended PML-N leader Javed Latif, saying that he did not utter a single word against the state institutions but "he should apologise" for stating that he won't be able to say Pakistan khappay (long live Pakistan) if anything happened to party Vice President Maryam Nawaz.
"I didn't hear any statement of Latif against national institutions," Abbasi said.
Latif's remarks during a TV show to protest against an alleged threat to Maryam by an army officer had sparked a controversy among the ranks of the government as Punjab Prisons Minister Fayyazul Hassan Chohan vowed to get a case registered against him.
COMMENTS
Comments are moderated and generally will be posted if they are on-topic and not abusive.
For more information, please see our Comments FAQ