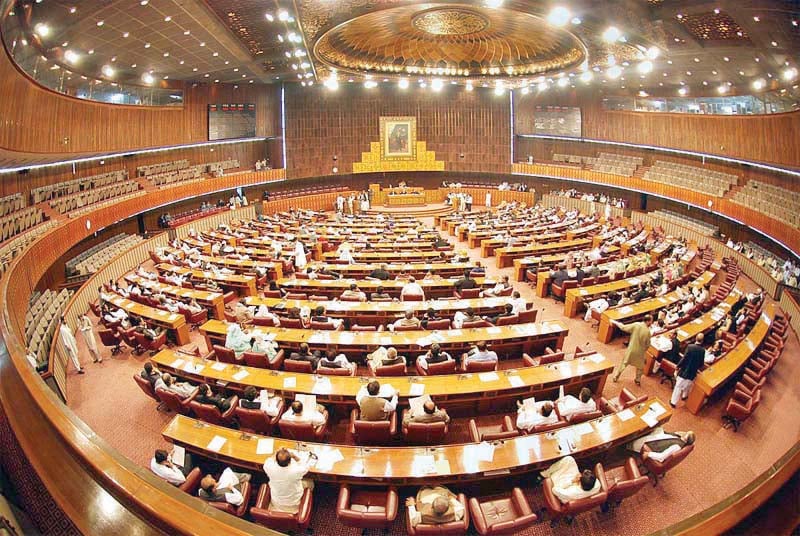 ---
KARACHI:
Around 30 candidates had collected 68 nomination forms for contesting the by-elections on the NA-249 seat - which was vacated by Pakistan Tehreek-e-Insaf leader Faisal Vawda who resigned from the National Assembly after bagging a Senate seat - as of Sunday.
Pakistan Muslim League-Nawaz's (PML-N's) Miftah Ismail, Pakistan Peoples Party's (PPP's) Nisar Khuhro and Qadir Khan Mandokhel, Muttahida Qaumi Movement-Pakistan's (MQM-P's) Yousuf Alam, Pakistan Tehreek-e-Insaf's (PTI's) Laila Parveen and Ashraf Jabbar Qureshi, Pak Sarzameen Party's Syed Mustafa Kamal, Syed Hafeezuddin and Humayun Usman, Jamiat Ulema-e-Islam-Fazl's Rashid Mehmood Soomro, three Tehreek-e-Labbaik Pakistan (TLP) candidates and Sunni Tehreek's Bilal Qadri are among those who have collected the nomination papers.
Read: PPP gears up for long march to 'oust PTI'
Those aspiring to contest the by-poll have until March 17 to collect and submit their nomination papers from the West district election commission office. The Election Commission of Pakistan (ECP) will then put up a list of candidates who submitted the nomination papers on March 18 and the scrutiny of the papers will be completed by March 25. The last date for challenging the returning officer's (RO's) decision has been set at March 29 and the Appellate Tribunal will decide appeals filed against the RO's decision by April 5. Candidates will be able to withdraw their candidature by April 7.
The ECP will allot symbols to aspiring lawmakers on April 8 and the by-poll is scheduled to take place on April 29.
This was confirmed by West district election officer Nadeem Haider, who said the district election office did receive a request to defer the election until after Ramazan, but a decision in this regard is yet to be made by the higher ECP officials and as of now, the by-poll is slated for April 29.
A history of the constituency
In Karachi's NA-249 constituency, where the number of registered voters is 331,000, there is no clear favourite. It is home to the supporters of almost all political parties and hence, every vote counts.
Vawda, who won the seat in the 2018 general election, polled 35,349 votes, beating PML-N's Shehbaz Sharif by a small margin of 723 votes. Sharif had bagged 34,981 votes in the constituency in the election, while TLP's Mufti Abid secured 23,981 votes, MQM-P's Aslam Shah secured 13,534 votes, Muttahida Majlis-e-Amal's Syed Ataullah Shah secured 10,307 votes and PPP's Qadir Khan Mandokhel secured 7,236 votes.
A total of 131,190 votes were cast, of which 2,684 were rejected.
Back then, Sharif was contesting an election in a constituency of Sindh for the first time, given the PML-N's stronghold in NA-249.
Read more: Sanjrani's win sets off rigging claims - again
Besides, TLP's Muhammad Qasim and PTI's Shahzad Awan won PS-115 and PS-116 seats in the Sindh Assembly from the area in the 2018 general election.
Prior to the 2018 general election, the MQM had won the national assembly seat thrice in the constituency. However, the party's stronghold weakened after the boundaries of constituencies were redrawn.
In a more recent development, another district - Keamari district, was carved out of the West district in Karachi, following which the constituency now comprises areas of the new district as well.
"Like 2018, we are expecting a big contest this time around as well," said Haider, adding that all security arrangements for the by-poll would be made.
Published in The Express Tribune, March 15th, 2021.
COMMENTS
Comments are moderated and generally will be posted if they are on-topic and not abusive.
For more information, please see our Comments FAQ