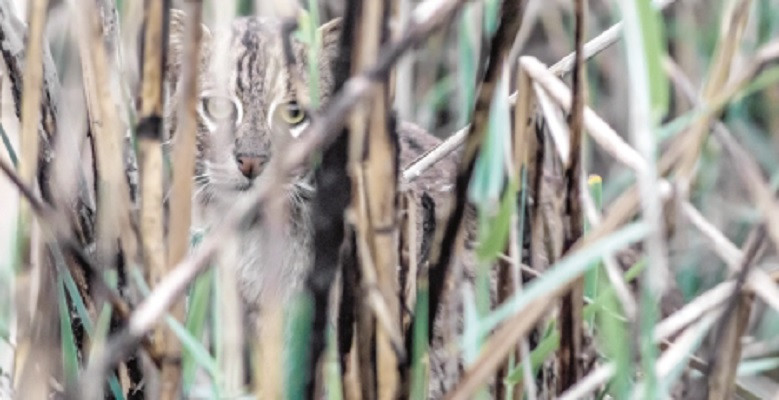 ---
KARACHI:
Wildlife conservators and lovers regretted on Friday the killing of a fishing cat by villagers in Sukkur district a day prior.
Residents of Abejano village near Saleh Pat tehsil hunted down the fishing cat on Thursday, believing that it had preyed on their goats.
The villagers were aware of the presence of the deceased fishing cat near their houses for the past one week.
Reacting to the killing, Sindh Wildlife Department (SWD) officials said that the feline's body has been taken into custody and is en route to Karachi.
They assured stringent action against the hunters.
Read: SWD launches probe into leopard's killing
Protected by law
"We were told about the incident soon after the death of the cat," said Adnan Khan, the deputy conservator of the SWD Sukkur division. "We have taken the body into custody."
According to the Section 21 of the Sindh Wildlife Protection, Preservation, Conservation and Management Act 2020, all animals in the province are protected.
"We are taking stern action against the villagers who killed this animal," said SWD provincial chief Javed Ahmed Mahar. "The body is being shifted to Karachi," he added, maintaining that the elements responsible for killing the animal will be dealt with according to the law.
Replying to a question, Khan told The Express Tribune that fishing cats were common across Sindh. "People call it 'chitto' [leopard] in rural areas and kill them [perceiving it as] a threat to livestock."
Seconding him, Mahar said that one could find the large felines near all wetlands.
A shy feline
Fishing cats are larger in size than other cats, active swimmers and clever felines – but are also a rare sight in the wild, mainly due to their secretive and shy nature. They have been listed as vulnerable animals but wildlife conservators believe that Sindh is still a safe haven for them.
"There is no awareness among the people about wildlife," commented Jaffar Hussain, a wildlife photographer, who recently captured a photo of a fishing cat near Haleji Wildlife Sanctuary.
"This is a shy animal and doesn't attack livestock and people," he added.
Hussain told The Express Tribune that as a photographer he had been in search of the cat for the last couple of years. "I found the cat on March 3 - the World Wildlife Day," he said.
Read more: SWD sets free two hawks
"This is an asset of our country and we need to protect these animals," urged Hussain. He added that the authorities needed to build awareness among the public and conduct sessions in this regard.
"The media needs to play a positive role as the presence of such animals near residential areas is usually portrayed as a threat to people," he explained.
This is not the first incident of killing large cats.
On February 22, villagers near Rann of Kutch of Thaparkar district did not hesitate before killing a leopard soon after it was spotted.
Such animals are frequently attacked by people, but the law only allows people to kill them in self-defence.