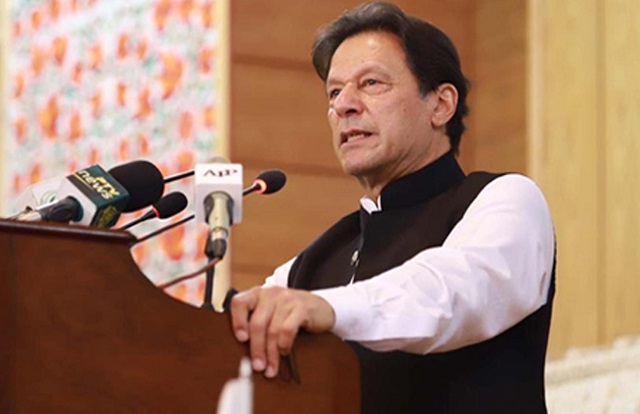 ---
MALAKAND:
Prime Minister Imran Khan on Friday said the government was working for the promotion of technical education and information technology to ensure sustainable economic growth, which would ultimately help generate more jobs and empower the country's youth.
Addressing the inauguration function of new block at Malakand University, Premier Imran said, "Developed nations' success is attributed to their priorities they accord to quality education, research and knowledge-based economy and this is why the government is investing in human resource development for rapid economic growth and to generate more employment opportunities."
PM Imran said NUML University is providing quality education to thousands of aspiring students, expressing hope that it would soon become on a par with the Oxford University.
"Al Qadir University will be completed by this September and it would also become a hub of quality education and research works," he added.
Taking a jibe at PPP Co-chairman Asif Ali Zardari and PML-N supremo Nawaz Sharif, the PM said the country's wealth had been stolen for the past 30 years and its plunderers had either taken shelter in hospitals or fled abroad to escape accountability.
Happiness, he remarked, could only be achieved by following the right path and serving people with dedication and commitment.
Imran said there was no shortcut in life for achieving goals and all objectives could be achieved through hard work and professionalism, adding that aimless life destroyed potential of individuals.
He said Pakistan possessed all the potential to become a developed country and great responsibility lay with the educational institutions to bring intellectual revolution among students as per Quaid-i-Azam and Allama Iqbal's vision.
He said when his government took over the country's reins, it was facing massive loan burden and bank default and the national kitty was almost empty. With the support of friendly countries and his government's strong economic policies, he said, the country was now heading towards the right direction of economic stability and prosperity.
The country, he said, had come out of a difficult economic situation now and his government had returned a record Rs6.2 trillion interest on loans during the last two and a half years, whereas, the PML-N could only repay Rs3 trillion during the same period.
In comparison, his government had returned Rs35 trillion as repayment and interest on loans whereas the PML-N had paid back only Rs20 trillion, he informed.
He said the government was focusing on mega development projects to generate economic and financial resources. In addition to two mega projects of Bhasha and Mohmand dams to meet energy needs, Ravi and Business cities were also being established in Lahore with the potential to generate Rs6,000 billion revenue and promote economic activities, he added.
Following construction of Chashma Right Bank Canal (CRBC), he said over 300,000 acres of land would be irrigated in DI Khan and adjoining districts that would bring about green revolution in southern districts of Khyber-Pakhtunkhwa.
He said the area on right bank of the Indus River was the most suitable option for olive plantation and a substantial revenue could be generated by promoting its cultivation, besides saving hefty revenue being spent on edible oil import.
The PM also hinted at soon announcing a new policy for further promotion of the agriculture sector in the country.
Imran said promotion of tourism in the country was the cornerstone of the PTI government's policy and domestic tourism had now taken off, especially in K-P.
He said Malaysia was earning about $20 billion, Turkey $40 billion, Switzerland from $60 billion to $80 billion from tourism and Pakistan's northern areas, including Gilgit-Baltistan and K-P, have more land than Switzerland where skiing sports could be developed to generate substantial revenue for the national kitty.
Malaysia, he said, had achieved remarkable success by promoting cottage and others industries due to the prudent leadership of its Prime Minister Dr Mahathir Mohammad.
Earlier, the PM was briefed about the salient features of the newly inaugurated block in Malakand University.
Upon his arrival, the PM was received by Chief Minister Mahmood Khan and the University of Malakand vice chancellor.
Premier Imran also visited the Swat Motorway and inaugurated three tunnels that will significantly reduce travel time.
He unveiled the plaque on the occasion to mark the inauguration and also inspected the completed tunnels.
Federal Minister for Communications Murad Saeed accompanied him.
On his arrival at Zalam Kot, Malakand, the PM was received by Mahmood and Director General of Frontier Works Organisation, Major General Kamal Azfar.
Briefing the premier, the FWO DG said the 80km-long Swat Motorway had seven interchanges and three tunnels with length of 1,266, 271 and 324 metres.
He also presented a 3D model of Swat Motorway to the prime minister.
The K-P government has successfully constructed Pakistan's first provincial motorway from its own resources.
The Swat Motorway has reduced journey time for commuters, especially tourists and traders. It also benefits the entire Malakand Division comprising Swat, Dir Lower, Dir Upper, Chitral Lower, Chitral Upper, Bajaur, Buner and Shangla districts.
The motorway originates from Karnal Sher Interchange in Swabi district on the Peshawar-Islamabad Motorway and ends at Chakdara in Dir Lower district.
Former K-P chief minister Pervaiz Khattak had performed its groundbreaking on August 25, 2016.
The Executive Committee of the National Economic Council (ECNEC) has recently approved acquisition of 10,000 kanal of land for the Swat Motorway Phase-II, which would be constructed from Chakdara to Fatehpur Madayn with an estimated cost of Rs37 billion, besides Rs20 billion cost of land.
The completion of the first phase of Swat Motorway has opened opportunities of trade, business and tourism for the Malakand Division, besides significantly reducing the distance between Peshawar and Swat to nearly two hours.
Before the construction of Swat Motorway, it used to take about four hours to reach Peshawar from Mingora, Swat due to the narrow Malakand Pass. (With input from app)
COMMENTS (1)
Comments are moderated and generally will be posted if they are on-topic and not abusive.
For more information, please see our Comments FAQ