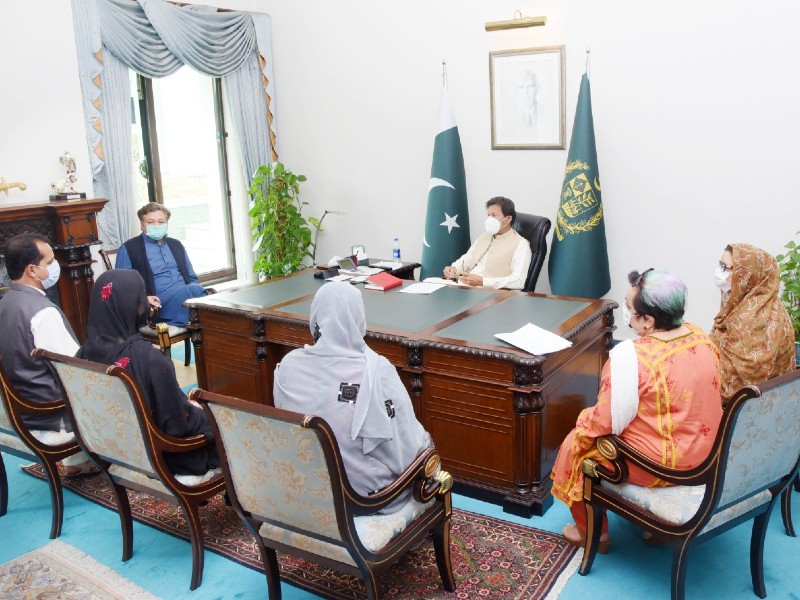 ---
Prime Minister Imran Khan on Thursday met a three-member delegation representing the families of missing persons who staged a sit-in in Islamabad last month.
Minister for Human Right Dr Shireen Mazari shared the details of the meeting on her official Twitter handle.
PM IK met with the 3 mbr Balochistan missing persons committee representing the 13 families of the dharna last month. PM has tasked the Principal Secretary to ascertain quickly the exact status of the missing family mbrs & committed to updating the committe mbrs on progress. pic.twitter.com/UuTk1ToQED

— Shireen Mazari (@ShireenMazari1) March 18, 2021
She said that PM Imran has tasked the principal secretary to quickly ascertain the exact status of the missing family members and committed to update them on the progress.
Mazari said that the premier reiterated to fast track the legislation to criminalise enforced disappearance along with whatever other laws need to be amended.
She also said that the prime minister also asked to be kept informed about the progress on finding the whereabouts of the missing family members.
Read more: PM Imran resurrects bill on missing persons
On February 18, it was reported that PM Imran directed authorities to expedite the process of bringing effective legislation in the parliament to stop enforced disappearances as the families of the missing persons pray and search for their loved-ones endlessly in the absence of a proper mechanism.
In the post-cabinet press briefing, Federal Minister for Information and Broadcasting Shibli Faraz said the prime minister had given clear instructions to activate a bill reportedly pending before parliament for a couple of years, and devise a mechanism for resolving the issue.
The minister said Premier Imran while explaining his point of view to the cabinet members said the issue of missing persons during the wave of terrorism in the past was somewhat understandable but with drastic fall in terror incidents, there could be no justification for such incidents.
"The PM asked why the government shouldn't go for legislation through which a person could be detained for three, six, nine months or more while emphasising that there should be a time-frame.
"Half the peace comes when the families know that their loved-ones are alive and at a certain location," the minister had quoted the prime minister as saying.
COMMENTS
Comments are moderated and generally will be posted if they are on-topic and not abusive.
For more information, please see our Comments FAQ