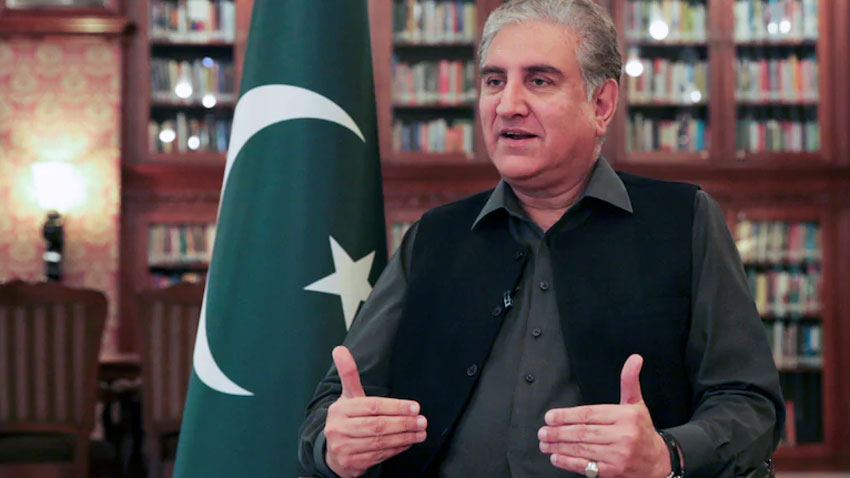 ---
ISLAMABAD:
Reiterating his earlier stance, Foreign Minister Shah Mahmood Qureshi again referred to the Pakistan Democratic Movement (PDM) as an 'unnatural alliance' on Wednesday, a day after the anti-government opposition alliance failed to reach a consensus on the issue of resignation from assemblies.
Criticising the alliance, Qureshi said the PDM neither shared a single manifesto nor vision. "This nexus is based merely on interests," he added.
According to the foreign minister, the opposition parties kept doubting each other during the Senate elections, adding that internal disputes have now been overtly exposed.
"Yesterday, Asif Ali Zardari demanded Nawaz Sharif's return for resignations, which was rejected by Maryam Nawaz Sharif during the same session," he said.
"My statements issued in regard to the demands of the resignations are on record. Since the beginning, I have been saying that the Pakistan Peoples Party (PPP) will not tender their resignations. The PPP will not sacrifice the Sindh government under any condition," Qureshi said.
Read 'Ready to tender resignations if Nawaz returns', Zardari says at PDM huddle
He added that the PDM alliance is only to escape NAB's arrests.
"Both the PPP and the Pakistan Muslim League-Nawaz (PML-N) were using each other for their interests so that they may part ways after the fulfilment of their objectives," he added.
The FM stated that they opposition parties had gathered in the PDM to rescue themselves.
The Pakistan Tehreek-e-Insaf leader's statement comes a day after Maulana Falzur Rehman's announcement about the postponement of the PDM long march, which was scheduled to begin on March 26.
Rehman's announcement came in after serious differences arose within the PDM alliance over the issue of lawmaker's resignations from assemblies.
According to sources, the PPP flatly refused to resign from the assemblies, while the PML-N refused to recall Nawaz Sharif from London. On the other hand, Fazl demanded accountability over the defeat of Maulana Abdul Ghafoor Haideri in the election for the post of Senate Deputy Chairman.
COMMENTS
Comments are moderated and generally will be posted if they are on-topic and not abusive.
For more information, please see our Comments FAQ