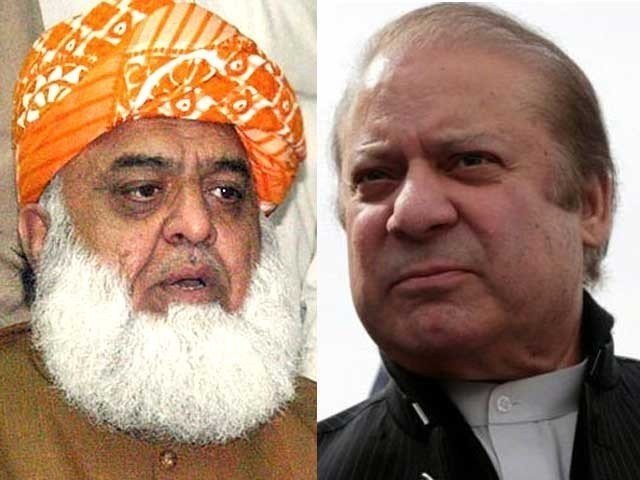 ---
ISLAMABAD:
A day after cracks within the opposition's Pakistan Democratic Movement (PDM) became distinctly visible, the alliance's chief Maulana Fazl-ur-Rehman is said to have contacted Pakistan Muslim League-Nawaz (PML-N) supremo Nawaz Sharif on Wednesday to discuss the opposition alliance's future plan of action.
According to Express News, the two leaders reportedly discussed the proceedings and decisions of the opposition parties' huddle held yesterday, over the long march previously scheduled for March 26.
They also mulled over the alliance's future strategy against the ruling Pakistan Tehreek-e-Insaf (PTI) government.
The PDM appeared to be in tatters on Tuesday owing to a serious divide on the issue of lawmakers' resignations from assemblies, that forced it to postpone the long march against the government.
The PDM summit ended without taking any decision on major issues as leaders engaged themselves in heated exchanges over resignations, the Senate elections, and on the question of who to nominate as leader of opposition in the upper house of parliament.
Read PDM a divided house over resignations
According to sources, the PPP flatly refused to resign from the assemblies, while the PML-N refused to recall Nawaz Sharif from London. On the other hand, Fazl demanded accountability over the defeat of Maulana Abdul Ghafoor Haideri in the election for the post of Senate Deputy Chairman.
During the meeting, PPP Co-Chairman Asif Ali Zardari urged Nawaz Sharif to return to Pakistan from London to reinforce the opposition against the PTI-led government, and if necessary the leaders of the PDM would go to jail together.
Zardari's call for return of Nawaz, who has been living in self-exile in London, stunned the participants of the PDM leaders who were in the federal capital to discuss the fate of the much-debated long march on Islamabad to unseat the PTI-led coalition government.
Later, Fazl briefly appeared before a battery of waiting journalists to announce the postponement of the long march, which was scheduled to begin on March 26, until the PPP returns with its formal decision on the resignation issue.
COMMENTS
Comments are moderated and generally will be posted if they are on-topic and not abusive.
For more information, please see our Comments FAQ