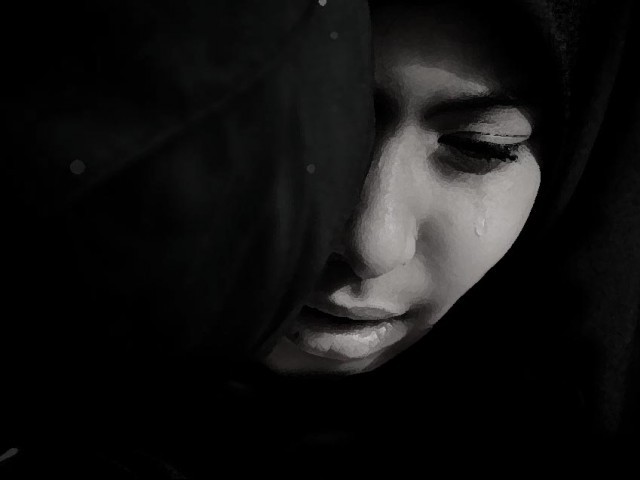 ---
KARACHI:
The family of one of the two Hindu girls who were allegedly forcibly converted to Islam at the place of the Pir of Bharchundi Sharif, Pir Abdul Haq aka Mian Mithu, staged a protest in Kandhkot on Thursday.
The protesters demanded of the police and the Sindh government to recover the girls, Kavita and Arti Kumari, who went missing on March 8.
Later, a video of Kavita being converted to Islam went viral on social media," Sukh Dev Hemnani, a social activist from Ghotki, told The Express Tribune. "This is a forced conversion."
In the video, a girl in a blue dress is seen sitting among men, who are making her video and taking her photographs with their mobile phones and holding currency notes.
Hemnani said the case for Kavita's abduction was registered at Tangwani Police Station.
According to Kavita's school certificate, which is available with The Express Tribune, she was born on December 12, 2008.
Hemnani said the other girl, Arti, was the daughter of Kirshan Kumar Meghwar, a resident of a village in Ghotki.
"Her [Arti's] family does not want to get an FIR registered," he said.
Hemnani said the Sindh Women Development Department and Sindh Human Rights Commission were taken on board on the matter.
Sindh Women Development Minister Shehla Raza tweeted on the matter, stating that "we have taken up this case and [are] putting in all our efforts for [delivering] justice. Hope she will be recovered ASAP."
The police, meanwhile, have conducted raids in Ghotki and Kandhkot to recover the girls.
Social and political activists have also urged the provincial government and police to take action against Mithu and recover the two girls.
When approached, Mithu confirmed that the girls were converted to Islam.
"Both the girls came to our place voluntarily," he claimed. "No one brought them [forcefully] and they have been enrolled in a madrassa."
Published in The Express Tribune, March 12th, 2021.