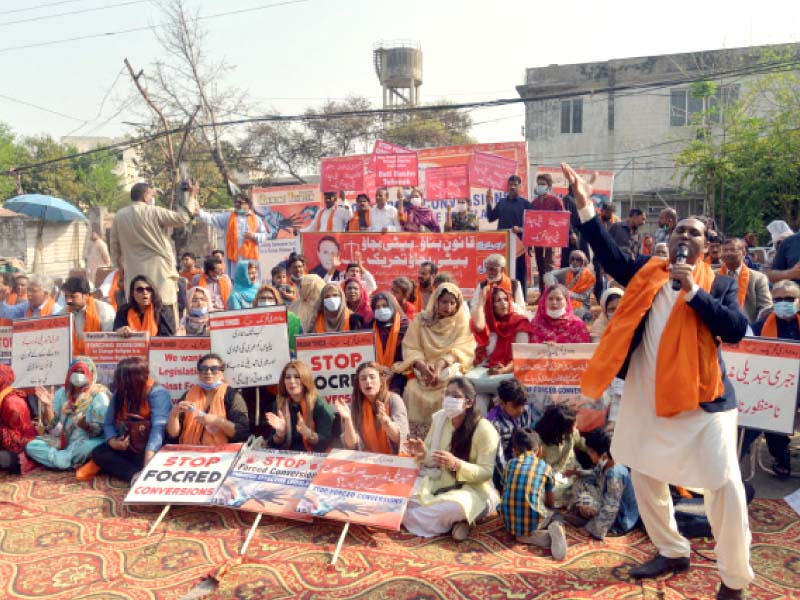 ---
LAHORE:
Like other parts of the world, lively rallies and marches were held in Lahore on International Women's Day.
A large number of demonstrators carrying placards and posters calling for an end to gender discrimination and urging gender equality participated in a women's march.
Several walks, seminars and rallies were organised in the city to mark the day.
The women's march started from Lahore Press Club. Besides women, a large number of men and transgender people carrying placards and posters inscribed with messages for the occasion also participated in the event.
The participants maintained that women were being deprived of their basic rights and subjected to domestic violence and sexual abuse.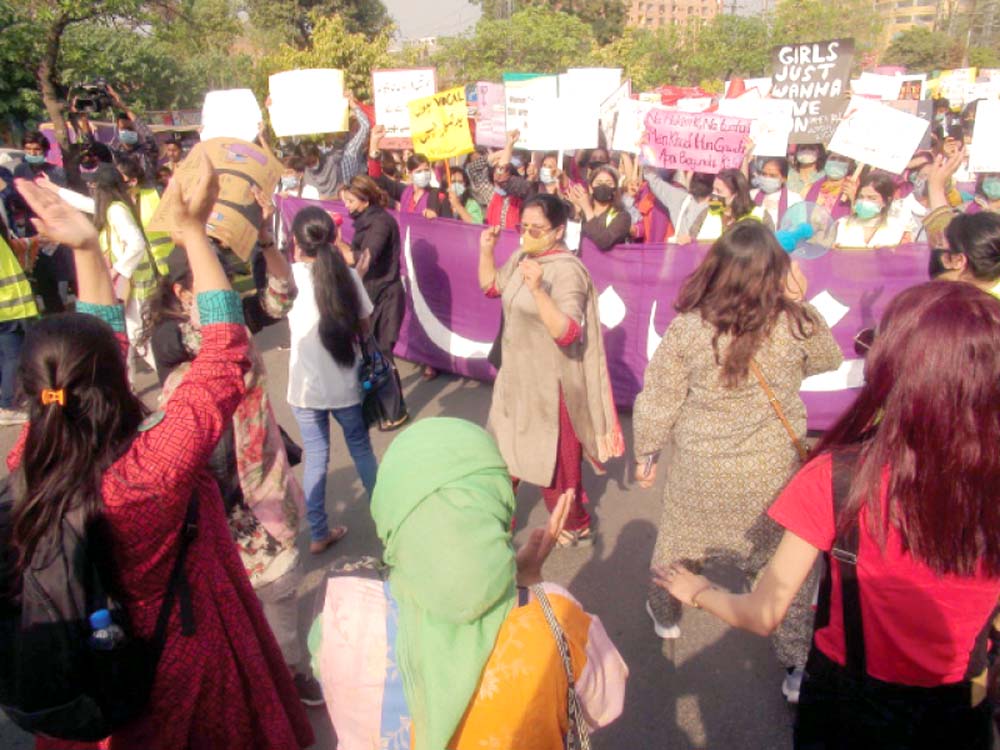 Talking to The Express Tribune, ASP North Cantt Bushra Nisar, who was on security duty at the rally, said that the number of women working in police, as well as other government, semi-government and private offices, was significantly less than men.
Read more: 'Do not deprive fellow citizens of their rights', urges Mazari
She said that times were changing now and women were working side by side with men and were also outdoing men in various fields. She said that she was immensely thankful to her father whose support at every stage, including higher education, had helped her to become a police officer. "It would not be wrong to say that I am what I am today because of my father's support," she said.
One poster exhibited at the march carried the statement: "We are four sisters and do not need a brother". Another poster was captioned, "Sisters are a strength." A poster held by a man read, "Respect women's freedom."
The women's march ended at Egerton Road, where the participants staged a sit-in for some time.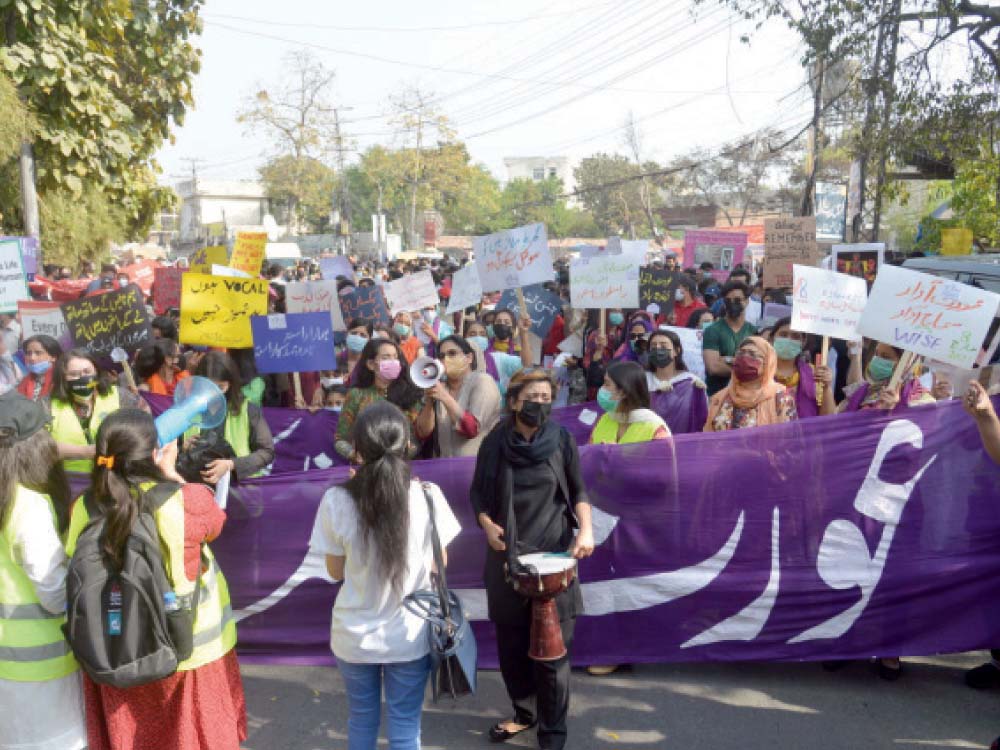 The participants also presented cultural performances and recited poems on women's rights on the occasion.
A large number of male and female security personnel were deployed on the occasion.
The participants noted that in addition to women, this year's march also drew a large number of men from different walks of life. A participant said the main objective of the march was to create a society free from exploitation and a country in which women were protected against discrimination and violence and assured employment, health and education facilities.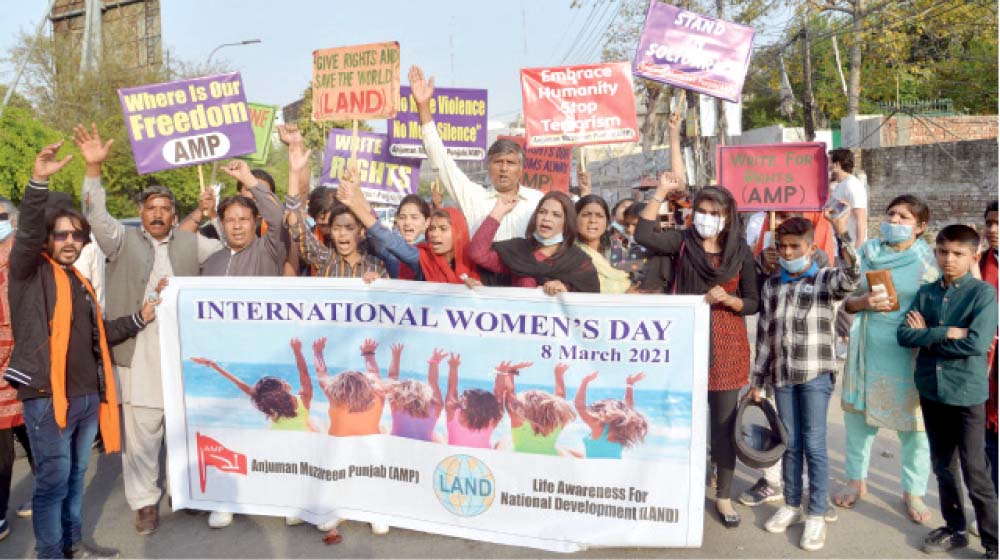 The demonstrators said that women faced sexual harassment at all workplaces, including when they worked as day labourers. They said that women should be protected against sexual abuse through anti-harassment laws.
Several roads leading to the route of the march were closed and a large number of police were deployed for security of the event.
Published in The Express Tribune, March 9th, 2021.
COMMENTS
Comments are moderated and generally will be posted if they are on-topic and not abusive.
For more information, please see our Comments FAQ