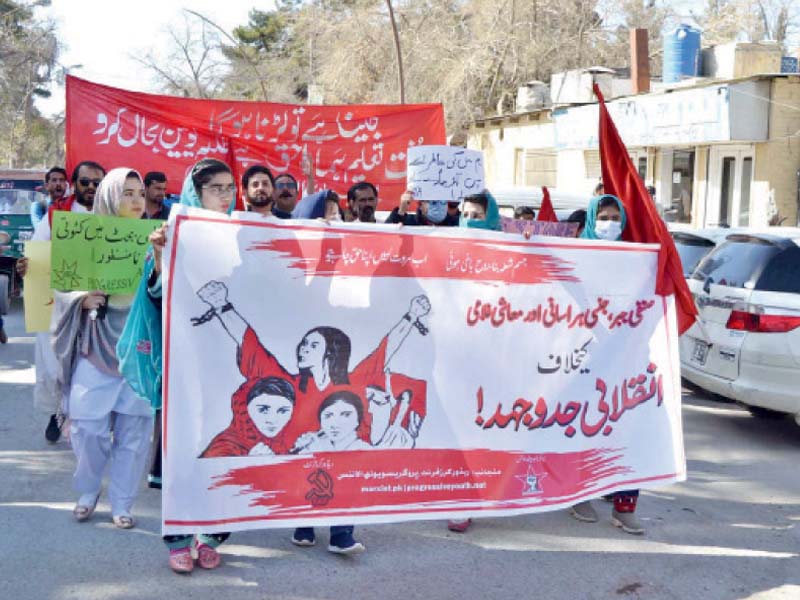 ---
SWABI:
In connection with International Women's Day, a special ceremony was held at Jhanda town in Khyber-Pakhthunkhwa's Swabi district.
The event was organised by parliamentary Caucus K-P Assembly and provincial Commission on the Status of Women (CSW) with the collaboration of a Canadian organisation.
Chairperson CSW Dr Riffat Sardar, Female Members of Provincial Assembly Ayesha Naeem, Ayesha Bano, Baseerat Bibi, Somi Falak Naz, Sajida Hanif and Naeema Kishwar spoke on the occasion.
The speakers said that protection of women's rights is fully guaranteed in Islam while the constitution of Pakistan also guarantees equal rights to women at all levels. "Allah Almighty has endowed women with immense talents and our women are showcasing their talents in all walks of life, including agriculture, economy, health, education, journalism," they said.
The speakers said that the role of women in the politics of the country is not hidden from anyone and women are also actively participating in the proceedings of the Senate, National and Provincial Assemblies and contributing to the legislation for the benefit of the country and the nation.
They also referred to the Women Protection Bill passed by the K-P Assembly, adding that a six-month imprisonment with a fine of up to three lakh rupees will be awarded to culprits involved in domestic violence.
Zuhra Luqman while highlighting the role of Cowater International informed the participants that her organisation has played a significant role in ensuring the welfare of women and their effective participation in the political process through the partnership of the Department of Social Welfare and Women Development, Commission on Status of Women and other relevant organisations.
The MPAs appreciated the services of Cowater International in this regard and assured their full cooperation to them.
Published in The Express Tribune, March 9th, 2021.