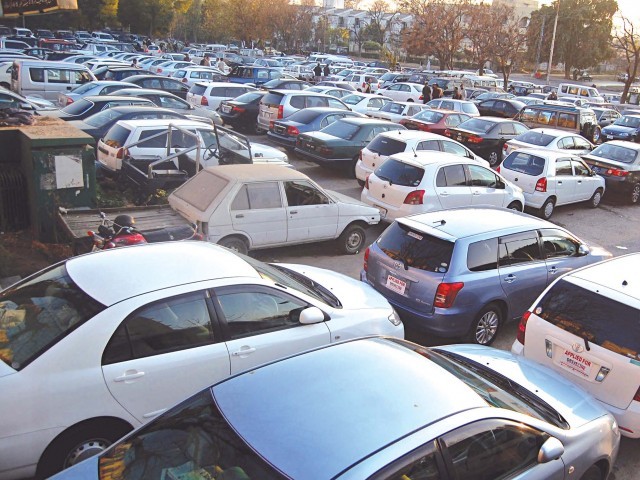 ---
RAWALPINDI:
The Punjab government has approved the construction of a multi-storey parking plaza in place of Children World Park in Rawalpindi Commercial Market despite a stay order by the Lahore High Court Rawalpindi Bench.
The Rawalpindi Metropolitan Corporation (RMC) had demolished the Children World Park along with all swings and benches during the 2020 coronavirus lockdown drawing public outcry.
The issue landed in LHC Rawalpindi Bench and the court issued a stay order against any construction at the spot till such time the case was decided.
Officials in RMC told The Express Tribune that they have received the official nod to get the paperwork ready for the parking plaza to be built under the public-private partnership (PPP) mode of financing will cost around Rs1.3 billion. It will have the capacity to park up to 1,000 vehicles.
Officials said that the traffic congestion in the city centre was getting worse due to the increasing number of vehicles and a shortage of parking lots. Traders and shopkeepers of the area told The Express Tribune during a survey that they were losing clients because people were averse to coming to downtown out of fear of getting caught in a traffic jam and finding no place to park their vehicles.
Locals said that Commercial Market connects to three sectors of Satellite Town, however, residents of the area avoid this shopping hub due to traffic mess. Due to lack of parking space, the vehicles of the buyers coming to the commercial market are parked on different streets.
The first lane of the road reserved for curb parking was in possession of encroachers, the second one for parking vehicles of shopkeepers, the buyers have to park in the third lane or go crazy running around the block finding a place to dock their ride, a local shopkeeper said.
Subsequently, traffic jams have become the norm. To meet the shortage of parking lots, a parking plaza will be constructed on more than five kanals of land in the middle of the Commercial Market. Regular parking fees will be charged in the multistorey parking plaza, which will be collected by a private contractor.
RMC has annexed the space of the children's park for the multi-storey parking plaza. It will separate entrance and exit gates for cars and motorcycles and lifts and ramps to take vehicles to the upper floors.
Once started, the construction will be completed in eight months.
It will be the second parking plaza to be built on government land under PPP mode. Earlier, a multi-storey parking lot was constructed at Fawara Chowk, which was successful.