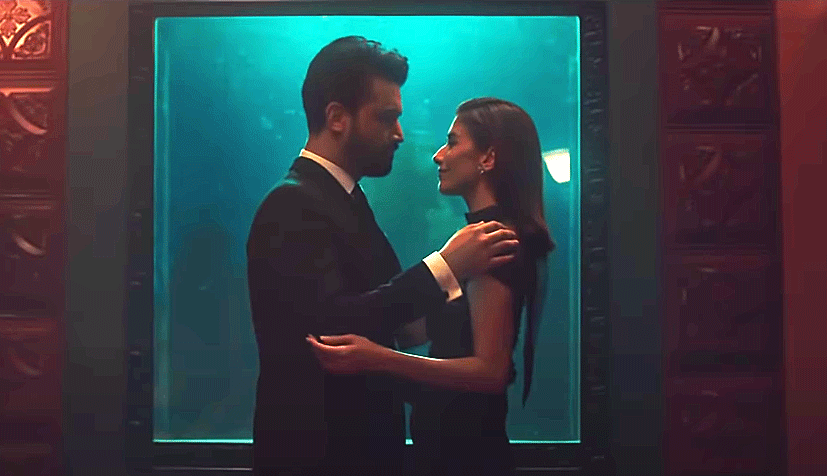 ---
After a hiatus, Atif Aslam is back with his much-awaited original, Raat. The singer, over the last week, had shared few glimpses from his latest track. The said highlight had the fans hypes as we saw the likes of Syra Yousuf and Kiran Malik in the teasers. However, Syra and Kiran aren't the only stars featured in the nine-minute video.
Mansha Pasha, Gohar Rasheed and Khalid Malik make an appearance in the song as well. Raat, written by the Doori crooner himself, will walk you through the journey of a striving artist - making it big and subsequently losing everything else in the process.
The Premise:
As the song commences, we see Khalid introducing Atif (or Asif - as the former doesn't know the singer's name) in the first dimension'. In this phase, Atif is a struggling artist, hoping to make it big in the entertainment industry. We are then directed towards the next dimension where we are introduced to an Atif who has made it big in showbiz! Clad in a well-fitted suit, the singer can be seen working in a romantic scene with none other than gorgeous Syra. The two break eye-contact as the director asks them for a re-take - and on cue, the two throw a starry tantrum.
In the next dimension, we see the Meri Kahani singer in an argument with a woman, presumably be his wife, who was played by Mansha. The two embroil in an argument as a child sits in the back. The rift ends up causing Atif to lose control and causing an accident.
In the final dimension, we see Atif who could be seen defeated and broken. Just as he walked towards an unknown location in an alley, he was then caught up in a mugging attempt as we see Gohar as the notorious robber. In a failed attempt to rob the man, the two wrestle, which results in Atif being shot. In the last dimension, we see an Atif who was left to die - alone and in dark.
The song, directed by Yasir Jaswal, is beautifully shot. Raat encapsulates the essence of how anything and everything is possible in the darkness of the night. "The night is as beautiful as it is mysterious," the tagline of the song says, and the video seems to do justice to it. Composed by Atif himself, Raat is a complete package and could easily be the best thing you hear today.