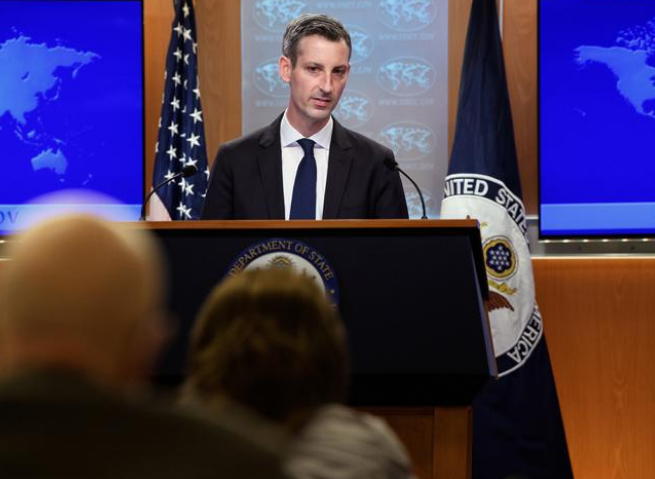 ---
The United States welcomed the joint statement between Pakistan and India to observe a ceasefire - which initiated on February 25 - along the Line of Control (LoC) and all other sectors, US State Department said in a press briefing.
"We encourage continued efforts to improve communication between the two sides and to reduce tensions and violence along the Line of Control," department's spokesperson Ned Price said adding that US has been very clear that it condemned the terrorists who seek to infiltrate across the LoC.
The announcement for a ceasefire was made simultaneously by both Islamabad and New Delhi after a telephonic conversation between senior military officials of the two countries a day earlier.
The rare joint statement came against the backdrop of worsening relations between the two countries since the Pulwama incident in February 2019.
"The director generals of military operations of India and Pakistan held discussions over the established mechanism of hotline contact," said a joint statement issued by the Indian and Pakistani armies.
Read more: Pakistan backs Russian bid for Afghan peace
"The two sides reviewed the situation along the LoC and all other sectors in a free, frank and cordial atmosphere," read the official handout.
The statement added that in the interest of achieving mutually beneficial and sustainable peace, the two DGMOs agreed to address each other's core issues and concerns that have the propensity to disturb the peace and lead to violence.
In a question about US role on Indian Illegally Occupied Jammu and Kashmir (IIOJK) now that Joe Biden was the president, Price said that US "will continue to support direct dialogue between India and Pakistan on Kashmir and other issues of concern."
On Afghanistan, Price said that Pakistan has an important role to play when it comes to the Islamic republic and what takes place across its other border.
"Pakistan is an important partner with whom we share many interests," the spokesperson added. "So clearly, we will be paying close attention, and we urge the Pakistanis to play a constructive role in all of these areas of mutual interest," he added.