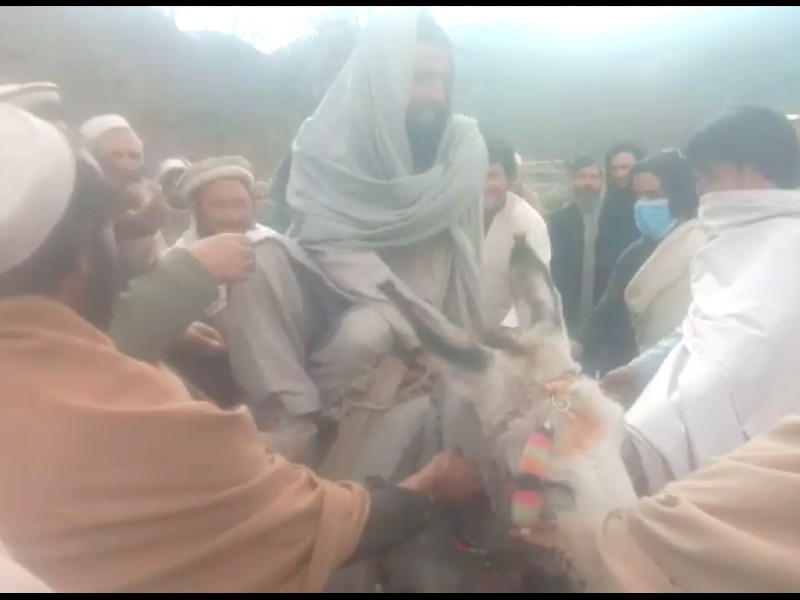 ---
LANDIKOTAL:
Local residents in Bar Qambar Khel area in the far-flung mountainous area of Tirah, Khyber tribal district of Khyber-Pakhtunkhwa (K-P), caught two drug dealers, shaved their heads, blackened their faces and then paraded them on donkeys to make them an "example" for others.
A video of the incident was also widely circulated on social media.
Despite the merger of seven tribal districts with K-P, local traditions still rule the lives of people across much of the erstwhile Federally Administered Tribal Areas (Fata) where problems are solved through the "traditional way" by local elders without the involvement of the government authorities.
These local traditions often come into direct conflict with the law without inviting much attention from the concerned quarters.
This is evident from a recent event when local residents of the Bar Qambar Khel tried to deal with two dealers of crystal meth, popularly known as 'ice', on their own.
They asked the two accused, identified as Qudrat resident of Qambar Khel and Wadan Khan, to appear before the Aman Committee and explain their act of selling ice to local youngsters.
"The two didn't appear before the committee, neither confessed to their crime of selling drugs. So they were arrested after repeated warnings," a local elder told The Express Tribune. He said the heads of drug peddlers were shaved, faces painted black and then they were mounted on donkeys and paraded around in the presence of hundreds of people.
Local residents told The Express Tribune that the entire episode happened in the presence of police who did not interfere and remained mere spectators.
They said that the Bar Qambar Khel Aman Committee many times contacted the local police and asked them to remove the menace of ice from the area but they did not pay heed, forcing them to take law into their own hands instead.
When contacted SHO Tirah Javed confirmed the incident and claimed that police started a crackdown against those involved.
"No one is allowed to take law into his own hands. There is administration in the area and no one is allowed to act on his own," he added.
Tribal elders blamed that Tirah was a large mountainous area where eight sub-tribes of Afridis were living and only one police station could not control a large area bordering Afghanistan.
"The area is large and the terrain is a difficult one. There is no infrastructure like schools, government offices or hospitals or a large number of police who could actively patrol and check everything. The writ of government is weak due to lack of administered mechanism," a local elder said.