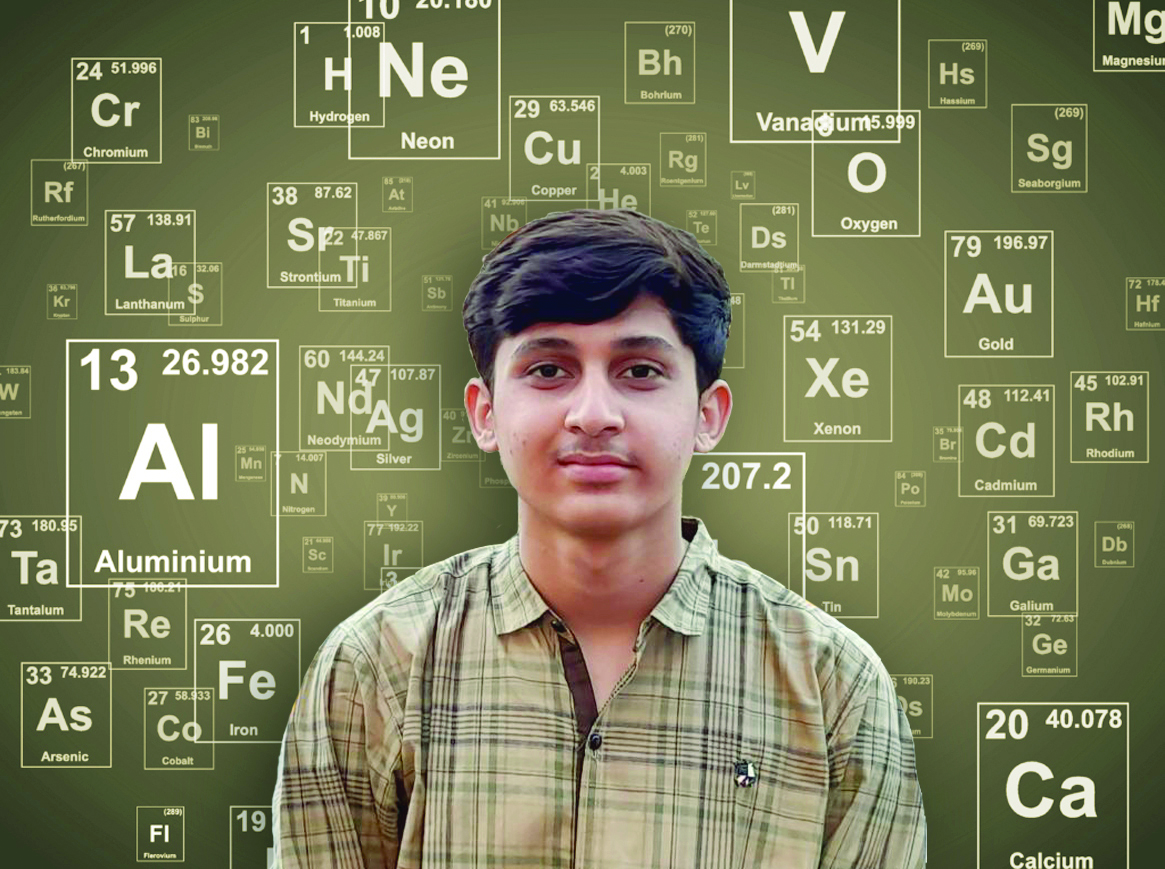 ---
KARACHI:
It was February and the chill of a frigid winter that had gripped Pakistan for weeks had started to abate. But Rohan Khatwani, the son of a Hindu shopkeeper and a ninth-grade student from Mithi - a city in the dry, arid, sandy and largely downtrodden region of Thar - found the weather cold enough in Islamabad to sport a jacket. Yet, his palms were sweaty.
The day had arrived. It was February 13, 2021 and he was at the Islamabad Science Festival at the Pakistan National Council for Arts.
When he looked around him, he saw his peers displaying attractive, colourful posters and models. Some had even managed to put together projects that moved, or dispensed liquids, or displaced objects, through mechanics.
Sitting under the pleasant sun of the capital city with bated breath and filled with nervous energy, but confident in his abilities, what Khatwani had in front of him was a bland cardboard piece, on which was drawn a table comprising small squares of equal sizes. On a side, there were piles of small cardboard squares. And that was it. That was Khatwani's project for now. The rest of it he would be showing to people as it happened in real time.
So when the timer started and time began flying, the onlookers saw in awe and surprise Khatwani's hands moving equally fast and his mind working even faster to put together the puzzle that was the periodic table.
He aimed to break the world record by assembling the table in the shortest possible time. The record was held by 10-year-old Natalia Najam of Lahore until then. Her record time was two minutes and 27 seconds.
For Khatwani, seconds were flying by fast. First it was 10 seconds, then 30, then 50 and eventually it was past one minute. It would soon be past the second minute. However, just as the timer showed the numbers nearing the two-minute reading, exactly at one minute 58 seconds, Khatwani won the race against time. In front of him, was a periodic table assembled in record time… by him!
"It was an amazing moment. I was confident that I would achieve the target and I did that!" Khatwani said while speaking to The Express Tribune reliving the memory a few days after the festival.
Also read: It was a tragic start, but she turned her destiny around with sheer diligence
While Khatwani had been preparing for months and weeks to smash the record, at the first instance, many found what he had achieved unbelievable.
"Rohan [Khatwani] surprised everyone," said Partab Shivani when approached by The Express Tribune to speak on the matter. The educationist and social activist from Thar, taking pride in the ninth-grader's achievement, added, "Even his teacher wasn't expecting such brilliance from him."
Shivani, who had met Khatwani just days before ISF, was referring to the boy's chemistry teacher, Sahir.
Sahir had introduced Khatwani to the periodic table during a science festival held in Thar last year.
Over time, Sahir became Khatwani's "favourite teacher," the 14-year-old boy told The Express Tribune. In Sahir, Khatwani had found a mentor.
"He motivated me to assemble the table in record time and it was his motivation that helped me achieve the feat," he said. "He inspired me. It was him and science videos I managed to watch on television, computer, mobile etc."
The first time when Sahir asked Khatwani to assemble the table, it took him 11 minutes, he recalled. However, he improved significantly, arranging the elements in less than seven minutes in the next attempt.
"He would improve with each passing day," said Shivani. "However, our plans to show his brilliance to the world hit a snag when we weren't able to arrange for his tickets to Islamabad. But we eventually managed to get his tickets booked and introduced the world to an extraordinary brain."
Since then, Khatwani has been receiving appreciation and applause from across Pakistan. The Pakistani government posted on its official Twitter account: "Rohan Khatwani, a ninth-grader [sic] Pakistani made the entire nation proud as he set a new world record by arranging the periodic table in just 1 minute and 58 seconds."
Besides, the Pakistan Science Foundation will be sharing the details of the new record set by Khatwani with the officials of the Guinness World Record.
"Our children are brilliant. They just need our support," said Shivani.
Meanwhile, Khatwani, who besides being enraptured by chemistry and mathematics loves playing football, is shooting for the stars.
"I want to study at a globally recognised university and become a computer expert," he told The Express Tribune. As he shared his ambition, his eyes shone with hope. Despite his humble origins and living in the remote city of Mithi, he was once again set to realise his dream.
Published in The Express Tribune, February 22nd, 2021.