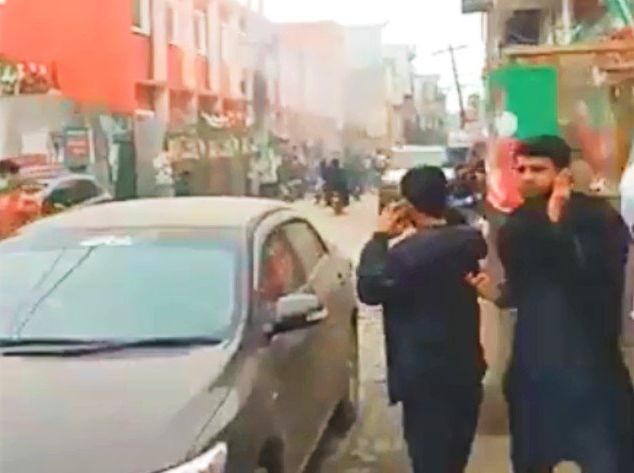 ---
GUJRANWALA/ ISLAMABAD:
During the by-polls on Friday, the Pakistan Tehreek-e-Insaf (PTI) was routed in three of the four constituencies – two National Assembly and as many provincial assemblies' seats – in Punjab and Khyber-Pakhtunkhwa with clashes between the ruling party and the PML-N in the hotly contested NA-75 Sialkot leaving two workers dead and 10 others, including a woman, wounded.
Besides NA-75, by-elections were held for PP-51 Gujranwala-I, NA-45 Kurram-I and PK-63 Nowshera seats that fell vacant due to the demise of the lawmakers.
A polling station at Ranjhai stop in Daska's village Gondka turned into a "battlefield" after shots were fired during clashes, injuring at least 12 people – two of whom succumbed to their wounds during treatment at a hospital.
The deceased were identified as Majid, who belonged to the ruling Pakistan Tehreek-e-Insaf, while the other as Zeeshan, who was affiliated with the Pakistan Muslim League-Nawaz.
Police reached the spot and arrested the culprits.
Read More: Polling on four vacant seats in Punjab, KP conludes
The Punjab IGP took notice of the incident and sought a report of the incident from the Gujranwala regional police officer.
Punjab Chief Minister Usman Buzdar also took notice of the clashes, saying those involved "will be arrested as soon as possible and punished strictly according to the law".Taking to Twitter, he said he has directed the Punjab IGP for an inquiry into the matter. "Prompt action will be taken against the accused," he added.
ڈسکہ کے ضمنی الیکشن میں فائرنگ کے واقعے میں ملوث تمام ملزمان کو جلد از جلد گرفتار کر کے قانون کے مطابق سخت سے سخت سزا دی جائے گی

میں نے IG پولیس سے واقعہ کی مکمل تحقیقاتی رپورٹ طلب کی ہے. ملزمان کے خلاف فوری اور بلا امتیاز کارروائی ہو گی!!

— Usman Buzdar (@UsmanAKBuzdar) February 19, 2021
Authorities had claimed that foolproof security arrangements were made to ensure polling is conducted in a peaceful and transparent manner.
PML-N spokesperson Marriyum Aurangzeb, while speaking to the media in Islamabad, claimed that the PTI candidate's guard opened fire which resulted in the killing of two voters while four others sustained injuries.
"PTI's hooligans created chaos and entire provincial administration remained mere spectators," she added.
According to unofficial results for NA-75 Sialkot, PML-N's Syeda Nosheen Iftikhar won with 158,791 votes while PTI candidate Ali Asjad Malhi came in second with 142,311 votes. The constituency has a total of 360 polling stations.