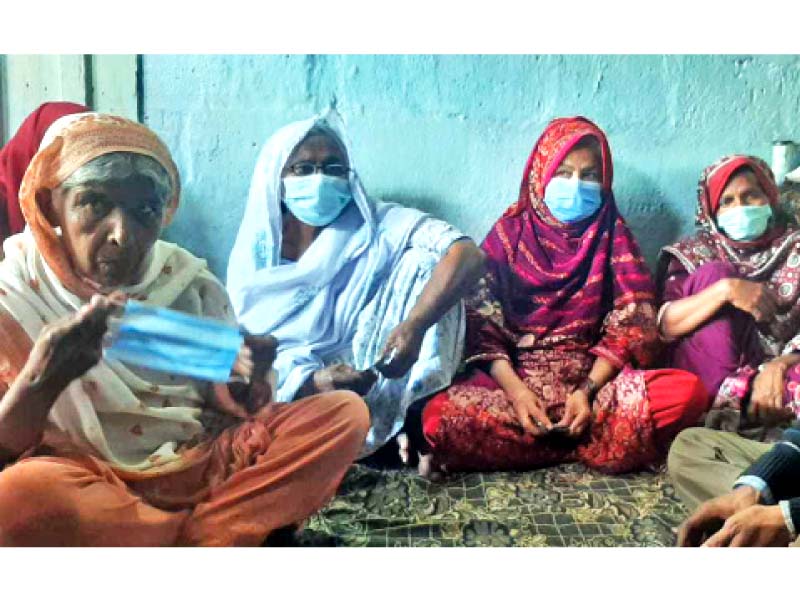 ---
KARACHI:
It had been around two months when the women, at least 16 in number, had last met. From a distance, it was difficult to distinguish one from the other - their postures had slight bents, their skin full of wrinkles, and their voices shook with emotion if not frailness. Yet, all of them had the same story to tell - but with slight variations - of another struggle, another misery, another affliction and another misfortune, all of them now spiraling in the face of a raging pandemic.
All of them are residents of Younisabad, a low-income area inhabited largely by fishermen, and have been meeting every two months since 2019 to share their problems and discuss the law. This is almost three years after the Sindh Senior Citizens Welfare Act, 2014 was passed.
After a passage of two years, things haven't improved for anyone among them. None of them has seen any benefit accrued to them from the first of its kind bill enacted into law by the Sindh government. Not even after a deadly contagion hit the country.
Also read: It was a tragic start, but she turned her destiny around with sheer diligence
'Life made tougher'
Among them is Nasima. Her husband went missing last year, but she has more pressing problems on her mind. She used to earn Rs12,000 per month before Pakistan started reporting Covid-19 cases, she told The Express Tribune. "I was shocked when my employer asked me not to come to work anymore," she said, sitting among the women.
Naseema has six children, including a widowed daughter who lives with her in her cramped, small dwelling. She now barely manages to earn Rs4,000 every month, after working at four houses daily. Three of her daughters work elsewhere to support the family. Still, making ends meet remains an uphill task, with a large sum of her monthly earnings, Rs1,500, being spent on potable water.
"I have to buy water for Rs30 daily, and am not able to afford it now," she bewailed. "My life was already tough. The pandemic has made it tougher."
There for each other
As the group dispersed, another woman, Shama, was leaving for her home with a smile.
"We all have different stories and when we share them, it reduces the pain," she said. "We even go a step ahead and are there for each other in time of need."
An example is Hameeda. She received a bag filled with rations as part of financial assistance being provided to the needy during the lockdown. She did not think twice before sharing the rations with the rest of the women part of the group, despite struggling with finances herself.
'When I received the ration bag, I could not stop thinking that my neighbours were in as much need as myself. And helping each other at this stage is all that counts," she said.
Then there is Shareefa.
She recalled that when she was denied treatment at the National Institute of Cardiovascular Diseases during the lockdown, it was women from this group who gathered at the hospital and ensured that she was provided the treatment she needed.
"They warned staff of lodging a complaint [with relevant authorities] if they denied treatment to an elderly citizen," she related.
Fatima, who recently shifted from Younisabad to a village near Keamari and had travelled all the way from her new residence to join the group, said, "We all support each other and if nothing else, we listen to each other."
Transient relief
This optimism, however, was transient. The pleasant feeling that had pervaded the atmosphere following the meeting soon faded. With each step the women took towards their homes, they got closer to the grim reality of their dire circumstances.
"What is left for us and our children to look forward to. I don't know how we will face in the coming days," said a dejected Naseema.
The sun had set and it was getting dark. The day was coming to an end and the bleak reality of her life awaited her at her house.
Also read: Four journeys, one destination
The law and rights
The Sindh Senior Citizens Welfare Act, 2014 has been of little help in fact it has no use to women like these poor women in Younisabad and elsewhere. Under the law, a resident of Sindh, who is 60 years old or more, is recognised as a senior citizen.
According to the Act, a 'senior citizens council' is to be established for the welfare of elderly people, who will be issued Azadi Cards to avail benefits and privileges as provided under the law.
The salient features of the law state that senior citizens complaint centres will be set up, as well as homes for their physical, mental, emotional and socio-economic well-being.
"This council will also liaise with national and international agencies and NGOs to provide financial assistance to senior citizens," states the law, adding that they will be provided free medical and health services as prescribed by medical officers at government dispensaries and 25 per cent concession on all private hospitals, medical centres and clinics.
None of the women from the group had an Azadi Card.
In this regard, Uroosa Khatti, an official of the Sindh Rural Support Organisation, said the government needed to implement the Sindh Senior Citizens Welfare Act, 2014 in letter and spirit.
"Besides, we need to tell our elders their rights under the law," she stressed, adding that her organisation had been trying to press the government to ensure respectful treatment of the elderly.
Khatti, while mentioning that elderly persons were treated much better in rural areas, added, "But here, the elderly need our utmost attention and the government needs to ensure their rights."
Published in The Express Tribune, February 19th, 2021.