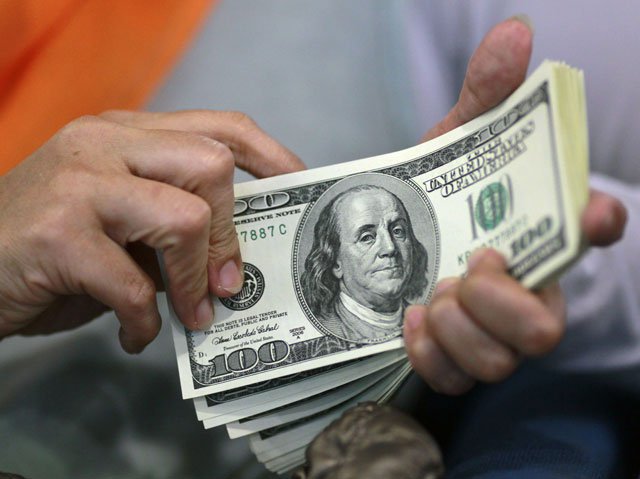 ---
KARACHI:
Pakistanis earning their bread and butter abroad have maintained the flow of strong remittances, as they remained over $2 billion, to their families and friends in January, helping the country strengthen its foreign currency reserves and improve its capacity to make international payments.
The country has received workers' remittances worth $2.27 billion in January 2021. They are 19% higher compared to $1.90 billion in the same month of the last year, Pakistan's central bank reported on Monday.
January was the eighth successive month in which Pakistan received remittances of over $2 billion.
Cumulatively in the first seven-month (Jul-Jan) period of current fiscal year 2021, inflows grew 24% to $16.47 billion compared to $13.27 billion in the same period of last year.
Saudi Arabia, United Arab Emirates, United Kingdom and United States remained strong sources of remittances to Pakistan, said the State Bank of Pakistan (SBP).
"This (remittances in current fiscal year to date) is a record for our country and I thank our overseas Pakistanis," Prime Minister Imran Khan said on his official Twitter handle.
"Remittances are expected to remain steady ahead of the religious and festive months of Ramazan, Eidul Fitr and Eidul Azha (during Apr-Jul)," Pak-Kuwait Investment Company (PKIC) Head of Research Samiullah Tariq said while talking to The Express Tribune.
The historical trends suggest the remittances peak around the fasting month of Ramazan and Eid festivals every year in Pakistan. "The trend of inflows suggests that remittances may total at around $27-28 billion in the full current fiscal year (FY21)," he said.
The SBP has revised up its projection for receipts at around $24-25 billion for FY21 in January from $23-24 billion earlier.
The central bank said the remittances maintained uptrend due to the government and its own efforts to attract inflows through official channels like banks instead of illegal channels like hawala/hundi operators (reference system).
"This sustained increase in workers' remittances largely reflects growing use of banking channel…, limited cross border travel (which used to be a source of both legal and illegal remittances) amid the second wave of Covid-19 and flexible exchange rate regime," SBP said.
Tariq said the contribution of remittances in economic activities has gradually increased to around 10% of gross domestic product (GDP). The money the overseas Pakistanis sent to their family and friends is mostly invested in real estate sector and housing construction. Besides, it is spent on education, health and food.
The outlook for the external sector has improved over the past couple of months. "The current account deficit is now projected to be in the range of 0.5-1.5% of GDP (earlier: 1-2.0% of GDP). The revision is mainly due to an upward adjustment in workers' remittances, which are now expected to be in range of $24-25 billion (earlier: $22-23 billion)," the central bank said in January.
The new projections for workers' remittances, however, carry risk as well. Spikes in global Covid-19 infection cases may again slash crude oil prices in world markets and badly impact the oil-exporting GCC economies.
"This may translate into a sizable reduction in their demand for foreign workers, leading to lower remittance inflows to Pakistan," it said.
The global credit rating agency Moody's Investors Service has also projected drop in remittances during Jan-Jul 2021. Contrary to its estimate, the inflows have remained strong so far.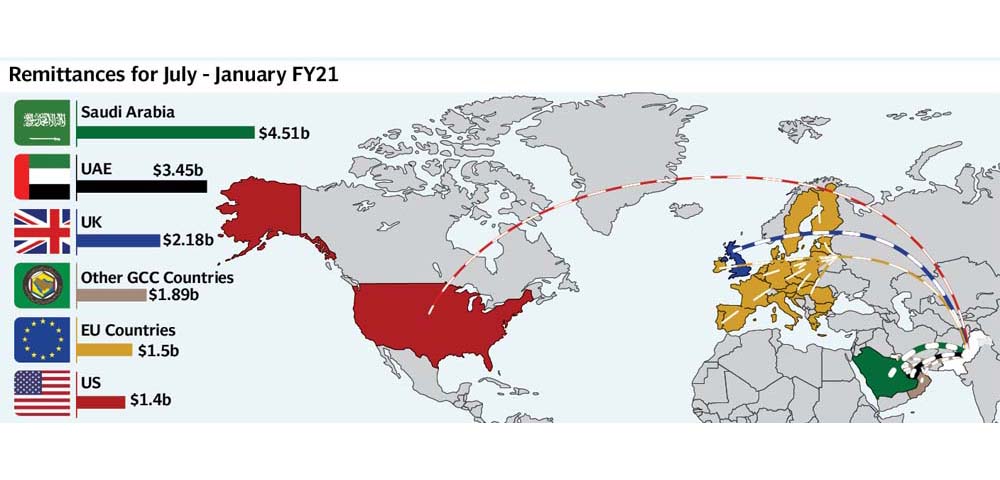 Country-wise remittances
Pakistanis sent 4% higher remittances at $553.6 million from Saudi Arabia in January compared to $531.6 million in the same month of last year.
Non-resident Pakistanis dispatched 6% higher remittances from UAE at $492.5 million in the month under review compared to $463.5 million in the corresponding month of the previous year.
The expatriates sent $303 million from United Kingdom, showing a growth of 50% compared to $201.5 million remitted in January 2020.
The remittances from USA rose 37% to $203.2 million compared to $148.8 million.
Overseas Pakistanis remitted $271.2 million from other GCC counties compared to $260.6 million.
Pakistanis living in EU countries sent $228.8 million compared to $142 million.
Diaspora dispatched $221.2 million from other countries including Malaysia, Norway, Switzerland, Australia, Canada and Japan, in January compared to $159.1 million in January 2020.
Published in The Express Tribune, February 16th, 2021.
Like Business on Facebook, follow @TribuneBiz on Twitter to stay informed and join in the conversation.
COMMENTS
Comments are moderated and generally will be posted if they are on-topic and not abusive.
For more information, please see our Comments FAQ