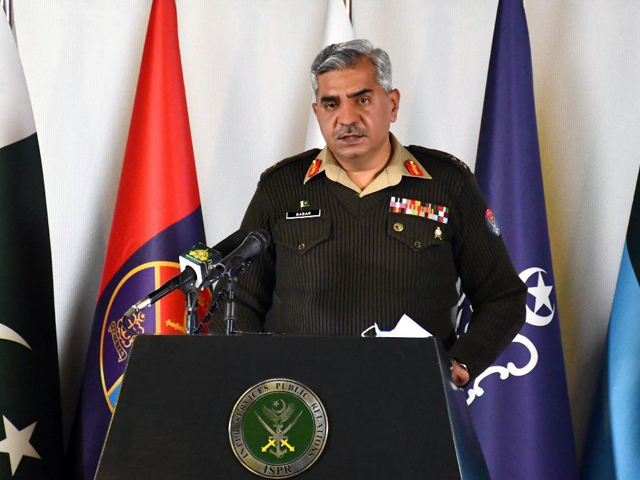 ---
The chief military spokesperson on Monday categorically denied that the army was involved in politics, rejecting reports of any "backdoor contacts" with the opposition parties, which are seeking the ouster of Prime Minister Imran Khan.
"I want to reiterate that the army is not involved in politics," Director General InterServices Public Relations (ISPR) Major General Babar Iftikhar told a private news channel.
"There are no backdoor contacts being used either," he stated categorically, when asked about the rumours that the army was in touch with the 11-party Pakistan Democratic Movement (PDM) through backdoor contacts.
"Those who are spreading these rumours, I told them earlier and I request them again, don't drag the military into politics," the DG ISPR stressed.
He further said the army's hands were full in dealing with internal and external security challenges. "If anyone has any evidence, bring that to public notice that who is calling whom," Maj Gen Babar said.
"There is no such thing happening," he said and then went on to insist that all such rumours about dragging the armed forces into politics must end.
Commenting on the Indian-sponsored terrorism in Pakistan, the military spokesperson said the recent UN report had totally vindicated Islamabad's stance.
"We have repeatedly stated about the Indian involvement and the world is now talking about and taking it seriously," he said, referring to the EU DisinfoLab report that unearthed Indian network to undermine Pakistan's global image.
The DG ISPR said that Pakistan had already placed "irrefutable evidence" of Indian involvement in terrorism before the world, adding that the UN report had only vindicated Pakistan's position.
"It is a good thing that there is massive acknowledgement of what we have been saying and hopefully the world is going to take note of this."
The spokesperson also said the military leadership had decided to spare vaccine provided by the People's Liberation Army (PLA) for the armed forces for the "national drive". He said the decision was taken keeping in view that the frontline health workers deserved this vaccine first.
"The real heroes of this campaign are the frontline health workers, who helped the nation fight the pandemic," he said. He also thanked the PLA for donating the vaccine to the armed forces.
On the rescue of mountaineer Ali Sadpara, the spokesperson said the army was leaving no stone unturned to find "our national hero and asset".
He said the rescue mission was extremely challenging, hoping that Ali Sadpara would be found safe. "We are putting in all our efforts," he said.
COMMENTS
Comments are moderated and generally will be posted if they are on-topic and not abusive.
For more information, please see our Comments FAQ