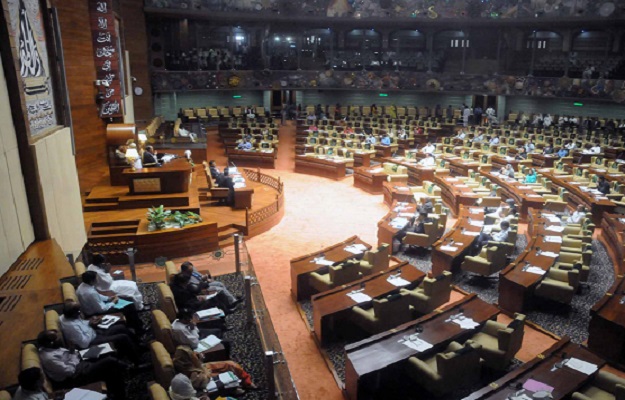 ---
KARACHI:
Setting aside the agenda, the ruling Pakistan Peoples Party lawmakers discussed the Umerkot by-election during the Sindh Assembly session on Monday.
The Umerkot elections, which PPP candidate Syed Ameer Ali Shah won by defeating former Sindh chief minister Arbab Ghulam Rahim, who was contesting on Grand Democratic Alliance (GDA) ticket, dominated the proceedings. The seat fell vacant after the death of Ali Mardan Shah.
The session started with Speaker Agha Siraj Durrani presiding. The newly-elected MPA took oath amid "Jeay Bhutto" slogans. He applauded the party leadership for nominating him to contest the by-polls from PS 52 Umerkot from where his father Ali Mardan Shah has been winning candidate for last three decades.
Chief Minister Syed Murad Ali Shah, Sindh Culture minister Syed Sardar Shah who is the cousin of the newly elected MPA, Nawab Taimur Talpur, Mumtaz Jakhrani, Dr Sohrab Khan Sarki, and other party MPAs spoke on the occasion by the time speaker prorogued the session till indefinite time.
Read More: Senate poll reference has an ulterior motive: bar
Not a single item on the agenda was discussed in the session. Among other things on the agenda were, question answers of Science and Technology department, call attention notices pertaining to public interest issue, privilege motion moved by PTI MPA Khurrum Sher Zaman about the elected MPAs of the opposition who according to Zaman are being ignored by the bureaucrats in various government department in Sindh when they attempt to get public interest information from them. Besides, the adjournment motion regarding increase in petroleum prices and rising inflation in routine commodities were on the agenda too. PPP MPA Kulsoom Chandio and Ghazala Sial had moved the adjournment motion respectively.
Commenting on ignoring the agenda, the opposition members criticized the ruling party and Sindh government for misusing the public money. "The session is summoned for legislation and public interest issues, not for targeting political opponents," said Haleem Adil Shaikh, parliamentary leader of PTI.
GDA MPA Nand Kumar Goklani while speaking to media said that his call attention about unscheduled CNG loadshedding was on the agenda, but it could not be taken up. "The PPP members especially parliamentary minister Mukesh Kumar Chawla always bulldoze the opposition agenda as per party policy. "We are also members of the august house and have equally rights, but ruling party consider us lesser mortal and dismiss our items on agenda," he remarked.
Published in The Express Tribune, January 26th, 2021.
COMMENTS
Comments are moderated and generally will be posted if they are on-topic and not abusive.
For more information, please see our Comments FAQ