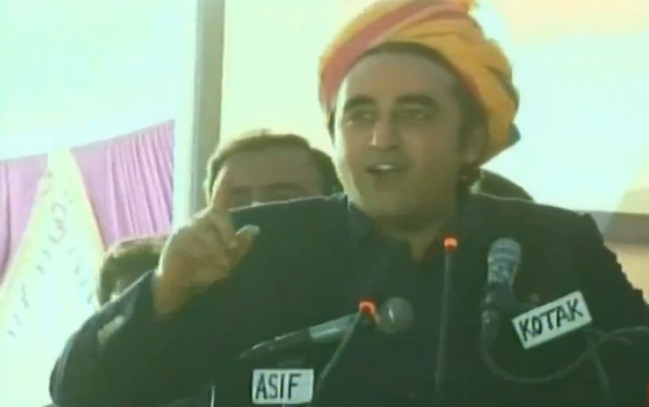 ---
SINDH:
Chairman Pakistan People's Party (PPP) Bilawal Bhutto on Monday said that all stakeholders will have to make joint efforts to send the 'ineligible' government of Pakistan Tehreek-e-Insaf (PTI) home.
"Everyone will have to make an effort to dismiss this non-democratic government so that the masses could be served," Bilawal said while addressing a rally in Umerkot today.
"This government has made the lives of the masses miserable," the PPP chief said and added, "if it isn't done, then who will be stopping the ongoing injustices with the people".
Regarding today's protest by the Pakistan Democratic Movement (PDM) outside the Election Commission of Pakistan (ECP), he said, "every Pakistani is asking to why the ECP has been unable to respond regarding PTI's being funded from abroad".
Read more: PPP won't go for undemocratic means to oust PM Imran: Bilawal
"Who is the citizen of Israel or India that's aiding [Prime Minister] Imran Khan, this government was formed on the basis of foreign funding." Bilawal further alleged that the entire [ruling] party is corrupt, saying PM Imran has also been unable to respond regarding his sister's assets in the United States.
The PPP chief noted a government only serves the people when it comes with their support and votes. "When it isn't, it continues to follow those that brought it into power."
"We will have to make this puppet resign, or else the masses will get him to step down themselves."
COMMENTS
Comments are moderated and generally will be posted if they are on-topic and not abusive.
For more information, please see our Comments FAQ