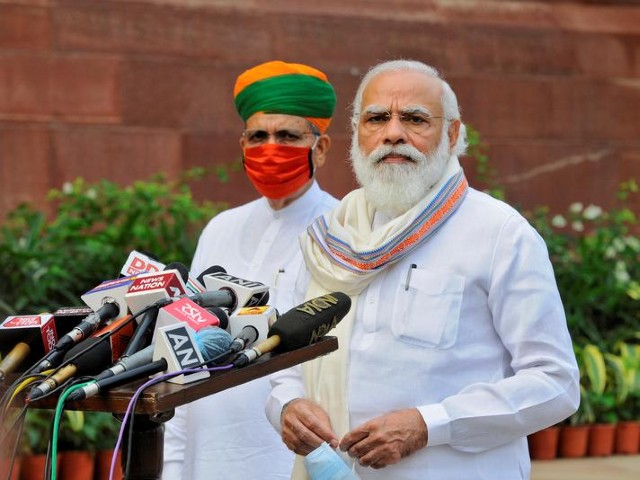 ---
MUMBAI/ NEW DELHI:
Indian opposition parties on Monday called for an investigation into chat messages from a top TV anchor that exposed that New Delhi had staged the Pulwama attack to ensure election win for Narendra Modi.
A damning transcript of WhatsApp messages between Arnab Goswami, chief editor of Republic TV, and Pratho Dasgupta — the incarcerated head of ratings company Broadcast Audience Research Council (BARC) — has exposed New Delhi's smear campaign against Islamabad.
The conversation is part of a 3,400-page supplementary charge-sheet filed by Mumbai Police investigating the alleged ratings tampering case.
At least 40 Indian paramilitary troops were killed in an attack that took place in February 2019 in Pulwama just weeks before the Indian parliamentary elections.
Following the Pulwama attack, Goswami told the head of a TV ratings agency that India would launch a "bigger than a normal strike" on its arch-rival.
"On Pakistan, the government is confident of striking in a way that people will be elated," a transcript of the messages sent by Goswami said. "Exact words used."
Just days after the Pulwama attack, India sent its fighter jets across Pakistan, for the first time since the 1971 war, dropping bombs and hurrying back after being chased by PAF fighters.
Read more: India admits downing own copter during air battle with Pakistan
The Indian media and authorities had claimed killing 250 to 300 terrorists in Jaba area of Balakot. But the claims were not only rebuffed by Pakistan but also international media outlets that found no such evidence.
In reaction to the Indian airstrikes, Pakistan retaliated the very next day, shooting down two Indian planes of which one fell on the Pakistani side of LoC. Pakistan captured the Indian pilot but freed him soon to avoid the situation escalating out.
Modi used the Pulwama attack and Balakot so-called strikes as part of his election campaign.
The messages, reported by Indian media and seen by Reuters, are part of a charge-sheet filed by police in Mumbai investigating alleged fixing of ratings by Republic.
Spokesperson for India's defence and foreign ministries did not immediately respond to requests for comment on the transcripts.
Republic has often adopted positions supportive of the Modi government and Goswami is known for his aggressive attacks on the opposition in his prime-time nightly programme, one of the country's most watched.
India's main opposition Congress party, as well as Shiv Sena, a regional party that governs Maharashtra state where the TV channel is based, have both called for a government inquiry into the messages.
Shashi Tharoor, a Congress lawmaker, said the messages required "serious inquiry" by the Modi government, which has made national security a top priority.
"The leaked WhatsApp chats reveal 3 reprehensible things requiring serious inquiry: leaking of military secrets to a TV channel for its commercial purposes; a "nationalist" gloating over the death of 40 jawans [soldiers] as an "attack we have won like crazy and fraudulent manipulation of TRPs," he said in a tweet.
The leaked @WhatsApp chats reveal 3 reprehensible things requiring serious inquiry: leaking of military secrets to a TV channel for its commercial purposes; a "nationalist" gloating over the death of 40 jawans as an "attack we have won like crazy",&fraudulent manipulation of TRPs

— Shashi Tharoor (@ShashiTharoor) January 17, 2021
Another Indian lawmaker Manish Tewari tweeted: "If what sections of Media is reporting is correct then it points towards a direct linkage between Balakot air strikes and 2019 general elections. Was National Security milked for electoral purposes?."
If what sections of Media is reporting is correct then it points towards a direct linkage between Balakot air strikes and 2019 General elections.
Was National Security milked for electoral purposes ?

Needs a JPC investigation.

https://t.co/WECJNhlWzU via @ThePrintIndia

— Manish Tewari (@ManishTewari) January 17, 2021