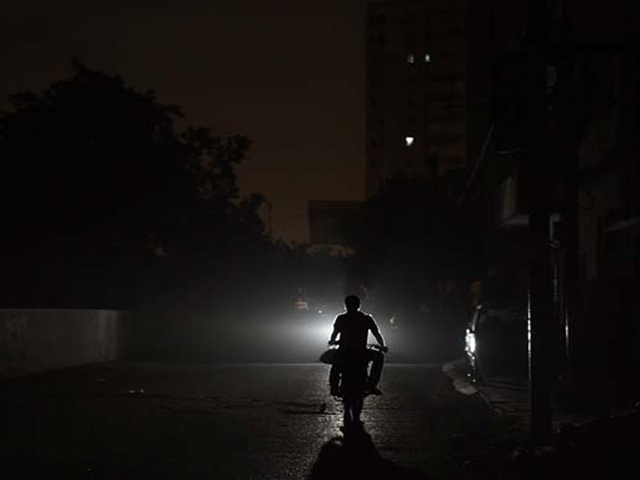 ---
KARACHI:
Restoration efforts carried on well into Sunday morning after almost all cities and towns across Pakistan plunged into darkness late Saturday night following a major technical fault that caused the frequency in the entire distribution system to drop from 50 to 0.
Tweeting from the ministry's official Twitter handle, spoksperson for the the Ministry of Energy said that according to initial reports, the Guddu power plant developed a fault at 11:41pm on Saturday night.
Addressing a press conference on Sunday, Federal Minister for Power Omar Ayub Khan along with Federal Information Minister Shibli Faraz said the exact reason for the fault had still not been ascertained owing to the fog surrounding the Guddu power plant.
However, he said efforts were underway to ascertain the cause.
The minister informed that the power plant's safety systems started shutting off automatically soon after it developed a fault.
"There are three 5 KV circuits at the Guddu power plant," Khan informed.
According to the energy minister, Prime Minister Imran Khan had been informed of the entire situation, and that he had directed for the electricity supply to be restored at the earliest.
In a bid to keep people updated, Khan posted updates from his Twitter account throughout the night.
As per his last tweet, 132 KV grids around Lahore had been energised.
132 kv Grids Around Lahore Energized including 11kv.
1. Shadman
2. Qartaba
3. Mc Leod Road
4. Gulshan Ravi.
5. Fort.
6. Saidpur
7. Shamke.
8. Saghian
9. Ravi.
10. Bund Road.
11. Badami Bagh.
12. Sabzar.
13. Sheikhupura.
14. Orient.
15. Sapphire.

— Omar Ayub Khan (@OmarAyubKhan) January 10, 2021
The Ministry of Energy also posted regular updates from its Twitter handle. It's last tweet listed the names of Sukkur Electric Supply Company's grids that had so far been energised.
سکھر الیکٹرک سپلائی کمپنی کے مندرجہ ذیل گرڈسے بجلی کی فراہمی شروع
1) 132 kV Madeji
2) 132 kV larkana New
3) 132 kV larkana City
4) 132 kV larkana Site
5) 132 kV Shikarpur
6) 132 kV Hamayun
7) 132 kV jacobabad-1
8) 132 kV jacobabad-2
9) 132 kV lakhi
10) 132 kV G.yaseen

— Ministry of Energy (@MoWP15) January 10, 2021
Investigation committee formed
The National Transmission and Despatch Company (NTDC) informed that a high-level committee to investigate the national power breakdown had been formed.
The committee has been formed by the managing director of the NTDC.
In a statement released on Saturday night, the NTDC stated that teams were working to ascertain reasons behind the sudden fall in frequency of the national distribution system.
Residents in Karachi, Lahore, Peshawar, Quetta and Islamabad among other major cities faced a complete blackout with hastags #blackout, #electricity and #poweroutage trending on Twitter.
Also read: Thick fog disrupts rail traffic
According to the power division spokesperson, efforts were afoot to start Tarbela unit so that the electricity distribution system can be restored in phases.
The power division spokesperson also appealed to the masses to remain patient.
"All teams have reached their respective stations… Federal Minister for Power, Petroleum and Natural Resources Omar Ayub is himself supervising the restoration work," he stated.
"People will be kept updated."
Ayub also took to Twitter to share the same details with public saying the nationwide outage was caused after the frequency in the national power distribution system suddenly fell from 50 to zero.
بجلی کے ترسیلی نظام میں فریکوینسی اچانک 50سے 0 پر آنے کی وجہ سے ملک میں بجلی کا بلیک آؤٹ ہے

فریکونسی گرنے کی وجہ جاننے کی کوشش کی جارہی رہی ہے

اس وقت تربیلا کو چلانے کی کوشش ہو رہی ہے جس سے ترتیب وار بجلی کا نظام بحال کیا جائے گا

عوام سے تحمل کی اپیل ہے

— Omar Ayub Khan (@OmarAyubKhan) January 9, 2021
Federal Information Minister Shibli Faraz also shared details on the micro-blogging website. He said the power breakdown was caused by a technical fault in the NTDC system which is being restored," he tweeted.
Technical fault in NTDC system. System is being restored

— Senator Shibli Faraz (@shiblifaraz) January 9, 2021
PM's aide Shahbaz Gill also said the energy minister and his entire team were working to restore the transmission, adding that people would be kept updated on the situation.
عمر ایوب وزیر برائے بجلی اور ان کی پوری ٹیم بجلی ٹرپ ہونے کے ایشو پر کام کر رہی ہے۔ میری ابھی ابھی ان سے بات ہوئی ہے انشاللہ جلد آپکو آپ ڈیٹ کرتے ہیں۔

— Dr. Shahbaz GiLL (@SHABAZGIL) January 9, 2021
Guddu power plant developed a fault at 11:41pm on Saturday night, the Ministry of Energy tweeted from its official handle. The technical fault in which frequency fell from 50 to zero in less than a second led to the country's main high transmission lines to trip.
ابتدائی رپورٹ کے مطابق گدو میں 11:41پر فالٹ پیدا ہوا ہے

فالٹ نے ملک کی ہائی ٹرانسمیشن میں ٹرپنگ کی اور جس کی وجہ سے ایک سینڈ سے بھی کم وقت میں سسٹم کی فریکونسی 50سے 0پر آئی ہے

فریکونسی کے گرنے کی وجہ سے پاور پلانٹس بند ہوئے ہیں

ترجمان پاور ڈویژن

— Ministry of Energy (@MoWP15) January 9, 2021
The units of Tarbela and Warsak power house have been started for sequential restoration of power, it added.
"Once the initial frequency is restored, the maintenance work will speed up."
تربیلا پاور ہاؤس کے تین یونٹس چلا دئے گئے ہیں

وارسک پاور ہاوس کے یونٹس بھی چلا دئے گئے ہیں

ترسیلی نظام میں بجلی کی فریکونسی ملائی جا رہی ہے

ترتیب وار بجلی بحالی کا جلد آغاز کیا جا رہا ہے

ابتدائی فریکونسی جوں ہی مل جائے تو باقی بحالی کا کام تیزی سے ہوتا ہے

— Ministry of Energy (@MoWP15) January 9, 2021
This will be updated...
COMMENTS
Comments are moderated and generally will be posted if they are on-topic and not abusive.
For more information, please see our Comments FAQ