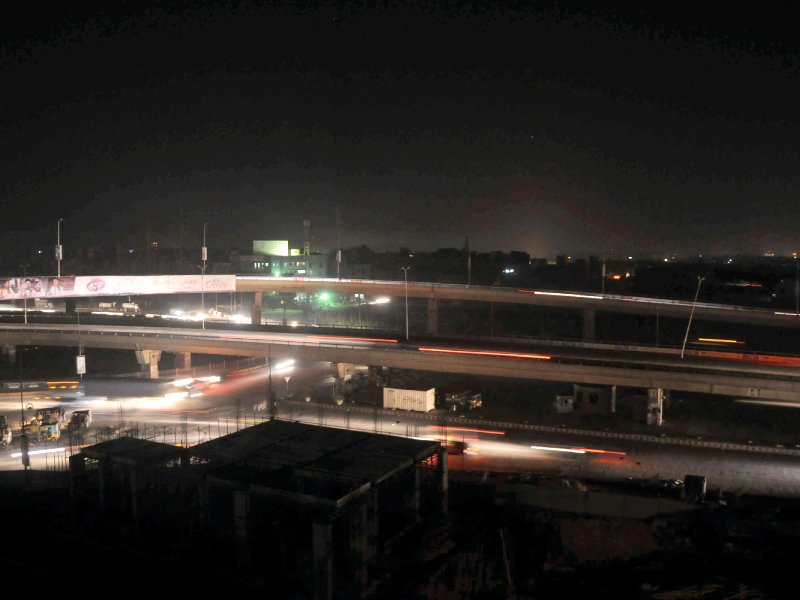 ---
QUETTA/ ISLAMABAD/ LAHORE/ KARACHI: Almost all of Pakistan plunged into darkness around 11:50 pm on Saturday night as an attack by Baloch separatists on transmission lines near Naseerabad in Balochistan caused nearly the entire national grid to trip, shutting down electricity supply to over 80% of the country.

The transmission tower blown up was near Notal, a town in Naseerabad district in Balochistan, confirmed Sharbat Umrani, the head of the local police station. The damage to the 220 kilovolt-Amperes (kVA) transmission lines between Sibi and Quetta caused a backward surge of power to the Guddu power plant in Sindh, which in turn caused a cascading effect on the entire national grid, said Water and Power Secretary Younus Dagha.

"It might take a while to fix, hopefully we will be able to control the situation by morning," he said. "We have restored the Guddu power plant and have also started production from Tarbela."

The attack near Notal is the third attack on the nation's energy grid in two weeks in Naseerabad. Later at night, water and power ministry officials said that the Kotri and Uch I power plants had also been restored and that power plants at Tarbela, Mangla and Ghazi Barotha dams had also been turned on, which would result in power being restored by 5 am on Sunday morning. Officials at the National Transmission and Dispatch Company (NTDC) said that as the restoration work proceeds, Islamabad will get power first, followed by pockets of Lahore, Gujranwala and Faisalabad.

Almost all of Pakistan was in darkness on Saturday night, with no electricity available in Punjab, Khyber-Pakhtunkhwa, Islamabad or Balochistan. Some parts of Sindh still had electricity, but even most parts of Sindh were in darkness.

The breakdown followed daylong media coverage of the dangerously low level of furnace oil stock, which helps run a most of the thermal power plants in the country. But Dagha toldThe Express Tribune around 12:45am that he suspected sabotage. "We cannot rule out sabotage activity. I am in the control room myself and we are all trying to figure out what has happened," he said. "Our first priority is to bring back this system online."

Earlier in the night, there had been speculation that the system had tripped due to a decline in power production as the country's power plants run dangerously low on furnace oil supplies. Dagha ruled out this explanation. "We had pushed up power production to 9,500 MW by evening. Even 800 MW more of hydroelectric power generation was available."

Power consumption over the last few days has hovering around the 14,000 MW mark. "Before this breakdown we were successfully managing the shortage by carrying out load shedding for industrial consumers," Dagha said.

The government has shut down natural gas supply to state-owned power plants in Punjab in order to supply gas to the inefficient captive power plants run large textile companies, resulting in approximately one-third of the country's power generation supply being unavailable to handle the load.

This is not the first time that 500KVA loop has collapsed. But in almost all the cases the cause has been a sudden shutdown of power supply at point that led to chain-reaction throughout the system.  A major part of the thermal generation is concentrated in Sindh while the hydel power comes from north and the main load center where most of the consumption takes places lies in heart of Punjab.

People associated with the power industry said this was expected to happen considering the lethargy on part of government officials especially in arranging furnace oil supply.

Government officials, speaking on the condition of anonymity, said that most power plants were reliant on production at local refineries for their furnace oil supplies. Domestic refineries only have the capacity to supply 40% of Pakistan's total refined fuel needs. The remainder is often imported in refined form. However, the country's largest oil importer, Pakistan State Oil, currently has virtually no inventory left of furnace oil, resulting in a severe shortage of fuel in the country.

The water and power ministry continued to deny that there was a shortage of furnace oil in the country, claiming that the country had a ten-day supply of furnace oil, even as power plants at Jamshoro and Muzaffargarh continued to operate at less than a quarter of their capacity due to low fuel reserves.

PSO's financial troubles have led banks to refuse lending to the company for its oil import needs. The company has defaulted on Rs46 billion of Letters of Credit (LCs), and international banks have blocked Rs110 billion worth of LCs for PSO. The company will be unable to resume importing oil until it can pay back the Rs46 billion in LCs.

At a meeting of government officials chaired by Prime Minister Nawaz Sharif, it had been decided that the government would release Rs40 billion in funds to state-owned power companies so that they could pay their bills to PSO for fuel. That injection of liquidity could have solved PSO's immediate cash crunch, but the decision to release the funds was then delayed.

The government tried the alternative path of asking domestic refineries to directly supply power plants in the country, but they do not have the capacity to meet total demand.
COMMENTS (36)
Comments are moderated and generally will be posted if they are on-topic and not abusive.
For more information, please see our Comments FAQ