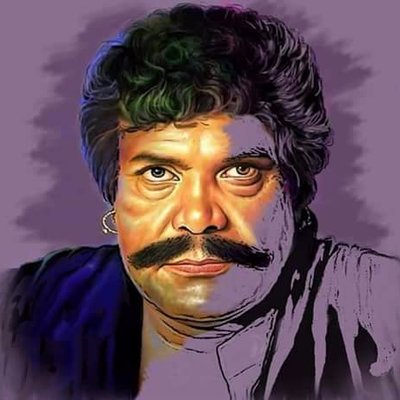 ---
LAHORE:
January 9, 2021, marked the 25th death anniversary of legendary Punjabi actor Sultan Rahi. While the late star has fans across the globe, many at home still remember his real-life personality that ruled over Pakistani cinema, and everyone's hearts, for years.
Born on June 24, 1938, Rahi was an actor, producer and screenwriter who established himself as one of the leading and most successful performers in the Pakistani cinema. In fact, he was known as Pakistan's 'Clint Eastwood'. During his 40-year career, he acted in some 703 Punjabi films and 100 Urdu films, winning around 160 awards.
A ceremony was held at his son Haider's residence in Lahore to honour Rahi. A number of renowned showbiz personalities showed up at the event with only one thing to say: there will never be another Sultan Rahi.
Death anniversary of Pakistani film legend Sultan Rahi is being observed today. He remained the most popular Punjabi hero during 1970s and 1980s. He appeared in more than 700 Punjabi and Urdu-language films and was named in Guinness Book of Records as most prolific actor. pic.twitter.com/0YJ12zi6Xp

— Government of Pakistan (@GovtofPakistan) January 9, 2020
"There was only one Sultan in Lollywood and after his death, the industry hasn't seen another great Punjabi actor," Chaudhry Ejaz Kamran, senior film producer and chairman of Pakistan Film Distributors Association told The Express Tribune. "The era of Sultan Rahi was the golden era of our local film industry and we saw the peak of cinema during his lifetime. There was always a rush at cinema houses and the financial situation of every stakeholders was unmatched. This was especially the best time for Punjabi cinema, since we saw numerous super hits from various Punjabi film producers at the time."
Seasoned actor Ashi Khan recalled, "I have seen many actors in the industry but no one as great as Sultan Rahi. He was like the season of spring of Pakistani cinema. That spring came with his debut and went with his assassination. He was a pure and beautiful human that taught acting to many in this industry. We will always miss him."
Actor Sheeba Butt also remembered Rahi on his death anniversary. "Sultan Rahi was a blessing for the industry and a beautiful human being. He did a lot of welfare work for emerging actors and supervised many during his time. He worked with big names and dominated on every front. His onscreen presence with Anjuman Shaheen was perhaps the most lauded by audiences".
Rahi made his film debut in 1959 as a supporting actor in Bhaagi, after which a period of success followed him. He earned two Nigar Awards for his work in Babul (1971) and Basheera (1972) but his first breakthrough came with the film Wehshi Jatt (1975). This was the unofficial prequel to Maula Jatt (1979), which earned him his third Nigar Award. Some of his other films include Sher Khan, Chan Veryam, Kaley Chore, The Godfather, Sharif Badmash and Wehshi Gujjar.
Born in Rawalpindi to the Arain tribe, Rahi's father was a Subedar, Major Abdul Majeed, who was also a retired officer of the British Indian Army.Rahi was assassinated in 1996 when he and his friend Ahsan, a film director, were travelling from Islamabad to Lahore. Their vehiclestopped working due to a flat tire near Gujranwala. So as they installed a spare one, robbers approached and attempted to mug them. Rahi resisted and they shot him, injuring Ahsan. This incident came as a shock to everyone across Pakistan.
Have something to add to the story? Share it in the comments below.
COMMENTS
Comments are moderated and generally will be posted if they are on-topic and not abusive.
For more information, please see our Comments FAQ