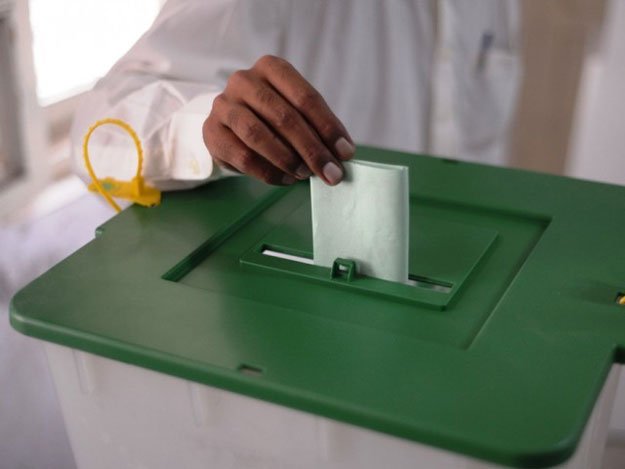 ---
CCTV cameras will be installed at highly sensitive polling stations during the upcoming by-polls in Umerkot, Malir, Sanghar and Tharparkar, decided a meeting presided over by Sindh chief secretary Syed Mumtaz Ali Shah on Thursday.
The by-polls are scheduled between January 18 and February 21.
Provincial election commissioner Aijaz Anwar Chohan told the meeting, which was convened to review security and others arrangements for the by-polls, 50 polling stations out of 128 were highly sensitive in Umerkot, where by-polls would be held on January 18.
Following this, the meeting decided to install CCTV cameras at those stations.
Addressing the meeting, the provincial chief secretary assured that the Sindh government would provide all needed facilities to the election commission for conducting the by-polls.
He requested the provincial election commissioner to extend the polling time for the by-elections, given that measures needed to be taken to ensure that pandemic-related standard operating procedure were followed while citizens cast votes.
At this, the provincial election commissioner said a decision on the request would be taken soon.
Besides, the chief secretary directed administration secretary general Nasimul Ghani Sahito, the Mirpurkhas commissioner and Umerkot commissioner to correspond with the election commissioner and provide all the needed assistance it required.
KCR
With regards to the Karachi Circular Railway (KCR), the chief secretary instructed the relevant officials to collaborate with the Pakistan Railways for the evacuation of the KCR land.
"Railways officials, along with the district administration and the police, should evacuate the land," he remarked.
Railways officials, however, informed the chief secretary that the right of way for the KCR had been cleared of encroachments.
Few remaining unauthorised structures near Kala Pul are also being removed with the help of the district administration, they added.
Illegal occupation
The chief secretary also sought from the secretaries of all government departments and deputy commissioners the details of illegally occupied state properties.
The details should be submitted within a week, he instructed.
The secretaries have also been directed to submit him reports on court cases on time.
Published in The Express Tribune, January 8th, 2021.
COMMENTS
Comments are moderated and generally will be posted if they are on-topic and not abusive.
For more information, please see our Comments FAQ