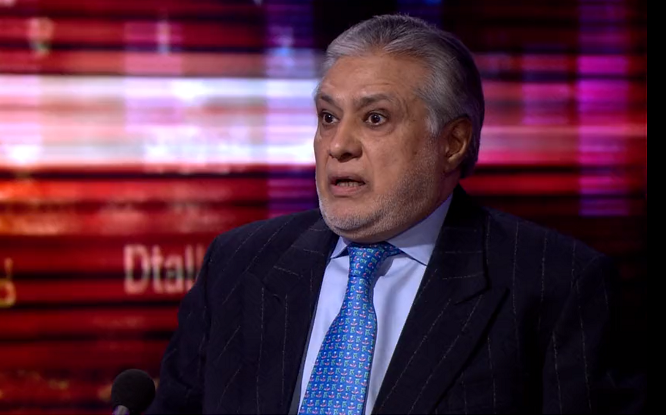 ---
Stephen Sackur, host of the BBC's Hardtalk, has said that he enjoyed the "pretty intense" conversation with former finance minister Ishaq Dar earlier this month, in which he was asked some gruelling questions, leaving him, at times, at a loss for words.
Dar, a close aide of former prime minister Nawaz Sharif, faced grilling in a BBC show in which he sought to dispel the impression that he was evading law. "You are wanted man in Pakistan. Are you here [in London] to escape the judicial process," asked the show host.
"No, not at all," replied Dar. "I believe you are familiar with the political history of Pakistan where corruption rhetoric has been used repeatedly during dictatorships over the last 73 years," he added. "This time too, it is no different because the current government is also said to be a judicial martial law."
"I was delighted that Ishaq Dar wanted to be on the show. We are making conscious efforts to cover Pakistan more thoroughly on Hardtalk," Sackur said in an interview with BBC Urdu on Tuesday.
Appreciating the PML-N leader living in self-imposed exile in London, Sackur said Dar "is a very direct speaker".
"Hardtalk is supposed to be an intense interview and this conversation [with Dar] was no exception. I enjoyed the experience and at times Mr Dar also appeared enjoying it and appreciated it," he added.
To another question, Sackur said after hosting the show for 15 years, he had learned several methods of not letting the guests, who are usually high-profile personalities including politicians and government officials, to dodge his questions.
"There are different ways to get them back on track... sometimes the same question has to be asked many times or rephrased to get the straight answer."
The renowned TV anchor went on to say that his talk show was not a boxing match where he treated the interviewee like an opponent, adding that he always ensured that the guest should be treated with respect.
COMMENTS
Comments are moderated and generally will be posted if they are on-topic and not abusive.
For more information, please see our Comments FAQ