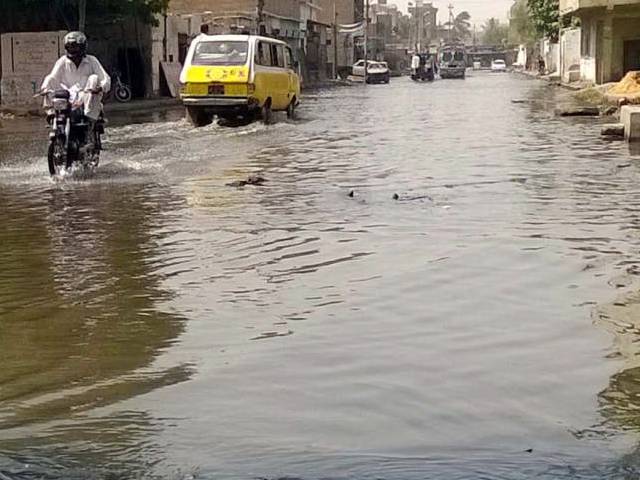 ---
CHICHAWATNI:
The alleged negligence of Chichawatni tehsil administration, the land occupying mafia in the tehsil and surrounding villages had resulted in the collapse of the region's sewerage system.
The road connecting the villages began to look like a pond, local residents told The Express Tribune. As per the details, the sewerage system constructed for drainage in village 8/14 L near Kasawal, the main commercial centre of the tehsil, had become inoperable reportedly due to negligence caused by quarrels as well as issues of political factionalism in the area.
For the past several decades, the local mafia had been forcibly occupying government land and building houses.
Even the space dedicated to for the drainage of sewerage had not been secured by the land mafia. There was no mechanism for proper drainage from the houses in the region.
Therefore, dirty water was standing in the streets in various places, which not only made it impossible to breathe due to the stench, but there was a strong fear of outbreaks of infectious diseases due to the growth of flies and mosquitoes.
Other villagers, including worshipers going to mosques as well as school going students face severe difficulties while moving around.
In addition to this, an influential person had reportedly constructed an illegal colony without taking permission on the land adjacent to the village from the authorities concerned. The plots had been sold by deceiving people but the colony did not had basic facilities like sewerage and electricity.
After the establishment of the illegal colony, not only the drainage was obstructed but also the paved road connecting dozens of villages was looking like a pond due to the accumulation of dirty water in the colony, which was causing great inconvenience to the residents and commuters.
In these circumstances, locals complained that their everyday lives had become a torment for the working people of the village, exposing the negligence and carelessness of the tehsil administration. The negligence reflected a clear violation of Punjab government's stated policy against illegal occupiers of government lands.
Dirty water of sewage entered several houses in the village including the country's renowned Naat Khawan and Ustad Mahmoodul Hassan Abid.
The foundations of the houses had been severely damaged and cracks had appeared in the walls. Expressing concern, the public and social circles had demanded Punjab Chief Minister Sardar Usman Buzdar, Sahiwal commissioner and Sahiwal deputy commissioner to take legal action against the occupation land mafia in said village and restore the drainage system immediately.
Published in The Express Tribune, December 17th, 2020.
COMMENTS
Comments are moderated and generally will be posted if they are on-topic and not abusive.
For more information, please see our Comments FAQ