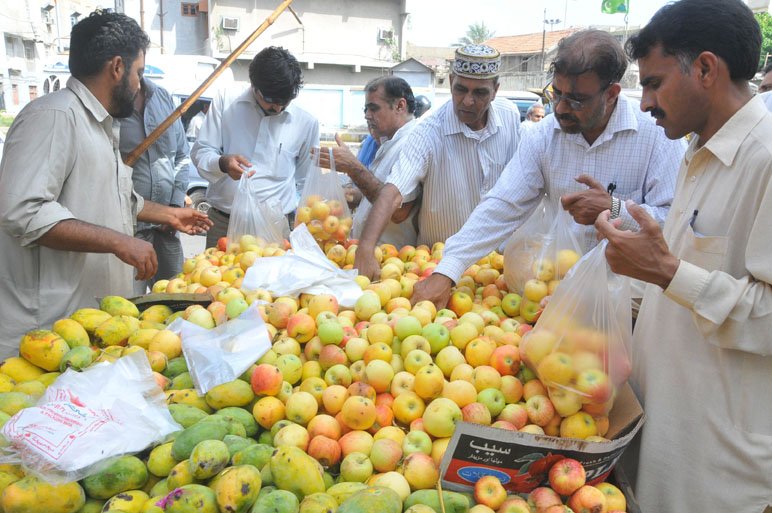 ---
LAHORE:
Private companies have ended a scheme to supply vegetables and fruits to the citizens at their doorsteps on government rate through online shopping in Lahore.
The service started on the directive of Prime Minister Imran Khan was reportedly abandoned due to non-cooperation of the district administration and financial difficulties.
Both companies involved in the scheme have discontinued their services due to the government's failure to provide any subsidies or financial incentives, and the low number of orders placed by citizens and the coronavirus situation.
During the experimental sale, both the companies were receiving a total of 50 to 60 orders daily from Lahore, which was not financially viable.
In view of a scheme launched in Islamabad in January, the prime minister had directed a system should be introduced in Lahore also to provide vegetables and fruits to the citizens at their doorsteps at official prices through the Punjab Qeemat mobile application.
Citizens had to place a purchase order worth at least Rs500 to avail the facility. The companies were told to provide Android and Apple phones to their employees for receiving orders through the mobile application. The companies' mobile application data had to be accessible to the Deputy Commissioner's Office and the Market Committee Office, while they were barred from provide buyer data to any private or other government agency. A company's services would be cancelled for three consecutive violations of the agreement.
After the advertisement, two companies agreed to operate the scheme. For the division of area between the two companies, Ferozepur Road was set as the boundary. Both the companies initially had 25 motorcycle riders but the response of the city with a population of about 17 million to the scheme was very disappointing due to lack of publicity by the district administration and non-provision of facilities to the companies in the operation.
However, both the companies stopped their operations a few months ago due to financial deficit and non-cooperation of the government, and closed their offices. When contacted, Sirat Traders chairman Malik Noman said, "We launched the operation on the assurances of the district administration.
We established offices, hired dozens of employees, bought motorcycles but the scheme was not publicised by the government in the media due to which a few orders were received daily, which did not even cover our operational costs. We ran the scheme for five months despite a loss of millions of rupees but then we ended our operation."
Published in The Express Tribune, December 14th, 2020.
COMMENTS
Comments are moderated and generally will be posted if they are on-topic and not abusive.
For more information, please see our Comments FAQ