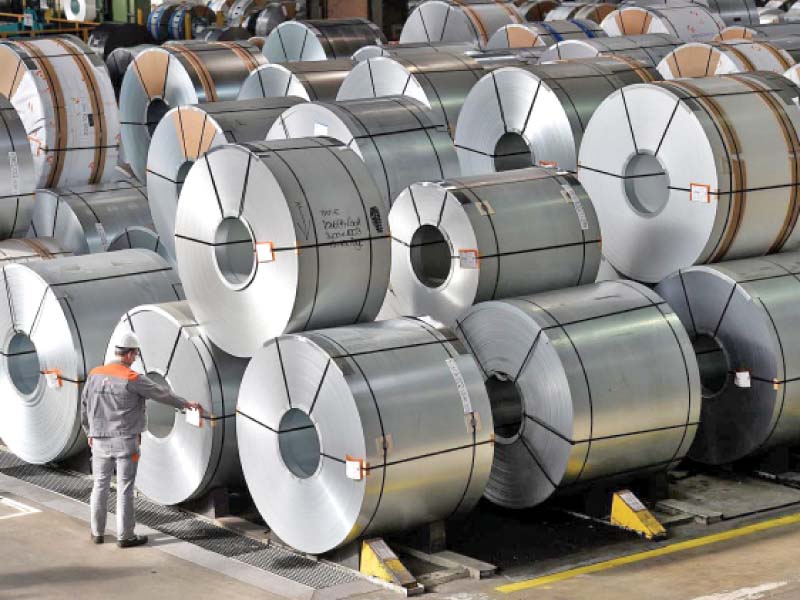 ---
The price of steel is surging owing to shortage of raw material coupled with disruption in supply chain, which may deal a blow to the construction sector of Pakistan that has only recently begun recovering.
Amreli Steels recently informed its dealers that booking rates for the company's steel bars had gone up by Rs2,000 per ton.
"The steel price has risen due to increase in the cost of production," said Arif Habib Limited Head of Research Tahir Abbas in comments to The Express Tribune.
"Owing to the hike in steel prices in the international market due to shortage of raw material, the price of steel has jumped in Pakistan as well and it may rise further in future," said Pakistan Association of Large Steel Producers (PALSP) Secretary General Syed Wajid Bukhari.
Steel scrap was earlier priced between $300 and $310 per ton, which has now escalated to $380 per ton, said JS Global analyst Arsalan Ahmed. He pointed out that there was also congestion at ports across the world on the back of Covid-19, therefore, the entire supply chain of steel was facing disruption, resulting in a spike in prices.
"Scrap is generated in developed countries usually from disposed of vehicles," he said.
The price hike comes at a time when Pakistan is preparing to ramp up construction activities all over the country, which were earlier hit by economic slowdown and then the Covid-19 pandemic.
Expressing concern over the abrupt and unilateral increase in steel bar prices, Association of Builders and Developers of Pakistan (ABAD) Chairman Fayyaz Ilyas termed it a conspiracy to damage the construction sector as well as the Naya Pakistan Housing Scheme.
He urged the government to initiate strict action against the cartel of steel manufacturers.
"Despite the fact that the price of steel raw material is low, steel manufacturers have raised rates for steel bars by Rs2,000 per ton, inflating the cost to Rs120,500 per ton," he said.
The ABAD high-up pointed out that 40% of the total material needed for high-rise buildings comprised steel while the share of steel in residential units fell within the range of 20-25%. With a price increase of Rs2,000 per ton, the cost of steel has risen by almost 1.5% for a house.
"If the cartel is not tackled immediately, Prime Minister Imran Khan's vision to provide five million low-cost houses to people will never come true," he remarked. "The construction industry is the largest job providing sector after agriculture and we have time and again approached successive governments, asking them to take action against the steel cartel."
Demand hike
There is a theory that due to increase in demand for construction material, the price of steel has gone up but analysts and the large steel industry have dismissed the claim.
"Indeed, Pakistan's construction activity has increased but it is still far from a complete boom," said PALSP Secretary General Syed Wajid Bukhari.
He stressed that prices should not rise on the back of increase in steel demand because many steel mills were producing at 50% of their capacity.
"Therefore, the reason behind this hike is not demand but the international price hike for steel raw material," he said. "The international price is hovering at around $400 per ton and it may soar beyond that, hence prices in the local market may increase further in the days to come."
He emphasised that the impact of international market was being felt locally because the raw material for producing steel was imported.
JS Global analyst Arsalan Ahmed said that following the Covid-19 outbreak, the piled-up international demand triggered congestion at ports of various countries. "A consignment which used to take 30 days to reach Pakistan is now taking around 50 days or more," he said.
Ahmed added that freight cost had soared as well and surged from $600 earlier to around $1,600 at present.
"Steel scrap is already short in the international market and a spike in transportation cost has resulted in a manifold increase in steel price over the past one month," the analyst added.
Published in The Express Tribune, December 11th, 2020.
Like Business on Facebook, follow @TribuneBiz on Twitter to stay informed and join in the conversation.