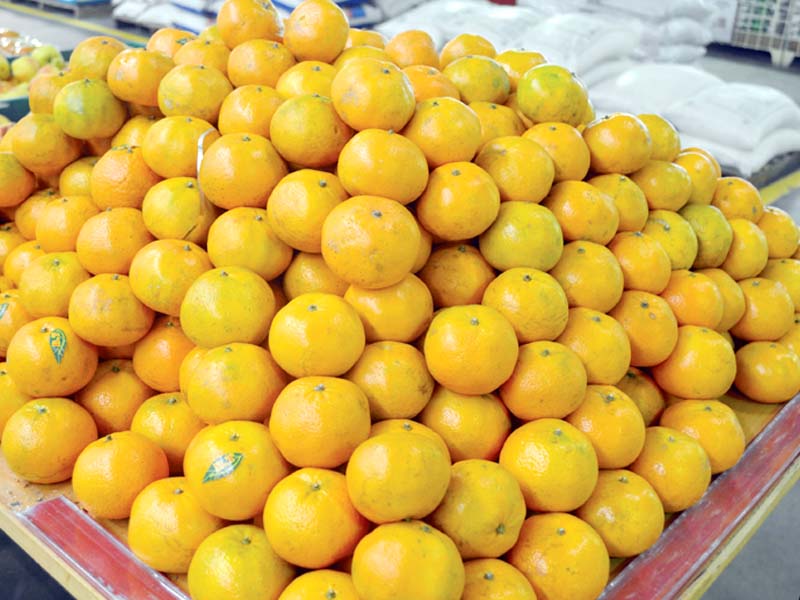 ---
The export of kinnow has commenced but Pakistan cannot take full benefit of increased demand for the citrus fruit containing vitamin C due to its inferior quality.
Total production of kinnow in Pakistan is around 2.1 million tons, said All Pakistan Fruit and Vegetable Exporters, Importers and Merchants Association (PFVA) Patron-in-Chief Waheed Ahmed. "Export target has been set at 350,000 tons as opposed to the 300,000 tons exported in the previous season."
"The export of kinnow is expected to fetch foreign exchange worth $210 million," he added.
"Against the total kinnow production of around 2.1 million tons, the quality and exportable fruit is far less," said Ahmed. "Of the total, 75% of production consists of grade B and C kinnow, which is not worth exporting."
Kinnow orchards were 60 years old and hence they could not protect the fruit from various diseases, he stated, adding that Pakistani kinnow suffered from common diseases including the blemish issue and melanosis, which badly affected its look.
Owing to that reason, the PFVA had placed a self-imposed ban on the export of kinnow to Europe for the last several years to avoid interception, leading to likely ban by the European Union.
It is being witnessed that due to the global pandemic, the demand for citrus fruit containing vitamin C is increasing in the international market.
"Pakistan being a prominent producer of citrus fruit can take full advantage of this unique opportunity, however, due to quality issues, we have not been able to capitalise on such opportunities," Waheed lamented.
The overall export of citrus fruit and value-added products can be enhanced to $1 billion over the next five years, but to achieve that, it is imperative to explore new varieties of the fruit free from diseases and establish new orchards having higher yield per acre through extensive research and development (R&D) work.
For the past one decade, the PFVA has been conveying its concern and early warnings to the federal and provincial governments about the dark clouds hovering over kinnow production and trade, endangering their survival.
The kinnow sector was worth around Rs125 billion and the entire economy of Bhalwal and Sargodha depended on its production while about 250 kinnow processing factories located in Punjab were providing direct employment to 250,000 people, Waheed revealed.
"The future of kinnow industry is bleak unless new orchards are developed with new varieties of the fruit," stressed Ahmed.
"Before the commencement of current kinnow season, we held meetings with the provincial agricultural minister, Punjab governor, growers, exporters and other stakeholders and apprised them of the need to resolve issues of the industry by adopting a national strategy."
The PFVA chief expressed concern over acute shortage of reefer containers for kinnow export during the current season.
"Kinnow is exported through land and sea and due to unavailability of containers and high freight charges, the exporters are confronted with a difficult situation, which is likely to harm exports."
Published in The Express Tribune, December 3rd, 2020.
Like Business on Facebook, follow @TribuneBiz on Twitter to stay informed and join in the conversation.
COMMENTS
Comments are moderated and generally will be posted if they are on-topic and not abusive.
For more information, please see our Comments FAQ