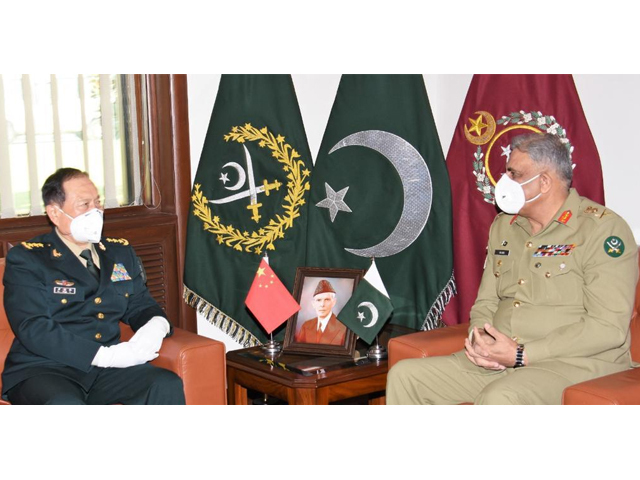 ---
ISLAMABAD:
Pakistan and China on Monday signed a Memorandum of Understanding (MoU) to further deepen cooperation between the two countries' armies as the latter's defence minister met army chief General Qamar Javed Bajwa in Rawalpindi.
General Wei Fenghe is not only the minister for national defence but also a state councilor, a top ranking position after the vice premiers.
The MoU on enhancing cooperation between the two armies came against the backdrop of regional security situation. Pakistan and China have already strategic partnership and recent changes in the region further pushed the two 'allweather iron brothers' to closely cooperate with each other.
The visit of the Chinese defence minister is seen as crucial against the backdrop of ongoing border standoff between China and India in the Ladakh region as well as deepening of strategic ties between India and the US, something that has disturbed the conventional balance in the region. Pakistan considers China's support as critical to counter aggressive policies of the Modi government.
Many analysts believe that one of the reasons behind the current military standoff in the Ladakh region is linked to Modi government's unilateral and illegal action in August last year to change the special status of the disputed Jammu and Kashmir territory.
General Fenghe flew to Pakistan from Nepal, which he visited on Sunday as part of efforts by Beijing to deepen its ties with Katmandu, which is increasingly coming under pressure from its hostile neighbour India.
According to a statement issued by the Inter-Services Public Relations (ISPR) regarding the meeting between General Fenghe and General Qamar, matters of mutual interest, regional security and enhanced bilateral defence collaboration were discussed.
"Visiting dignitary acknowledged and appreciated Pakistan Army's sincere efforts for regional peace and provision of secure environment for the CPEC projects," the military's media wing added.
The army chief thanked the dignitary for China's unwavering support to Pakistan on all key issues at regional and international forums.
The COAS said that Pakistan Army greatly values "our time-tested and brotherly relations" with China.
"We have been standing together all along, and our relations will be no different in [the] wake of future challenges," the army chief said.
Observers believe that General Qamar's statement is a clear message for those who want Pakistan to stay away from China. They say in the rising polarised world, China is critical for Pakistan as the country's economic future is not only linked with Beijing but also its support on other issues of Islamabad's concern is crucial.
Earlier on arrival at the GHQ, the national defence minister laid a floral wreath at Yadgar-e-Shuhada.
A smartly turned out contingent of Pakistan Army presented the Guard of Honour to the visiting dignitary.
COMMENTS
Comments are moderated and generally will be posted if they are on-topic and not abusive.
For more information, please see our Comments FAQ