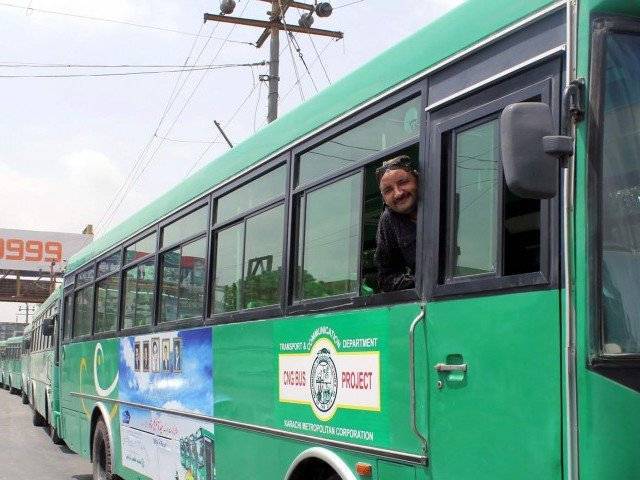 ---
KARACHI:
After much back and forth with Sindh authorities, the Centre has agreed to import buses for both the Green Line and Orange Line Bus Rapid Transit (BRT) schemes.
By June next year, the federal government-run Sindh Infrastructure Development Company Limited (SIDCL) will import a total of 100 buses - 80 for the Green Line and 20 for the Orange Line - a top SIDCL official told The Express Tribune.
"The tender process is currently underway and in its final stages. It should be awarded next month," said SIDCL CFO Bilal Memon. "Once they arrive in June, it will take us a month to test and operationalise them," he added.
It should be noted that while the federal government initiated the Green Line project, the Orange Line is supposed to be a Sindh government scheme. Under the original arrangement, the Centre was only responsible for developing the route for the Green Line, while the Sindh government was to procure buses and run operations for both the Green and Orange lines.
Sources associated with both projects said the Pakistan Tehreek-e-Insaf-led federal government took over the Green Line completely due to perceived 'non-seriousness' on part of provincial authorities. Following that development, the Sindh government handed over responsibility for the Orange Line's bus procurement and operations to the federal government as well, they added.
Speaking in this regard, SIDCL CFO Memon said that while the Centre has agreed to foot the bill for the Green Line buses, it is still expecting Sindh to pay up for the Orange Line vehicles.
"The federal government has set aside Rs11 billion for the Green Line, to cover everything from the purchase of buses to operational costs, staff salaries, repairs and subsidies for the next three years," he revealed. "The Sindh government, however, has yet to do so for the Orange Line."
Even so, SIDCL has agreed to purchase buses for Orange Line and will procure them from the same company that provides the Green Line vehicles, Memon added. "It is expected that Sindh will foot the bill at a later stage."
Providing details as to the kind of vehicles SIDCL is looking to bring in, other officials revealed that they would be diesel-hybrids to ensure both bus services have a small environmental footprint. They added that the design of the buses would have to meet the parameters of the Orange and Green Line BRT corridors.
They pointed out, however, that there would be a slight difference between the Green and Orange Line buses - those for the former would have to be able to carry 200 passengers at a time, while those for the latter would have a passenger capacity between 75 and 120.
Published in The Express Tribune, November 30th, 2020.