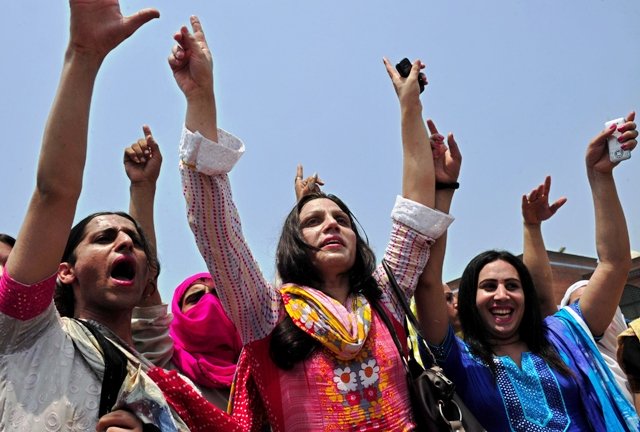 ---
RAWALPINDI:
Transgender residents of the city on Monday staged a sit-in to protest the Bani police for what they claimed was the release of a man suspected of attempting to kill on their community members.
Police, however, maintained that a charge-sheet cannot be prepared against anyone merely based on accusations.
Members of the local transgender community said that they had complained to the police against Nauman and his accomplices for an attempt to murder.
They asserted that the police collected evidence from the crime scene but later termed all suspects as innocent and let them go.
Fouzia Pathani, who identifies himself as a transgender, told The Express Tribune that they had lodged several complaints with Waris Khan DSP as well in the case but it did not stop the police from releasing the suspects.
Holding up placards during their protest, Pathani announced that they will continue their sit-in until they are served with justice and demanded Prime Minister Imran Khan and Punjab Police Inspector General (IG) to take notice of the matter.
When asked, Rawal Division SP Rai Mazhar Iqbal that they have registered a case on the application filed by the transgender people in the Bani police station while investigations are being conducted by the recently-set up transgender protection centre.
However, he said that during investigations, the complainants had failed to justify their allegations against the suspects who were deemed innocent on merit.
When asked about Pathani's allegations, SP Iqbal said that some members of the transgender community wanted to pressurise the police by staging protests.
Terming the protest as unwarranted, he warned that the police will be forced to take action against the transgender people for filing a fake case.
Published in The Express Tribune, November 24th, 2020.
COMMENTS
Comments are moderated and generally will be posted if they are on-topic and not abusive.
For more information, please see our Comments FAQ