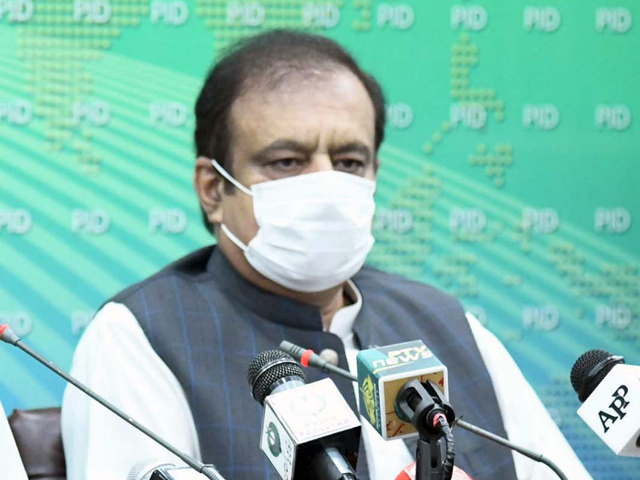 ---
Information Minister Shibli Faraz has said that "low turnout" in today's Peshawar rally showed that the people of Khyber-Pakhtunkhwa province had rejected the opposition parties' anti-government narrative.
He was reacting to the 11-party anti-government alliance, Pakistan Democratic Movement (PDM), power show in the provincial capital which was addressed by political heavyweights including Bilawal Bhutto Zardari, Maulana Fazlur Rehman and several others.
"I appreciate people of Khyber-Pakhtunkhwa for boycotting the opposition's rally and protecting themselves from coronavirus on the appeal of Prime Minister Imran Khan," he said in short video message, released soon after the rally concluded on Sunday.
The PTI minister also urged the participants of the rally to quarantine themselves due to possible exposure to Covid-19 as the infection positivity rate had exceeded 13 per cent in Peshawar.
"They always prioritize petty political gains over respect to law and protecting health of people."
Another PTI leader Senator Faisal Javed Khan reacting to Peshawar rally quipped: "Useless people are holding useless gatherings."
He claimed that PDM's anti-government movement was aimed to securing relief in the corruption and money laundering cases.
"They are trying their best to get a reconciliation ordinance for which they are endangering the lives of the people and the fast growing economy," he wrote on his official twitter handle in Urdu.
بیکار لوگ بیکار جلسے کر رہے ہیں -
اپنے کرپشن اور منی لانڈرنگ سے بچنے کے لیے, مفاہمتی آرڈیننس حاصل کرنے کی پوری کوشش کر رہے ہیں جس کی خاطر یہ پاکستان کے عوام کی جانوں اور پاکستان کی بہتری کی طرف گامزن اور تیزی سے ابھرتی ہوئی معشیت کو خطرے میں ڈال رہے ہیں -#PDMSpreadingCOVID

— Faisal Javed Khan (@FaisalJavedKhan) November 22, 2020
Earlier in the day, Prime Minister Imran Khan and key federal ministers had also censured PDM for holding political gatherings despite exponential rise in the number of coronavirus cases during second wave.
Opposition parties, on the other hand, have claimed that government was using coronavirus as "tactic" to cripple the movement which they claim would send the PTI government packing by early next year.
COMMENTS
Comments are moderated and generally will be posted if they are on-topic and not abusive.
For more information, please see our Comments FAQ