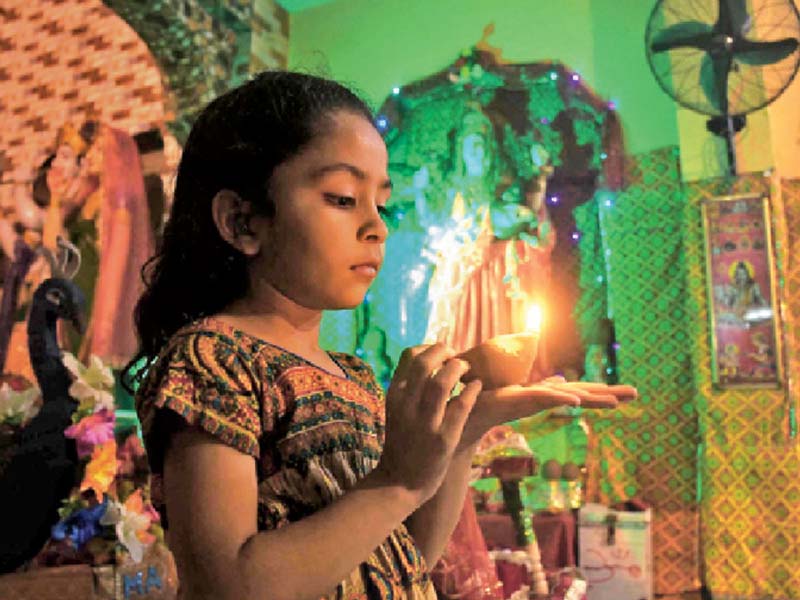 ---
On Saturday, Karachi lit up and various localities echoed with religious songs, marking the celebrations of Diwali.
Hindus across the city decorated their houses with lights and lamps, fireworks brightened the night sky and prayer services were organised in temples throughout the metropolis, especially those in the old city areas. Exchanging gifts and sweets, the port city's Hindu community was witnessed in jubilant spirits.
"This is our Eid," a joyous professor KS Nagpal, who is a renowned scholar and writer, said on the merry occasion. Describing the essence of Diwali, he said, "Diwali epitomises the prevalence of right over wrong. It is the celebration of a victory."
Prof Nagpal said Hindus across Sindh and in different parts of the world were observing Diwali in the same spirit, promoting truth and condemning falsehood.
Activist Mohan Lal, whose family adorned his residence's floor in Lea Market with Rangoli - design patterns created on the floor using materials such as coloured rice, coloured sand, quartz powder or flower petals - said, "Diwali is the major festival in Hinduism."
Lal added, "I have been observing for the last few years that our Hindu brothers have begun to celebrate this festival with more zeal and fervour [than before]. This is because our Muslim brothers support us."
Similarly, Dr Jaipal Chhapria, a member of the National Commission on Minority Wing, said, "Diwali also teaches one about patriotism."
He, along with his colleagues and friends, including Muslims and Christians, celebrated the auspicious occasion at St Patrick's College.
Meanwhile, members of the Hindu community crowded sweet shops, where shop owners prepared special sweets and gift packs in connection with the festival of lights.
Besides, major ceremonies were organised in the old city areas, where meals were served on a large scale and arrangements were made for Dandiya - a dance form.
There are around 150 Hindu temples in Karachi, but the main ceremonies were held in the old city areas, including MA Jinnah Road, where there is Swami Narain Temple, Ranchor Line, Soldier Bazaar, Lyari, Narainpura, Saddar, Civil Lines, Mauripur, Clifton and Drigh Road. On the occasion, Hindus also held special prayer ceremonies for the prosperity of Pakistan.
Amid all this, police and other law enforcement personnel were deployed at various locations for security purposes.
Festival celebrations will continue today (Sunday).
Published in The Express Tribune, November 15th, 2020.
COMMENTS
Comments are moderated and generally will be posted if they are on-topic and not abusive.
For more information, please see our Comments FAQ