Foreign Minister Shah Mehmood Qureshi and DG ISPR Major General Babar Iftikhar, in a joint media conference, on Saturday categorically stated that India was sabotaging the China-Pakistan Economic Corridor (CPEC) and is supporting terrorism in Pakistan.
The country's top diplomat and the military spokesperson presented a dossier detailing India's involvement in terror attacks in Pakistan during the media conference. Multiple video clips and audio clips, along with documents, were presented during the media conference of Indian handlers and terrorists communicating with each other and Indian intelligence handlers passing on instructions to terrorists in Pakistan.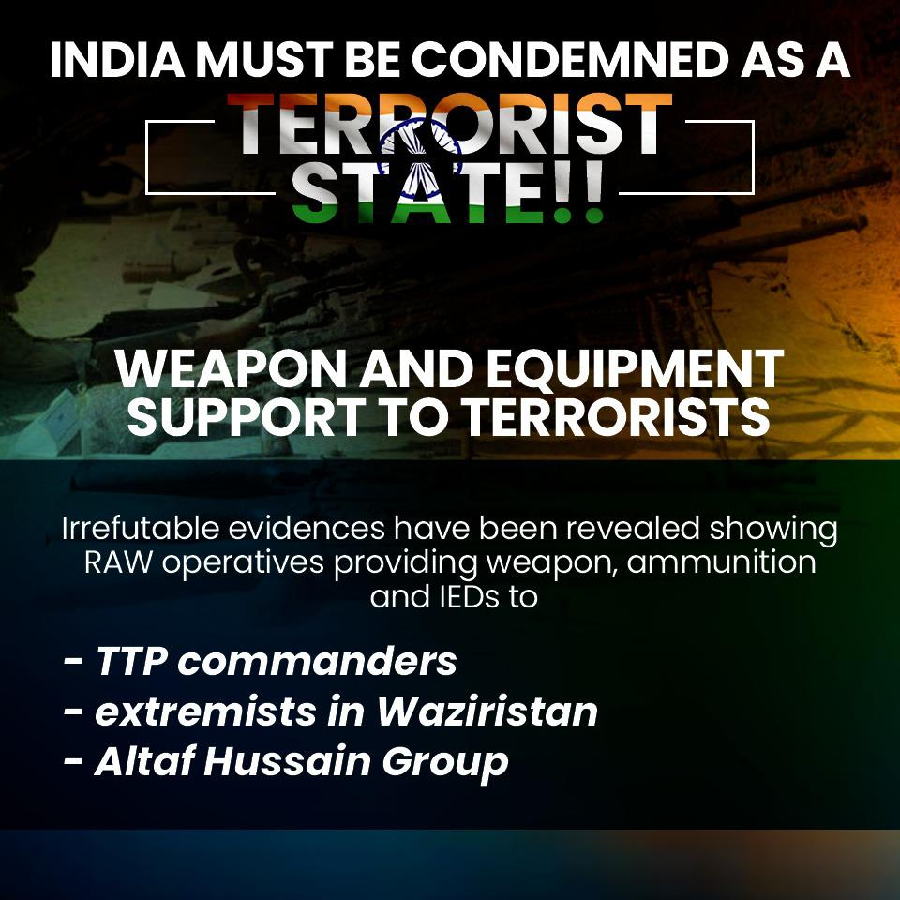 "Today we have irrefutable facts that we will present before the nation and international community through this dossier."
"You can see a pattern of constant ceasefire violations," said the foreign minister, adding that the dossier contains many details and some of them will be used at the "time of need".
He said while Pakistan was combatting terrorism on its soil, India was using its soil to surround Pakistan "in a web of terrorism". "India can not tolerate Pakistan's success against terrorism."
The foreign minister said during recent months, India has tried its best to fan terrorism across Pakistan. "Indian intelligence agencies are today supporting terrorist groups defeated and outlawed by Pakistan." He added that the country has information and evidence of India promoting terrorism in Pakistan and "has developed a plan to destabilise Pakistan".
Qureshi warned that in the coming months, there will be an upsurge in terrorist activities in Pakistan and the focus will be on the major urban centres of the country. "We have irrefutable evidence," said the foreign minister.
He named two Indian intelligence agencies, RAW and DIA, which are financing, training and harbouring terrorists. "The objective is state terrorism and instability in Pakistan."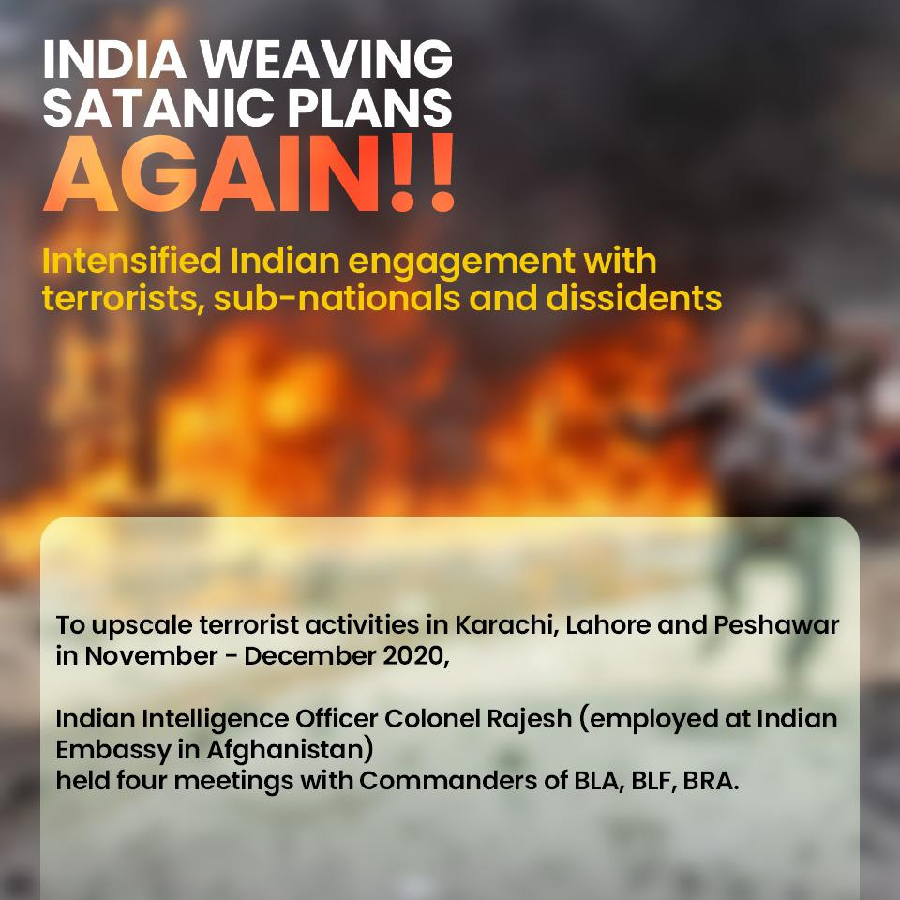 "The first objective is to disrupt Pakistan's path towards peace and for the same, sub-nationalism is being promoted in Gilgit-Baltistan, erstwhile Fata and Balochistan." The country's top diplomat said the second objective is to disrupt Pakistan's economy and India is trying to spread chaos in the country to restrict Pakistan from achieving economic stability.
"The third objective is to create political instability in Pakistan," said Qureshi.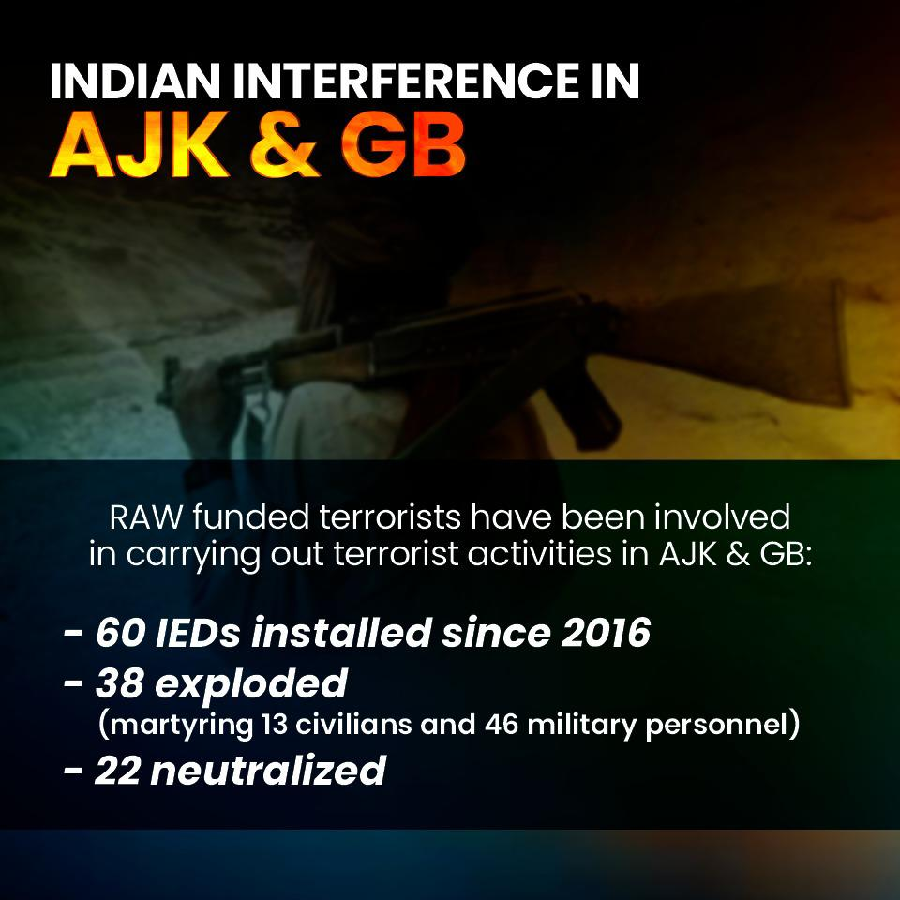 He further elaborated that New Delhi has distributed Rs22 billion for the purpose of promoting and carrying out terror activities in Pakistan.
Referring to the dossier, the foreign minister said it shows the clear deepening of the nexus between India and terrorist outfits. "India is sabotaging CPEC as they know the project's success can be an economic gamechanger for Pakistan."
He further said New Delhi has established a cell in their intelligence agency with the sole objective of disrupting CPEC projects. "The cell works under the supervision of the Indian prime minister and its mandate is to disrupt CPEC projects. A sum of Rs80 billion has been allocated for this purpose."
"There are also reports that India has established a 700-strong militia to target CPEC projects." He said that the country is prepared and has established and deployed two security divisions to safeguard the projects and the personnel working on them.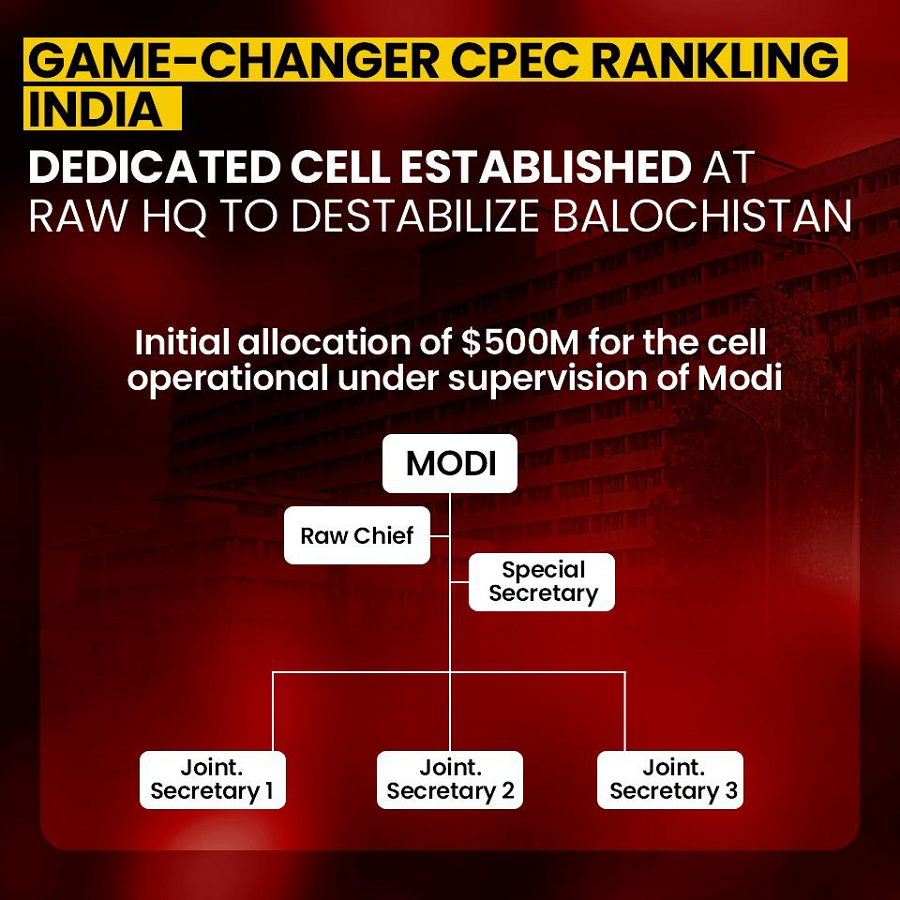 Qureshi further said New Delhi tried to promote subversive activities in Gilgit-Baltistan (GB) in the run-up to elections in the region through sub-nationalists. "We also know about their intentions after the polls conclude."
'Indian ambassadors in Afghanistan regularly supervising various terrorist activities'
Major General Babar Iftikhar, giving details of Indian involvement in terrorist activities in Pakistan, said India embraced all terrorist organisations soon after they were uprooted from Pakistan.
"I shall cover the details of Indian machinations for Pakistan's destabilization and economic coercion by presenting evidence in the domains of funding terrorism, weapons and equipment support to terrorists, terrorist training and terrorist activities."
The military spokesperson said the recent upsurge in violence in Pakistan is a direct consequence of New Delhi's "intensified engagements with all brands of terrorists, sub-nationalists and dissident's operating against Pakistan".
"After the unification of TTP with its breakaway factions (JuA and HuA) in August 2020, India is endeavouring to establish a consortium of TTP with proscribed dissident organisations of Balochistan (BLA, BLF and BRA) which are already united under the banner of BRAS (Baloch Raaji Aajoie Sangar) constituted in 2018.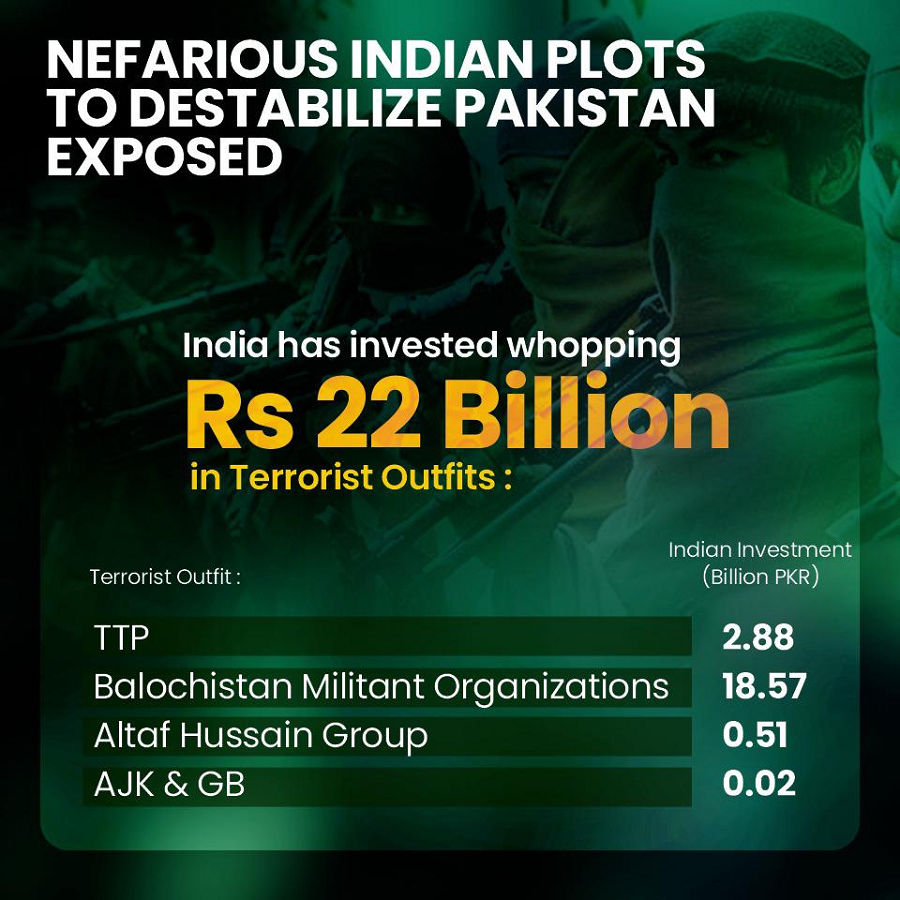 Elaborating further, Maj Gen Iftikhar said an Indian intelligence officer, Colonel Rajesh, employed at Indian Embassy in Afghanistan, is the master planner and a letter reveals that he has held four meetings with commanders of these terror outfits "to synergize their efforts and upscale terrorist activities in metropolitan cities in November and December 2020".
He further said that India is trying to establish a linkage between Pakistan and the militant Islamic State (IS) by creating 'Daesh-e-Pakistan'.
"Recently, 30 Indian Daesh militants were relocated from India to various camps along Pakistan-Afghanistan border by two Indian intelligence agencies operatives. These militants were handed over to Daesh Commander Shiekh Abdul Rahim alias Abdul Rehman Muslim Dost."
"Uncontrivable evidence reveals that Indian embassies and consulates operating along Pakistan's borders have become a hub of terror sponsorship against Pakistan," said the military spokesperson.
The military spokesperson said Indian ambassadors to Afghanistan have regularly supervised various terrorist activities. "In one such instance, Indian ambassador to Afghanistan and Indian consular in Jalalabad had detailed discussions with collaborators to provide financial support to TTP and dissident Baloch elements."
For sabotaging CPEC, India raised a militia of 700 militants to conduct terror activities in Balochistan, said Maj Gen Iftikhar. "A commission comprising 24 members was created which included 10 RAW operatives. $60 million dollars were dedicated for this force."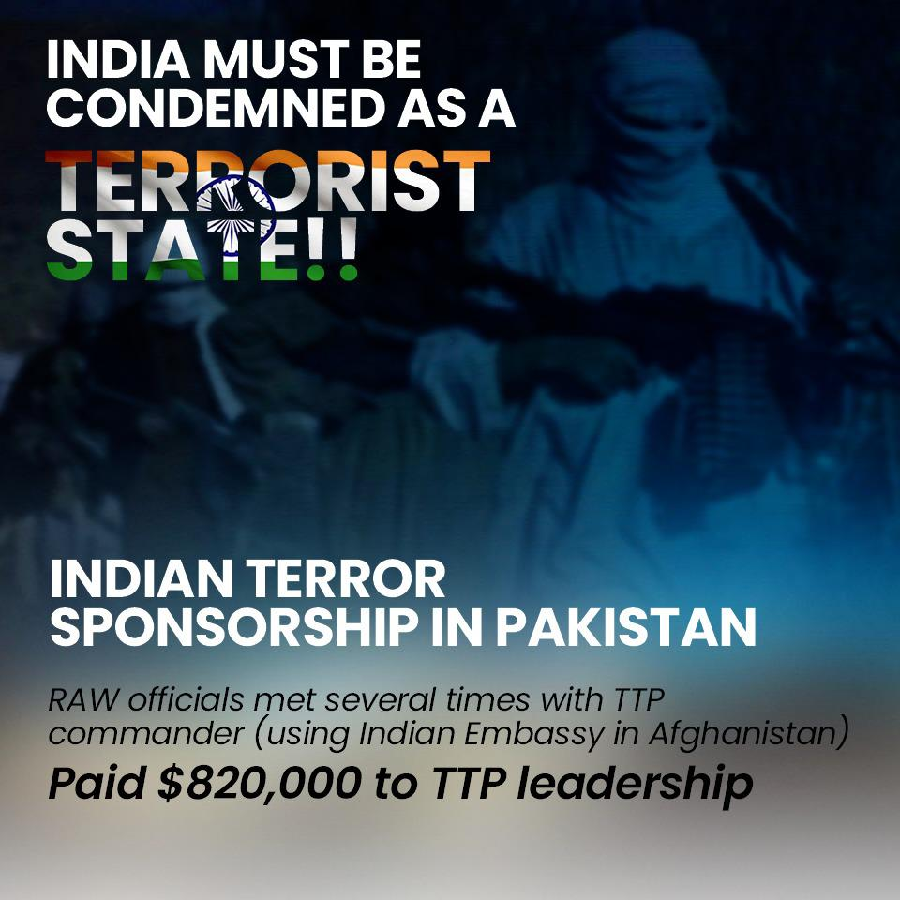 He added that the Indian mission in Afghanistan has paid handsome amounts to sub-nationalists under the garb of humanitarian assistance and projects. The spokesperson also gave details of the transactions for such activities.
Iftikhar further said that India's RAW also funded Altaf Hussain, as revealed by the confessional statement of Sarfraz Merchant and Tariq Mir, through two Indian companies.
"India has also been providing weapons and ammunition to Altaf Hussain Group; weapons worth $0.62 million were provided to Altaf Hussain Group on one such occasion. Confessional statement of Ajmal Pahari validates it."
DG ISPR added that Pahari had confessed that India had established four training camps for the group's militants in India, with training for militants lasting between 15 days to four months and "it was confirmed that 40 AHG terrorists had received training at India who used to travel to New Delhi through a third country".
Weapons and equipment support to terrorists by India
Besides funding terrorists and their activities in Pakistan, India also provided direct weapon and equipment support to terrorists in Pakistan.
"Recently, a RAW sponsored network of six terrorists has been unearthed which has linkages with an attack on Pakistan Stock Exchange and is also involved in the delivery of suicide jackets to various terrorist groups operating in Pakistan besides undertaking terrorist activities."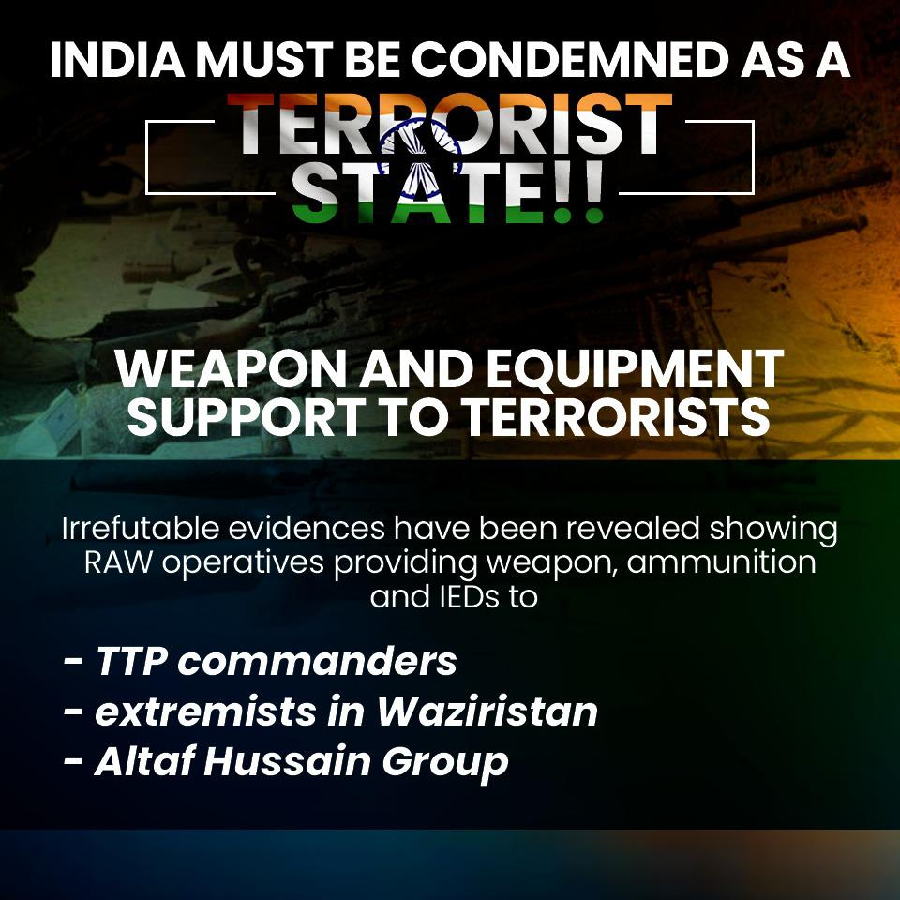 Maj Gen Iftikhar added that the network, comprising two RAW frontmen and four Afghan terrorists, has been exposed and is also involved in target killing of Ulema, police officials and notables.
Giving details of the amounts paid to terrorists for carrying out attacks in Pakistan, Maj Gen Iftikhar said Rs10 million was paid by RAW for a suicide attack or a vehicle-borne improvised explosive device (VBIED) and Rs1 million for an IED attack and targetted assassination. "Security forces have also intercepted a huge cache of suicide jackets, IEDs, explosives, weapons & ammunition."
He further added that there is evidence of multi-purpose base camps being utilised by India for training, harbouring and launching of terrorist attacks against Pakistan.
"Indian intelligence agencies are managing 87 such terrorists' camps out of which 66 are located in Afghanistan whereas 21 are located in India." He gave the example of the attack on PC Gwadar and said an officer of RAW, Anurag Singh, planned the attack and $0.5 million dollars were allocated by Indian intelligence for the attack.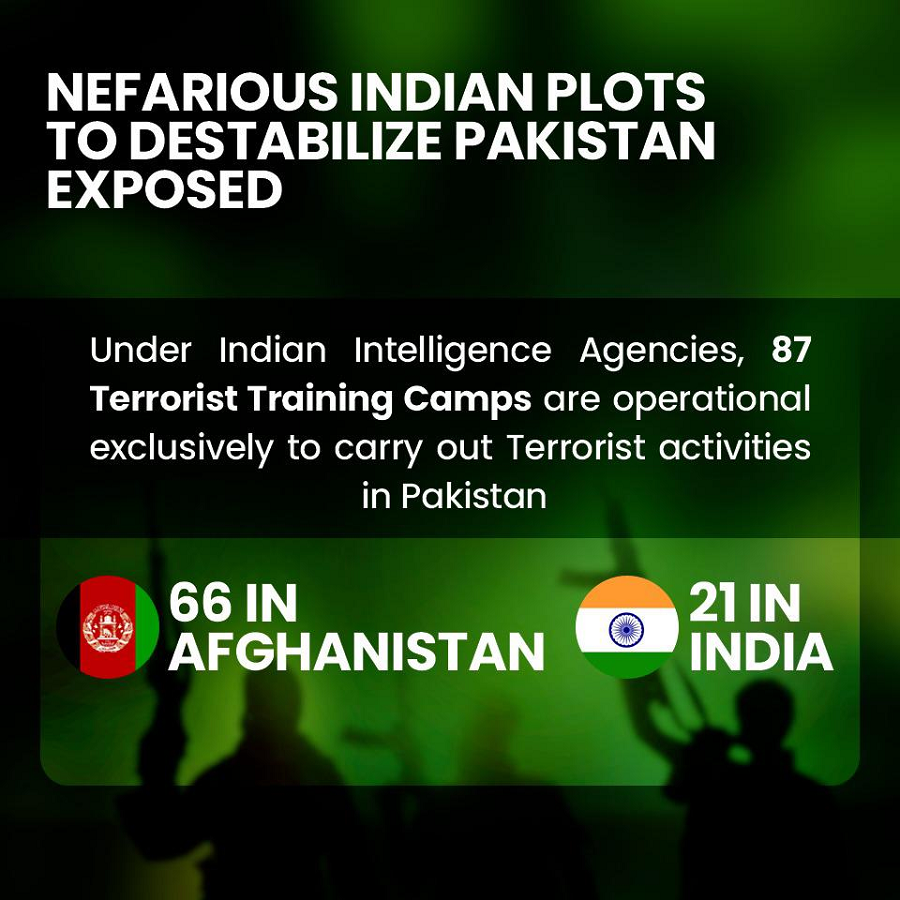 "The attack was masterminded by Dr Allah Nazar (DAN) and Aslam Achoo. Both the individuals have travelled to India on fake Afghan passports. Aslam Achoo remained admitted in Indian hospital while he travelled under the cover name of Abdul Hamid. His passport having double entry visa stamped by India."
Nazar had travelled to India on fake documents under the cover name of Haji Nabi and is the main conduit between various terrorist groups in Balochistan and RAW handlers, said the spokesperson.
Indian subversive activities in GB, attempts to blacklist Pakistan in FATF
Shifting focus to New Delhi's subversive designs in GB, DG ISPR said a meeting was held by India's Ministry of Home Affairs to "deliberate upon the methodology to trigger negative reactions" in regards to the provisional provincial status of the region.
Maj Gen Iftikhar said the salient features of the meeting were to subvert the perceived changes in the status of the region. "After Nov 20, hostile elements will be mobilized to undertake various subversive operations in Kashmir and GB."
He said New Delhi's intelligence apparatus aims to exploit the prevalent environment by staging terrorist attacks on large public gatherings and will attempt to assassinate a mainstream or sub-nationalist leader or a religious figure in Azad Kashmir or GB to arouse public anger.
In reference to FATF, Maj Gen Iftikhar said Islamabad remains firmly committed to the forum and "our achievements for fulfilling the technical obligations remain unparalleled".
"India has consistently been endeavouring to politicize the forum for economic coercion of Pakistan.
Tangible evidence reflects that Indian foreign missions in FATF member countries have always been extensively lobbying with hosts prior to FATF meetings to undermine Pakistan's achievements and create conditions for our grey/ blacklisting," the military spokesperson.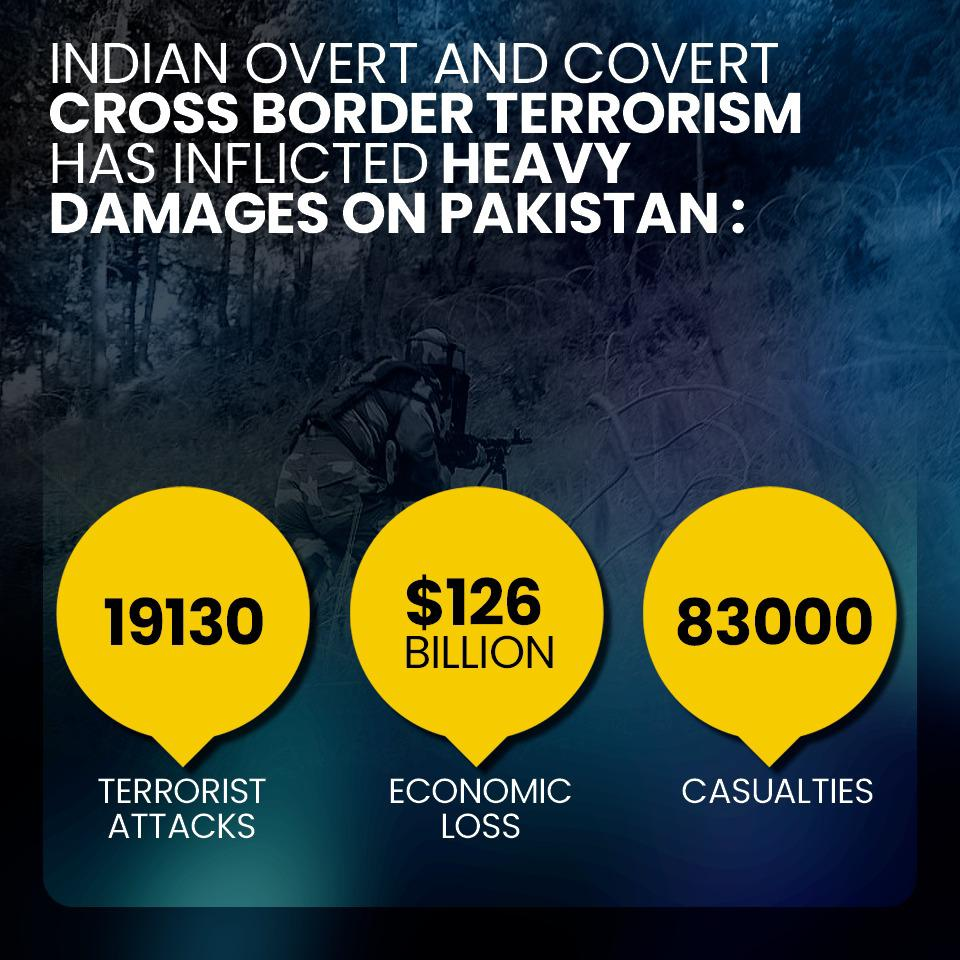 He said India needs to be scrutinised at the FATF platform in light of the evidence presented by Pakistan as the recent revelations made by United States' Financial Crimes Enforcement Network to reveal "Indian terror financing and money laundering regimes".
State-sponsored terrorism
FM Qureshi said the evidences presented by Pakistan provide a concrete proof of Indian financial and material sponsorship of multiple terrorist organisations, including UN designated terrorist outfits — Jammat-ul-Ahrar (JUA), Balochistan Liberation Army (BLA) and Tehreek-e-Taliban Pakistan (TTP).
Pakistan is presenting this Dossier to UN, OIC, P5 Countries, and others, he added.
The FM urges international community to play its role for peace and stability in the region, by:
compelling India to immediately halt its state sponsorship of terrorism inside Pakistan.
bring to justice all those responsible for supporting and financing terrorism inside Pakistan according to relevant domestic and international laws.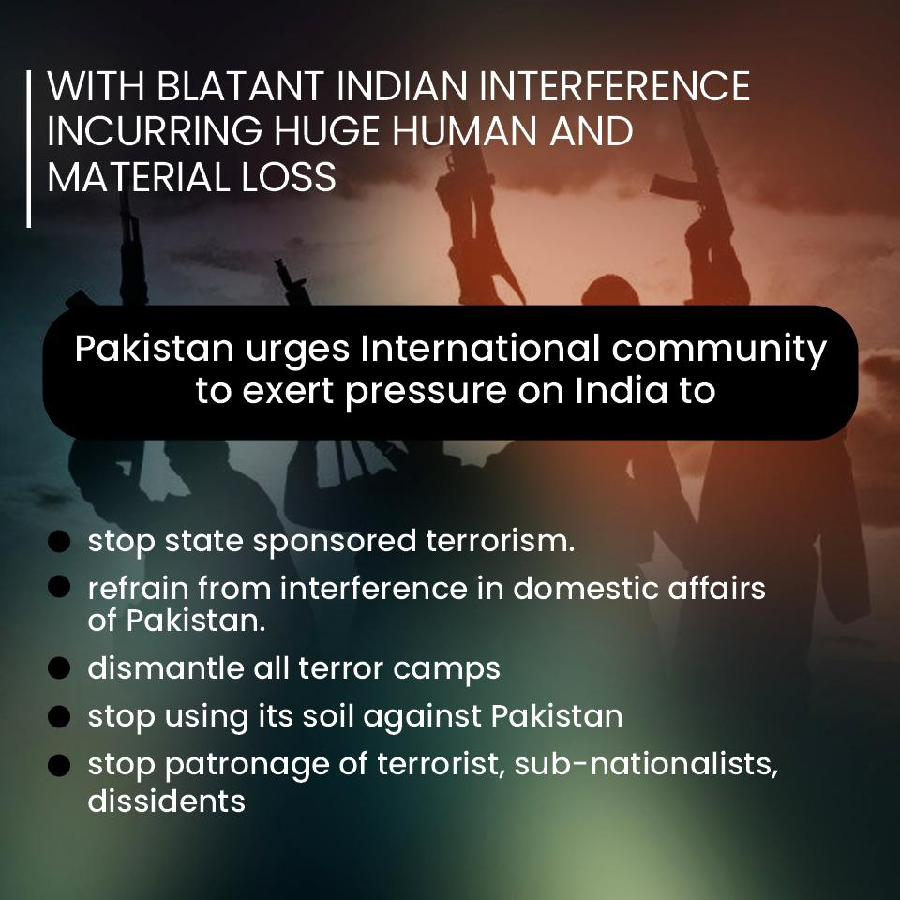 He said Pakistan has shared its concerns with major international partners before. "We are now presenting irrefutable evidence to the world of Indian state's direct sponsorship of terrorism inside Pakistan that has resulted in the deaths of innocent Pakistanis."
The international community can no longer turn a blind eye to this rogue behaviour by a state which refuses to adhere to International laws and conventions, said Qureshi.
"India is a state sponsor of terrorism that is consistently exhibiting rogue behavior. If the World does not take the Indian agenda to destabilise and undermine Pakistan in the region seriously, then I am afraid peace and stability in a nuclear South Asia does not seem to be their priority," he added.
The foreign minister said the country's valiant law enforcement and security agencies have resiliently fought and won the war against terrorism.
"We know how to defend ourselves. India's efforts to foment terrorism inside Pakistan will not be allowed to undermine Pakistan's stability in any way. Whether they acknowledge or not, all major powers know that India is threat to the entire region."
Qureshi called upon international community to act to prevent India from its continuous sponsorship of terrorism against Pakistan.
"We reserve the right to defend ourselves in every possible way," he added.
COMMENTS
Comments are moderated and generally will be posted if they are on-topic and not abusive.
For more information, please see our Comments FAQ