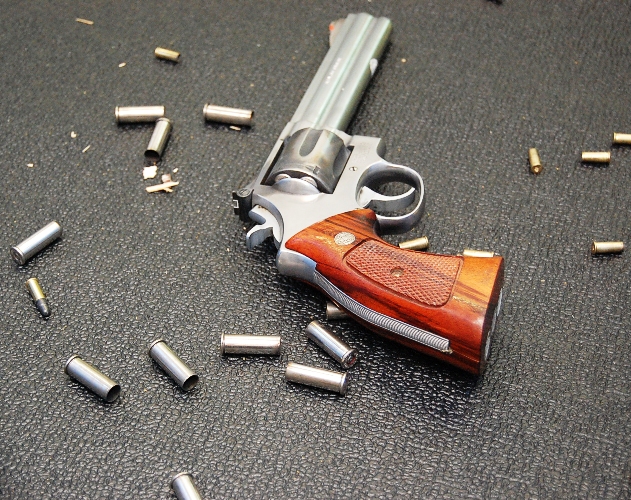 ---
LAHORE:
The problem of proliferation of weapons in the country as a result of the Afghan war is exacerbated by a lack of training about their use among the owners, resulting in frequent incidents of accidental gunfire.
It is said that one should put his finger on the trigger only when he has firmly decided to shoot. Extreme precaution is must for gun keeping, because failure to follow the safety measures may cost lives.
Safety measures are also essential for avoiding mishandling of licensed weapons.
The unsafe use of guns is evident during their public display on occasions like aerial firing in marriage celebrations, festivals or for uploading videos on social media.
As a result of lack of training in gun handling and safety, people are seen carrying the weapons without proper locking, pointing them unintentionally at other people with finger on the trigger and carrying them around without checking if they are loaded. Another dangerous trend is shooting a gun with one hand.
Owing to carelessness, gun-related accidents make headlines every other day. Videos of some incidents have made rounds on social media. In one such case, a child caused a fatal injury to his father in the chest. The father had put his handgun on a chair near the minor after shooing into the air and indulged in chit-chat with people around him. The child picked it up out of curiosity and unknowingly fired it, turning the celebration into mourning.
In another case, as a youth took a break after firing into the air to reload a handgun, he accidentally shot a man approaching him in the head.
Carelessness and lack of awareness regarding gun safety is so common that even the basic precaution of keeping the firearms out of the reach of children is often ignored. Such precautions are advised even for medicines.
This week, a case of the death of a minor girl due to firing by her minor brother was reported in the Kahna area.
Reportedly, Umar, 15, was playing with a handgun while his sister Mehwish, 10, was sitting nearby. He mistakenly fired a bullet that hit the girl. The bullet injury claimed her life.
Several similar incidents have been reported in the past.
However, the authorities have not bothered to treat the issue as more than a criminal case. Gauging the magnitude and prevalence of the problem, mass awareness campaigns in this regard are needed. There is also a need of setting up gun training facilities.
FIRs and inquiry
Former SHO Nawab Town Taimoor Abbass, Ada Plot check-post in-charge Haider Ali and ASI Sajid have been booked on the orders of CCPO Umer Shoib Sheikh on charges of corruption, misuse of authority and illegal detention.
A day earlier, IGP Inam Ghani ordered an inquiry on a complaint by former SP CIA Asim Iftikhar of misbehavior by the CCPO. Earlier, Inspector Raza Jaffery had also filed a similar complaint before the IGP. Ghani had ordered an inquiry after court orders. However, the result of the inquiry is still awaited, although several weeks have passed.
Raza had also approached the Race Course police for registration of an FIR against CCPO Sheikh. However, his complaint was turned down.
Published in The Express Tribune, November 8th, 2020.