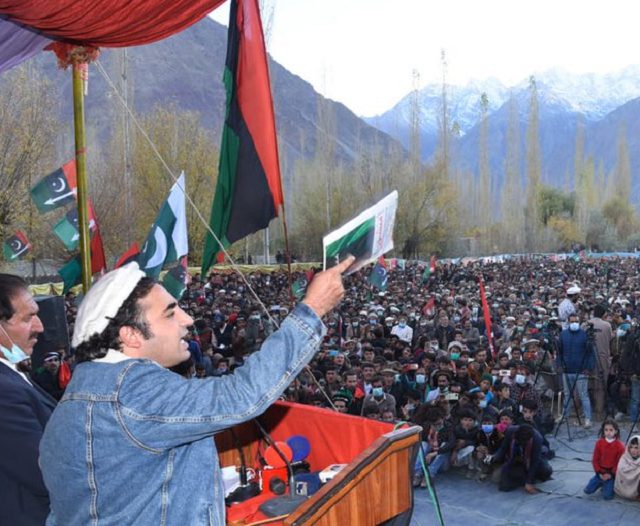 ---
ABOTTABAD:
Pakistan Peoples Party (PPP) Chairman Bilawal Bhutto Zardari has launched yet another broadside at Prime Minister Imran Khan, calling him a "liar and hypocrite".
"Imran Khan is a liar who is playing politics of corruption and during his two years in power corruption has increased," Bilawal said while addressing a corner meeting for upcoming election in Gilgit-Baltistan (G-B) on Monday.
He said that Premier Imran had promised to root out corruption in the country within first 90 days of his government before coming into power. "Now he [PM] says corruption cannot be ended with a switch button."
The PPP leader said that his grandfather and late former prime minister Zulfikar Ali Bhutto ended the British era's FCR (Frontier Crime Regulation) system in G-B during 1970s to empower the region.
Bilawal went to say that in the previous tenures of his party rule in the centre, the status of the region was elevated and steps were taken to give the people their democratic rights. "Now PPP wants to give the people of G-B their own province, right to rule, right to choose prime minister of Pakistan and right to property."
He maintained that his party will win the general elections of the region, which are scheduled to be held on November 15.
Over a dozen political and religious parties – including the country's three major parties Pakistan Tehreek-e-Insaf (PTI), Pakistan Muslim League-Nawaz (PML-N) and PPP – are contesting the polls.
"The PPP had given subsidy to the people of G-B in food items, clothes and petrol. Now, [PM] Imran Khan wants to snatch this subsidy from the people of G-B. We will not allow the 'puppet' prime minister to seize these rights of the people and at the same time we will not let him hide his corruption and loot," he said.
Addressing the premier, Bilawal asks: "Why did not you [Imran Khan] visit G-B in the last two years and suddenly felt the need to come here during election time."
The scion of Bhutto dynasty said that PM Imran had a fright when he saw thousands of people from Khaplu to Ghizar – areas of G-B – attending election rallies of his party.
While calling the premier "hypocrite," Bilawal maintained that since PM Imran came into power inflation, poverty and unemployment have risen into the country.
He also urged the people of the region to vote for PPP in the November 15 elections to get rid of the incumbent government.
COMMENTS
Comments are moderated and generally will be posted if they are on-topic and not abusive.
For more information, please see our Comments FAQ