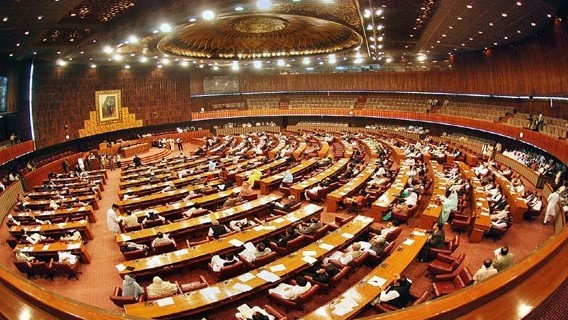 ---
ISLAMABAD:
On a day of noisy protests in the National Assembly, both the opposition and the treasury benches lashed out at each other over several political issues, hurling allegations of treason and the charges of speaking the language of India.
The session was held with Deputy Speaker Qasim Suri in the chair. The protest from the opposition started when the chair gave the floor to Foreign Minister Shah Mehmood Qureshi, while PML-N senior leader Khawaja Asif tried to present a resolution against blasphemous caricatures in France.
Qureshi wanted to present a government's resolution on the same issue, however, the opposition blew whistles to disturb his speech. During heated exchanges, Asif said that the government was near its end, while Qureshi retorted, asking: "Who is making Pakistan's institutions controversial at this moment?"
This forced the deputy speaker to adjourn the session for a while to allow the government and opposition to reach consensus on the resolution. Later, Qureshi tabled the joint resolution, which was passed unanimously.
Earlier, the house witnessed noisy protests from the treasury and the opposition benches. "Who is speaking the language of India," the foreign minister told the house. "It appears that Modi's soul is now transferred into the opposition."
Asif had said that the government could not even legislate a single law without its "selectors". He mentioned that despite the legislation on the recommendations of the Financial Action Task Force (FATF) the government was unable to get the country off the watchdog's grey list.
He also brought up the Karachi incident last week, saying that the door of Maryam Nawaz's hotel room was broke to arrest PML-N leader Capt (retd) Safdar. "You kidnapped IG Sindh," Asif lashed out at the government. "Your time is running out."
Qureshi replied that the government could not be intimidated by opposition rallies. He called the allegations of the kidnapping of the Sindh IG as "a big drama". Referring to opposition rally in Quetta on Sunday, he said the opposition should be ashamed of raising slogans of independence of Balochistan.
Later, the treasury members chanted slogans against the opposition. "If we are not allowed to speak, we will not allow anyone else to speak here," the foreign minister told the house.
PML-N lawmaker Ahsan Iqbal demanded apology from that foreign minister for calling the opposition an Indian agent. "The minister will have to apologise. We will protest until Shah Mehmood Qureshi takes back his words and apologises," he said.
Former prime minister Raja Pervez Ashraf of the PPP said that when a series of blasphemous acts were being committed, "we should take immediate measures" to counter then. "The foreign minister should not have made a fuss in the house today," he added. The session will now resume on Wednesday.