 ---
Model Muhammad Abbas Jafri, who is an elected MPA from Pakistan Tehreek-e-Insaf (PTI), has been served with a show-cause notice 'against violation of the party discipline'. The LSA-winner has also been suspended from the party until he makes a case for himself otherwise.
According to the notice, Jafri was involved in an 'unfortunate incident' in Karachi's Central District that concerned the 'internal affairs of the party'. An excerpt from the notice reads, "Taking the internal affairs of the party to the public has damaged the reputation of the party, which is a clear violation of the party constitution enshrined in Article XII.2 of the Constitution and Discipline under the head 'Disciplinary Violations and Penalties Table'."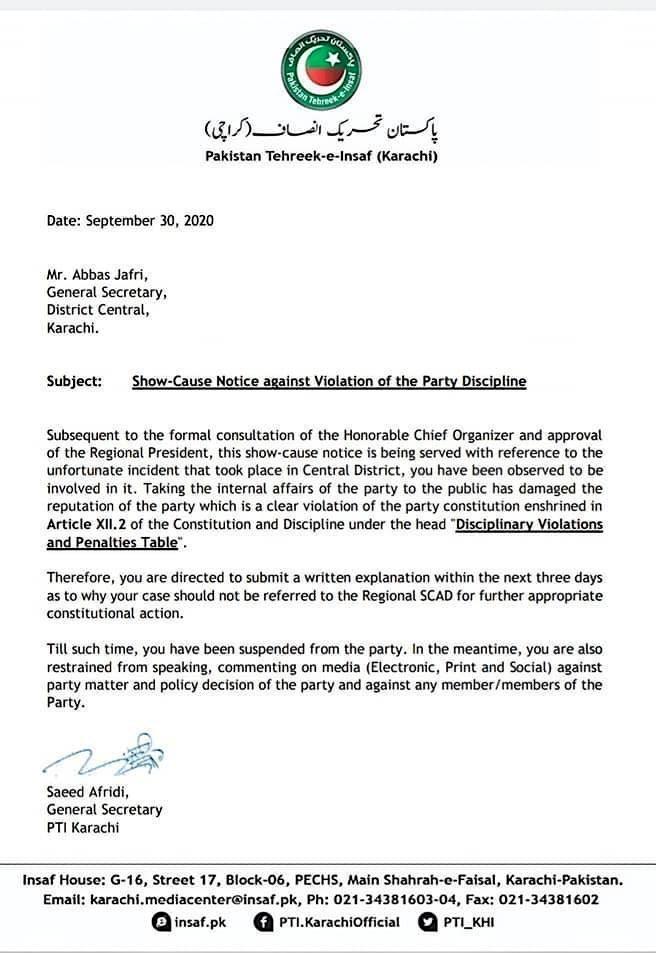 The model has been directed to submit a written response in his defense within the next three days. "You are directed to submit a written explanation within the next three days as to why your case should not be referred to the regional Standing Committee on Accountability and Discipline for further appropriate constitutional action," the notice further reads.
Additionally, Jafri has also been restricted from "speaking or commenting on media (Electronic, Print and Social) against party member and policy decision of the party."
Have something to add to the story? Share in the comments below.
COMMENTS
Comments are moderated and generally will be posted if they are on-topic and not abusive.
For more information, please see our Comments FAQ