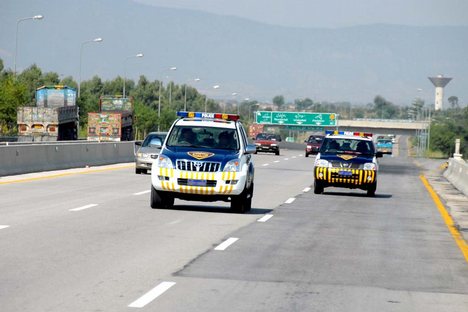 ---
RAWALPINDI:
Authorities have decided to revamp the security on all the 14 motorways in the length and breadth of the country after the brutal gang rape of a woman in front of her children on Lahore-Sialkot Motorway shocked the nation earlier this week.
A senior official of the Motorway Police, while speaking on condition of anonymity, said that major changes had been proposed in the plan, including deployment of armed personnel besides lady officers to guide families traveling in the night.
There are 14 motorways in the country so far, which are denoted by letter 'M'. These are Peshawar-Islamabad motorway, M1; Islamabad-Lahore M2; Lahore-Abdul Hakim M3; Pindi Bhattian-Multan M4; Multan-Sukkur M5; Sukkur-Hyderabad M6; Dadu-Hub M7; Ratodero-Gwadar M8; Hyderabad-Karachi M9; Karachi-Northern Bypass M10; Sialkot-Lahore M11, Hakla-DI Khan M14; Hassan Abdal-Thakot M15 and Swat Motorway M16.
The official said that the motorway police would form quick response force (QRF) squads to ensure safety of the passengers, travelling day and night, bad weather or in cases of emergencies. Lady police officers will guide women passenger vehicles entering the motorway in the night.
"The special QRF squads will be provided air support through helicopters in case of emergency," the official said. "Heavy bikes and high-speed vehicles will also be provided separately to the special QRF squad to make the motorways safe 24/7."
According to the motorway police officer, the vehicles and heavy bikes provided to the QRF squads will be equipped with cameras capable of recording video in the dark of night. He added that the special QRF squads would work in shifts and all its personnel would be armed.
The special QRF squads will patrol the motorways separately, beside the regular patrolling by the motorway police. So far, the priority of the patrol vehicles is to maintain the flow of the traffic on the motorway.
The officer also said that the fencing on both sides of the motorway would be re-checked to ensure safety of the passengers. "Repair work where the fence is damaged will be completed immediately," he said. "In areas where there is no fence, additional personnel will be deployed."
According to the officer, security arrangements had also been tightened at the interchanges of GT Road and the highways connected to motorways across the country. "Strict arrangements are being made to stop criminal elements on the motorways."
COMMENTS
Comments are moderated and generally will be posted if they are on-topic and not abusive.
For more information, please see our Comments FAQ