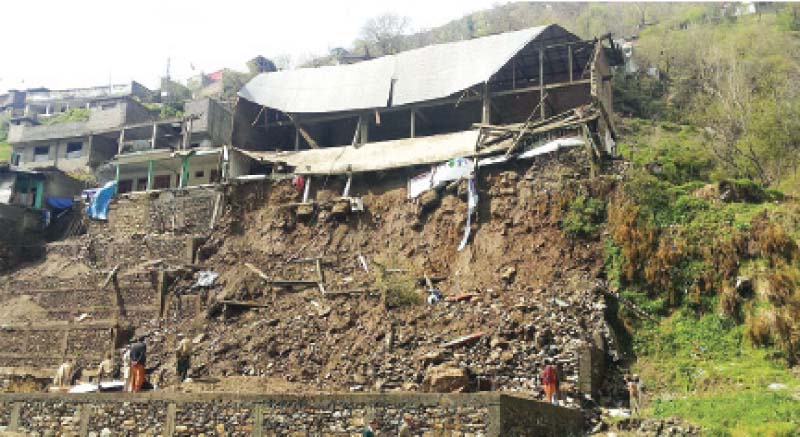 ---
SWABI:
The Provincial Disaster Management Authority (PDMA) reported on Thursday that at least 23 people have died, and 34 sustained injuries following heavy monsoon rains in Khyber-Pakhtunkhwa (K-P).
According to the authority, heavy monsoon showers have so far partially damaged 110 houses, whereas 13 houses have been completely destroyed.
At least five people died and two others were injured after the roof of a mud house collapsed in the Musa Banda area of Swabi.
According to rescue officials, the victims were shifted to the Bacha Khan Medical Complex, Swabi. The deceased, including three children, were identified as 26-year-old Asma, 15-year-old Salman, 10-year-old Salma, eight-year-old Tamanna and two-year-old Muneesa.
Two days ago, the body of a woman from Fatehpur district was recovered from Khwajgan (Khwaja Khel) river; it was shifted to the Khwaja Khel Hospital for examination.
Rescue 1122 officials are launching water and search rescue operations daily as heavy rains continue to batter Swat's Mingora for the fourth day today.
Only a day ago, on September 2, the PDMA had reported that rains had claimed at least five lives and injured 20 in the last 24 hours as monsoon rains in K-P continued to wreak havoc in the province, with villagers and tourists having to be evacuated.
The PDMA maintained that rivers and streams in the upper districts of the province were flooded due to the heavy rain. The water flow in Swat river near Chakdara was recorded at 55,085 cusecs, 95,300 cusecs near Manda, 33,000 cusecs at Khwazakhela and at 24,263 cusecs in Panchkhora river.
The province's disaster management authority said it was in contact with the district administration and that people living near rivers in Nowshera and Charsadda had been alerted. Tourists were also asked to stay away from the rivers.
COMMENTS
Comments are moderated and generally will be posted if they are on-topic and not abusive.
For more information, please see our Comments FAQ